Pinoy teens bag medals in Singapore Math Olympiad
Filipino high school students won four medals in the inaugural Raffles Invitation Mathematical Olympiad held from Feb. 6 to 11 in Singapore.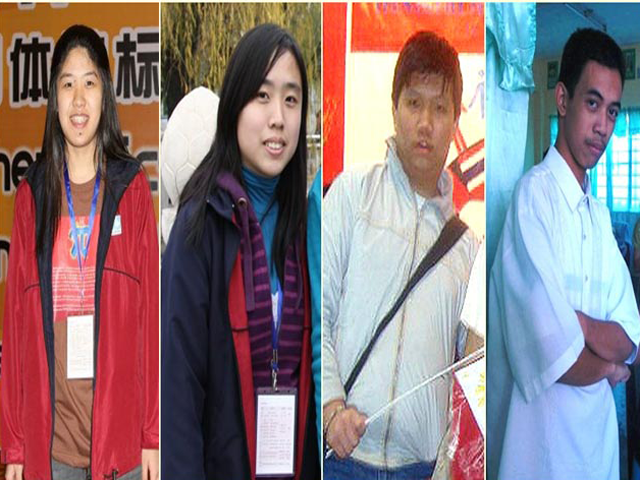 Winners all: (From left) Mikaela Angelina Uy, Camille Dee, Brandon Chan and Ruselle Guadalupe. Photo from Mathematics Trainers Guild-Philippines
The Filipino medalists were headed by Mikaela Angelina Uy, third year student of St. Jude Catholic School, who bagged a silver medal in the contest, which was organized by Raffles Institution, the oldest and one of the prestigious schools in Singapore.
Besides Uy, three other students garnered bronze medals. They are Camille Dee, fourth year student of Immaculate Conception Academy Greenhills; Brandon Chan, fourth year student of Philippine Cultural College-Caloocan; and Ruselle Guadalupe, fourth year student of of Valenzuela Science High School.
The four comprised the lone team from the Philippines.
"We are very happy that all the four won a medal each," said Dr. Simon Chua, president of the Mathematics Trainers Guild-Philippines (MTG), which took care in training the students.
The Raffles Invitation Mathematical Olympiad was participated in by 100 students from nine countries: Australia, China, Hong Kong, Indonesia, Malaysia, Philippines, Singapore, Taiwan and Thailand.
Among the contestants, 8 got gold medals, 16 won silver and 36 got bronze.
The Raffles Invitational Mathematical Olympiad is "a biennial international mathematics event that provides a platform for discovering, encouraging and challenging Grade 7-12 mathematically gifted school students to pit their skills in a rigorous competition."
- Mathematics Trainers Guild-Philippines
Go to comments