FHM recalls 'racist' cover of March issue, apologizes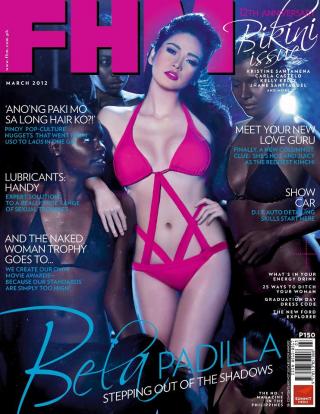 FHM Philippines on Monday said it will recall the men's magazine's March issue to quiet a rising uproar over its controversial "racist" cover, and has apologized.
The cover shows fair-skinned Kapuso actress Bela Padilla in a hot-pink bikini in the middle of dark-skinned models made even darker by their placement in shadows around Padilla. The tag line on the cover states: "Bela Padilla: Stepping out of the shadows."
FHM's Philippine publisher Summit Media
stated
in part: "We apologize, and thank those who have raised their points. We apologize to Bela Padilla for any distress this may have caused her. In our pursuit to come up with edgier covers, we will strive to be more sensitive next time."
The magazine cover was uploaded on FHM's Facebook page on February 25, igniting a firestorm that quickly spread online.
Writer
Katrina Stuart Santiago
denounced it as "a display of white supremacist ideology at its most vicious because it's shameless. It is a display of whiteness against blackness that is sold to us as fact: the white woman can only emerge as her true self from the shadows created by the black girls."
Twitter user Bea Cupin, who works in the advertising industry, noted, "I don't know which is worse, the cover or the fact that they think it's okay."
"What were they thinking?" according to another tweet.
FHM has prided itself on being edgy, having convinced many high-profile models and actresses to pose nearly nude. But this cover seemed to offend more than impress.
Summit Media reacted to the online outrage by deciding to replace the cover of the March issue. It was the "most prudent move in the light of the confusion over the previous cover execution," it said in a statement. "We took all the points into consideration and have decided to take the side of sensitivity."
On Twitter, 20-year-old Bela Padilla apologized to those who took offense. "FHM and I meant no harm at all," she said.
"Some things are out of control…" she said and further tweeted that "it had nothing to do with racial discrimination... The concept was stepping out of MY inhibitions, MY fears, MY shadows. Not bashing a certain race."
The outrage online began Saturday on Twitter when only the magazine cover was uploaded, continuing the magazine industry practice of "teasing" readers about upcoming issues in an attempt to jack up sales. The cover has since been removed from Facebook.
Past magazine covers that elicited buzz were those of Charice Pempengco and Jinkee Pacquiao. Netizens criticized their images for being overly "photoshopped."
FHM did not indicate what they would put on the March cover as a replacement.
Twitter user Romellaine Arsenio said
it was the cover line
— more than the photo — that was wrong for depicting dark-skinned women as mere "shadows."
Journalist Thea Alberto said it was a case of "sensationalizing" color issues, an issue, she noted, that long ago has been resolved and should be left where it belongs — in the past.
"I don't see anything wrong with that FHM cover. Racism and issues in skin color are so last century,"
Alberto tweeted
.
The international media picked up the news, with UK's
Telegraph running it
on its website, garnering FHM some unintended global publicity.
— with Marj Casal/VS/HS, GMA News