Investing in Philippine stocks: A quick guide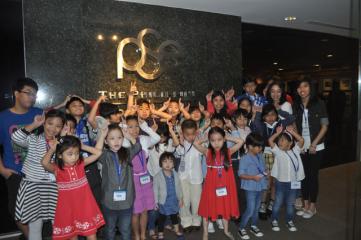 PSE embarks on financial literacy for kids. The Philippine Stock Exchange (PSE) inculcates financial literacy and entrepreneurial spirit among the very young to help raise the country's future investors and business owners. Rouchelle Dinglasan
Unknown to many Filipinos, stocks have been an investment instrument in the Philippines since 1927, when the Manila Stock Exchange opened shop in the Binondo business district and its sister bourse Makati Stock Exchange started operating that same year in the Makati financial district.
In an interview with Jay Peñaflor, assistant head of the Philippine Stock Exchange (PSE) market education department, shared with GMA News Online some interesting tips on investing in publicly listed shares of stock.
Why invest in stocks?
"First of all, because the returns that you get from stock investment are bigger compared to what you can get from bank products... In stocks, you can get as much as 50 percent in just one day, that is technically possible," said Peñaflor.
These days, putting your money in banks yield from 1 percent to 4 percent a year, according to the PSE educator.
Peñaflor noted there are still a lot of misconceptions about the stock market that turn investors off. "In the Philippines, stock investing is not really popular. Many Filipinos think that stock investing is complex, that stock investing is only for rich and affluent Filipinos, and that this is a form of gambling."
Though the PSE has been operating as the oldest stock market in the region, less than 1 percent of the Philippine population has actually placed in the market.
"'Yung stock market natin is one of the oldest in the Asia Pacific... We have to educate the Filipinos about these investments… that [the stock market] could be a very good alternative investment instrument to everybody, not only for rich Filipinos," said Peñaflor.
How to invest
Study the stock market: Prospective investors must first invest on knowledge. Those who are interested should attend seminars or orientations, including online webinars, with gigabytes of reading materials available on the Internet, especially PSE Academy.
Find a broker online or through the Yellow Pages: Looking for a broker seems a tedious matter–but it's a must. A broker is a licensed equities trader, who can advise you on which stocks to invest in and if it is the right time to buy or sell. Verify with the PSE if the broker is licensed to trade on the floor. The PSE website also has a list of licensed brokers complete with contact details.
Identify your profile as an investor: Your profile guides you on how you would 'play' with your stocks. You can be an 'aggressive' or 'passive' investor. Your broker can you pick the profile that suits you.
Aggressive investing or velocity trading is the usual tag assigned to a stock trader. They are the ones who buy and sell their stocks each time the price moves. In stock market lingo, these are the players, traders, day traders or velocity traders.
A passive investor usually waits for companies to declare dividends on their stocks based on how much was earned the previous year. They usually buy, hold and wait for the dividends. Blue chip stocks or equity in the Top 10 performing companies usually yield dividends on a yearly basis.
Set-up an account: Setting up an account with a stock brokerage house is just like opening a bank account with at least P5,000 initial deposit. Your broker will help you set-up an account. Fill out a customer information sheet, submit two valid IDs with picture, sign on a specimen signature card, and you are a bona fide stock market investor.
Invest! Follow corporate news and start investing on promising stocks. Contact your broker online or by phone to buy or sell and don't forget to verify your transactions. Your broker is tasked to submit a monthly report on your market activity.
Two rules on investing
Peñaflor noted newbie investors should understand the "concept of risks and returns": the higher the returns, the higher the corresponding risks.
"Maximize your returns by minimizing the risks in investing, that is how you should do it," he said.
"No other investment instrument can match the possible returns that you can get from stocks, that is when you invest with the proper knowledge, the right skills and the proper discipline."
The use of bulls and bears when referring to market behavior comes from the way these animals attack their opponents. A bull drives its horns up (uptrend) while a bear swipes its paws down (downtrend).
As American business tycoon and philanthropist Warren Buffett once said, there are only two rules when investing your money. "Rule No.1: Never lose money. Rule No.2: Never forget rule No.1." —
VS, GMA News