DLSU awards college scholarships to 50 public school students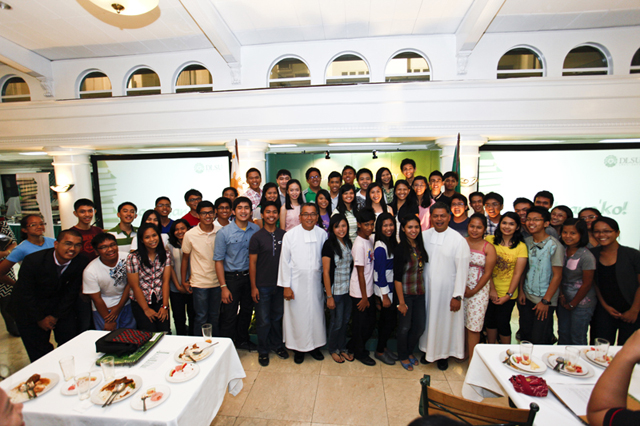 De La Salle University presented yesterday 50 public school students who will receive full college scholarships from the University.
The grant comes from the Vaugirard Scholarship Program, established by DLSU last year to provide 50 scholarships annually for students who graduated from Philippine public high schools. The initiative provides an opportunity for the students to access any baccalaureate degree at DLSU.
Apart from full waiver of tuition, miscellaneous, and other fees, selected scholars will receive a monthly stipend to cover accommodation, meals, transportation, and book expenses.
The Vaugirard Scholars presented were among those who received the highest marks during the college entrance examination conducted by DLSU last year. The University partnered with the Department of Education to encourage students to apply via a free entrance test.
DLSU President and Chancellor Br. Narciso Erguiza FSC hopes to continue the Lasallian mission by developing future leaders of the country. He said, "To help build a progressive nation, our University recognizes the need to support the development of leaders in various fields. To do that, we are opening the doors of De La Salle University to more students who have the potential to be among our nation's future leaders."
Irene Katrina Jayme, a scholar from Tuguegarao City Science High School, responded: "College education can cost a lot of money, but our scholarship made everything possible and gave us hope. We shall develop our full potential and be a part of our country's progress."
The scholarship program was named after Vaugirard, France, where St. John Baptist de La Salle, founder of the La Salle system, established his first novitiate. His house in Vaugirard became a refuge where the Christian Brothers continued their mission of providing free education for all. —
De La Salle University press release
Go to comments