PBA
:

Invinci-Bowles, Finals MVP Yap carry B-MEG to Commissioner's Cup title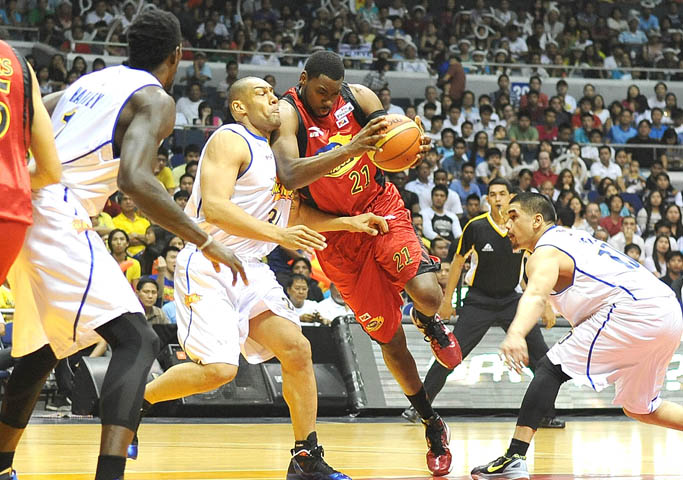 Simply unstoppa-Bowles! Denzel Bowles ran roughshod over the Talk 'N Text defense.
KC Cruz
(Updated 10:00pm)
Best Import of the Conference Denzel Bowles sank two pressure-packed charities to force overtime and then dominated in the extra period, to tow the B-MEG Llamados to their first championship under mentor Tim Cone, toppling the previous holders of the PBA Commissioner's Cup, the Talk 'N Text Tropang Texters, 90-84, Sunday at the Smart Araneta Coliseum.
"If you asked me what happened, I absolutely have no idea," B-MEG head coach
Tim Cone said
of his side's come-from-behind win. "But if you're going to beat a team like Talk 'N Text, you have to do amazing things."
With 13.3 seconds left in regulation and Texters point guard Jimmy Alapag cramping up, the Llamados sent Ali Peek to the line where he earned a split, making it 76-74.
Off a timeout, James Yap missed on a drive, but snagged the offensive rebound. With two seconds left, Yap zipped a pass to Bowles, who missed a point-blank shot, but managed to draw a crucial foul from Kelly Williams, giving him a chance to redeem himself at the line.
The 23-year-old import sank both, sending the game into an extra five minutes, where he scored the Llamados' first 10 points, turning an 80-81 deficit into a dominant 86-81 lead, 56.8 seconds remaining in overtime.
A desperate TNT squad drew up a play off a timeout, but Alapag, who had recovered from his cramps, passed the ball to no one, effectively killing their chances of a comeback. Jonas Villanueva and Bowles then closed out the game at the line, converting 4-of-6 charities as the Llamados section of the crowd went wild.
Bowles finished with 39 points, 21 rebounds and three blocks in a masterful effort.
"I'm speechless, I'm so speechless. I'm just so proud of my team," said Bowles afterwards. "I'm so glad I came to B-MEG planet...[and] won my first championship, with this team."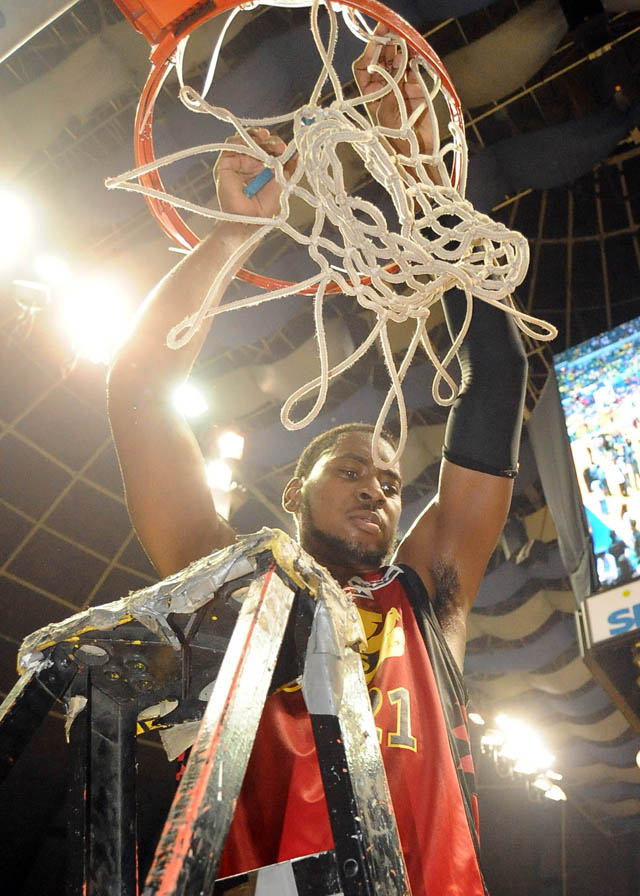 After a flat game two performance that saw him score just 17 points, Denzel Bowles put the Llamados on his back and carried them all the way to the end.
KC Cruz
Coming out of halftime, with the Texters nursing a slim 35-34 advantage, a barrage of triples from the TNT side, two by Alapag and one from Donnell Harvey, made it 46-39 with 8:30 left in the period. B-MEG rallied to get within a single point multiple times, but five straight from Talk 'N Text extended their advantage to 61-56, with the fourth quarter looming.
Talk 'N Text had a golden opportunity to break the game wide open when Marc Pingris was assessed a flagrant one foul for a chop to the neck of Ryan Reyes, 6:16 remaining in the fourth. Unfortunately, with the score at 68-60 and the chance to increase their lead to double-digits, Reyes missed both free throws. Then on the bonus possession, Alapag was sent to the line where he managed just a split.
On their next possession, Reyes went flying into the barrier on a risky drive, and he would not return for the rest of the game. That was when the Llamados roared back, ultimately completing an epic comeback.
Peter June Simon broke out of a two-game slump, to help the Llamados' cause with 14 points and seven rebounds on 4-of-7 shooting. Point guard Josh Urbiztondo added 11 markers and four dimes
The Texters were led by Alapag's 29 markers in 32 minutes of play. Import Harvey added a double-double of 16 points and 15 rebounds, while All-Filipino Cup MVP Larry Fonacier dropped 11 points on 50 percent shooting.
The veteran Alapag put last season's titlists in good position for a repeat. However, the injury to Ryan Reyes robbed them of their best perimeter defender, allowing James Yap to run rampant late.
Adding to TNT's woes were foul trouble to Harvey and Ali Peek, and cramps suffered by Alapag and Ranidel de Ocampo.
James Yap was named Finals MVP, the second time he's received the honor, with averages of 20 points, six rebounds, and two assists in the series.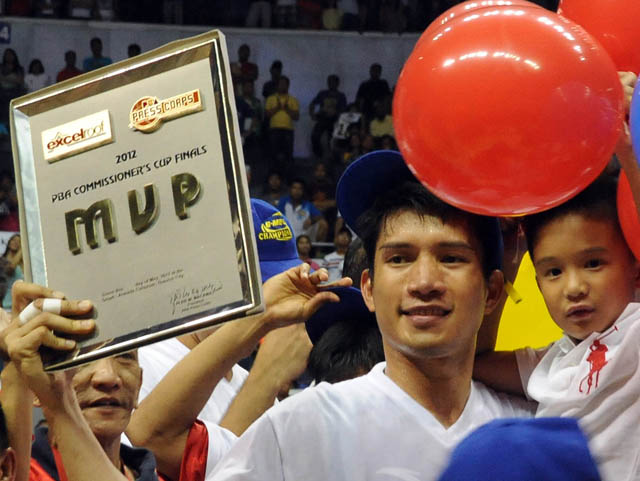 James Yap normed 20 points per game and it was enough to earn him his second Finals MVP citation.
KC Cruz
With the game slipping out of the Llamados' hands, Yap played a key role in getting his team to come back from a 60-69 deficit, chipping in five of a 7-0 run together with Bowles that got them to within two points with 3:59 remaining in the fourth quarter.
His heads up play to find Bowles underneath the rim after corraling the extra possession also meant the difference between title and tragedy.
B-MEG lifted the trophy of the season's second conference despite never winning two games in the Finals series in a row, but despite that statistical quirk, the Llamados still did enough to earn Tim Cone, hired at the beginning of the season, his 14th crown in the league.
21,046 fans were at the Big Dome to witness the end of the series. -
OMD, GMA News
The scores:
BMEG 90 - Bowles 39, Simon 14, Yap 12, Urbiztondo 11, Villanueva 5, De Ocampo 4, Devance 2, Pingris 2, Barroca 1, Intal 0, Reavis 0
TNT 84 - Alapag 29, Harvey 16, Fonacier 11, Peek 10, Dillinger 8, Castro 5, De Ocampo 3, Reyes 2, Gamalinda 0, Williams 0, Carey 0
Quarter-scoring:
21-18, 34-35, 56-61, 76-76, 90-84