Kindling the reading habit with e-book readers
Growing up, I didn't think words like epub, saved bookmarks, downloads, synchronized items, or e-ink would get to be associated with the reading habit. About six months ago, these words were alien to me.
Until very recently, reading meant hardbound books, paperbacks, pretty fonts, illustrations, textured pages and the smell of paper. But e-books? A travesty! And many friends agreed with me.
So if e-books are such a horror, why am I now inseparable from my Amazon Kindle?
Free for all
It was last Christmas when my techie husband gave me a Kindle Touch.
His rationale: I had asked for so many books on my wish list, and he wouldn't have time to buy them all, much less hide the purchases from me.
But he could easily order a Kindle online, and find online sources for all the e-books I could ever want, all in a matter of hours. You gotta love the efficient gift giver.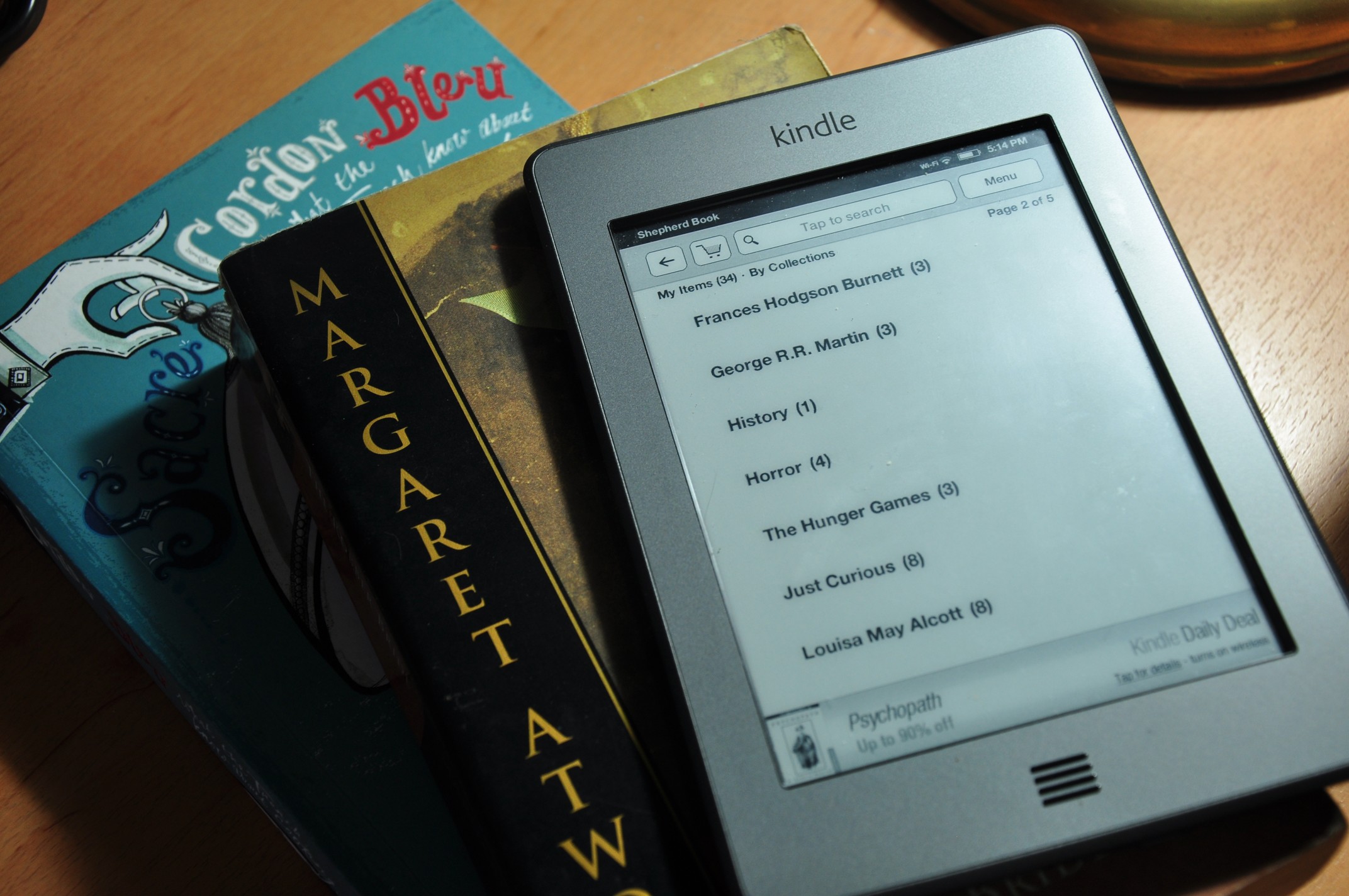 E-book readers are worth their weight in books. One device can have practically a library of a bookworm's favorite reads.
Regina Layug-Rosero
Before buying the Kindle, my husband made sure he already had all my favorite titles and authors in e-book format.
There are so many communities and repositories online that offer free e-books in various formats, like the Gutenberg Project and Lendle, ready for anybody's downloading pleasure.
Amazon's Kindle Store has an endless list of books that sell for exactly $0.00: classics that are now public domain, new authors sharing their work, even established authors promoting upcoming (sometimes unfinished) works.
As if Amazon weren't enough, many educational websites—from management and efficiency techniques to blueprints for home improvement and sci-fi model kits—offer free e-books for a variety of formats.
Within a few months, I had bought over fifty books from Amazon: classics like Sherlock Holmes and Grimm's Fairy Tales; history books like The Tuskeegee Airmen Story; primers on various religions and mythology; even some short fantasy and sci-fi novels.
Send to device
For some, the bulk of reading these days isn't fiction, but web articles, tutorials, blogs, and so on. If you're doing research, be it academic or pop culture, most of your search will require the powers of Google.
Most devices have Wi-Fi or 3G, but even with an unlimited data plan you can't be online all the time, like if you're on a plane or someplace with limited signal.
So here comes one of the awesome things about using an e-reader: instead of reading online, you can just save all your bookmarked articles and blog posts, and read them offline.
At any given time my Kindle will contain articles from io9.com, Lifehacker, Gizmodo, or Salon.com.
I use an app called Readability on both my Kindle and my iPod Touch. I can save Web articles to a reading list, accessible online, or send them to my devices for offline reading.
I installed a Readability add-on to my browser, so with one click I can send an article to my Kindle, and read it anytime. Readability is available for Android and iOS, and also allows you to add to your reading list via email.
Also highly recommended is Kindlebility, which does the same things, but only for the Kindle.
Worth its weight in books
Paper books are always a treasure, but it's a little impractical when the volume you're reading is hardbound and half as heavy as your laptop.
Before I got my Kindle, I was reading George R.R. Martin's Dance With Dragons, which is only available in hardcover.
Imagine taking a shuttle, the MRT, a jeep and a tricycle, while carrying a laptop, lunch, a jacket and shopping, and then clutching a heavy book on top of everything. I think I bulked up just carrying that book around.
Eventually I stopped bringing the book along because it was just too tiring, and Dance With Dragons lay on my desk at home, unread.
Then I got my Kindle Touch, which weighed in at 7.5 ounces, and was smaller and thinner than most of my paper books and notebooks.
I finished Dance With Dragons in a matter of days. Now I can carry Dance With Dragons anywhere, alongside War and Peace, the complete A Series of Unfortunate Events, Vanity Fair, and Noli Me Tangere.
Hardbound or paperback, I would collapse from the weight of all those books if I had to carry them individually. Instead, I have all that and more in my little e-reader.
This is great if you're reading a series of books and you just have to get to the next title. Or another title you've been meaning to pick up.
There's probably few things worse than being stuck somewhere with a book you've just finished, and no backup. I hate this problem, because it means I'll end up reading a newspaper (depressing), a magazine (annoying), or Facebook (unproductive).
When I got the Kindle, this problem was solved! Amazon says the Kindle Touch can hold up to 3,000 books, while the 6" Kindle holds 1,400 books, and the Kindle DX can carry up to 3,500 books.
E-book files aren't very big, so imagine how many you can store on a 16GB iPad. Even my Android phone can hold a few e-books, with its meager storage of a 1GB SD card.
From a die-hard Luddite, I've been converted, and now I preach the good word of the e-reader to all bookworms I know.
The capacity to carry around an entire library is already good news to those whose passion is the written word, but there are other advantages. You can categorize titles according to your preferences.
Most e-readers have built-in or downloadable dictionaries that are so detailed as to be mini-encyclopedias, so you can look up almost any unfamiliar word or reference.
It's like reading just got boosted to exalted levels. And that's got to be good news for anybody who loves books.
— ELR, GMA News