Ombudsman: Corona circulated money in 82 dollar accounts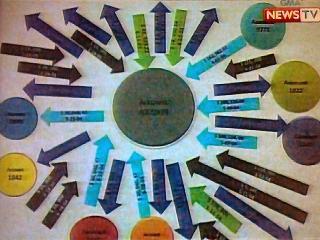 Corona dollars in Carpio-Morales presentation. A monitor shot of a slide from the testimony of Ombudsman Conchita Carpio-Morales on Monday shows the purported circuitous movement of cash in the four primary dollar bank accounts of impeached Chief Justice Renato Corona. GMA News TV
(Updated May 15, 9:14 a.m.)
Ombudsman Conchita Carpio-Morales on Monday testified before the Senate impeachment court about "circuitous fund movements" in Chief Justice Renato Corona's purported 82 dollar accounts in five different banks.
Morales said the transactions mainly involved dollars being withdrawn from one account and deposited in other accounts.
There were at least $10 million in transactional balances, which she defined as "all the money that went through the system in all the dollar transactions when added together."
The Ombudsman added that there was also $12 million in fresh deposits that were never moved. It was not clear how these were related to the other accounts, and she did not expound on this amount further.
In a statement sent to the media, Corona dismissed the
Ombudsman's testimony as "a lantern of lies"
that he would debunk during the trial.
"Once she is proven wrong, I urge her to immediately resign from her post for allowing herself to be used by this administration and making a laughing stock of government auditing," Corona said.
On the day he was impeached last Dec. 12, Corona transferred $417,978.80 to a trust fund, according to the Ombudsman.
The banks where the chief magistrate kept his dollar accounts were Bank of the Philippine Islands, Allied Banking Corp., Philippine Savings Bank, Citibank, and Deutsche Bank.
The Ombudsman said her observations were based on "electronically generated" records of Corona's transactions that were provided by the Anti-Money Laundering Council (AMLC).
Republic Act 9160 or the Anti-Money Laundering Act created AMLC to investigate certain transactions defined by law, fraud, and other financial violations.
The AMLC is composed of the Bangko Sentral ng Pilipinas Governor, the Insurance Commissioner, and the Securities and Exchange Commission chair. "It is a very credible body headed by non-partisan individuals with reputations that of independence. I would take seriously what comes from them," said Tony La Viña, dean of the Ateneo School of Government.
'Significant movements... significant dates'
Morales told the court that Corona withdrew $500,000 on May 12, 2004 and returned the same amount to the same bank account two days later.
She earlier noted how the "significant" movements in Corona's dollar accounts were done during "significant" dates, such as days after the 2004 and 2007 elections.
Lead defense counsel Serafin Cuevas tried to block Morales' testimony on the details of Corona's dollar accounts, saying the official has "no competency" to discuss these before the impeachment court.
Cuevas also said that Morales cannot show a presentation on Corona's dollar accounts, since the details of these transactions were not discussed during the Ombudsman's direct examination.
In a unanimous vote, however, the Senate impeachment court ruled that Morales can present a summary of her findings on Corona's dollar transactions.
"As long as it is relevant, it is admissible in court," Senator Miriam Defensor-Santiago said before the impeachment court made a ruling. "There is no categorical prohibition on PowerPoint presentations under the rules on evidence. I hold as a judge this is relevant. It will help us considerably to reduce hours of going through these documents."
Senator Alan Peter Cayetano added, "The defense was the one who brought up these AMLC records. Ang ginagawa lang ng prosecution ay hinihimay ito. Hindi lang nila tinanong ang Ombudsman tungkol sa laman nung mga account."
A confused defense panel
Commissioner Heidi Mendoza of the Commission on Audit took over the witness stand after Morales asked her to continue with the presentation. Mendoza revealed that Corona posted more than $28 million in total deposits in his dollar accounts and P242 million in his peso accounts.
"We are trying to show the circuit of funds," Mendoza said. "Many accounts were created. May I also emphasize that this includes deposits, credit memo, remittances. The total inflow is at $28,740,497.93."
She noted the deposits were posted in 423 transactions from April 2003 to December 2011.
Corona's deposits in his peso accounts totaled P242 million, said Mendoza.
The COA commissioner also revealed that withdrawals, credit memos, and electronic payments or the total outflow posted on the chief justice's dollar accounts amounted to $30,758,878.51.
Since the defense panel did not call Mendoza to the witness stand, Cuevas stressed that his team was put in a "confused position."
"[She is] testifying for whom? How would she be credited?" Cuevas said.
"To be fair with the defense, you have not presented her a witness for the defense or prosecution," noted Senate President and impeachment court presiding officer Juan Ponce Enrile.
Mendoza was subsequently discharged as a witness, but not before adding crucial details to the testimony of Morales.
A professional auditor, Mendoza had previously appeared before the Senate as a whistleblower, testifying on military corruption. —
VS/YA/KG, GMA News