UST to install Fr. Herminio Dagohoy, O.P., 96th Rector
As the University of Santo Tomas enters its 5th century, the 401-year old alma mater of presidents, national artists, canonized Saints, and countless professionals, will install its 96th Rector, Fr. Herminio V. Dagohoy, O.P., on June 4, 2012 at the UST Chapel.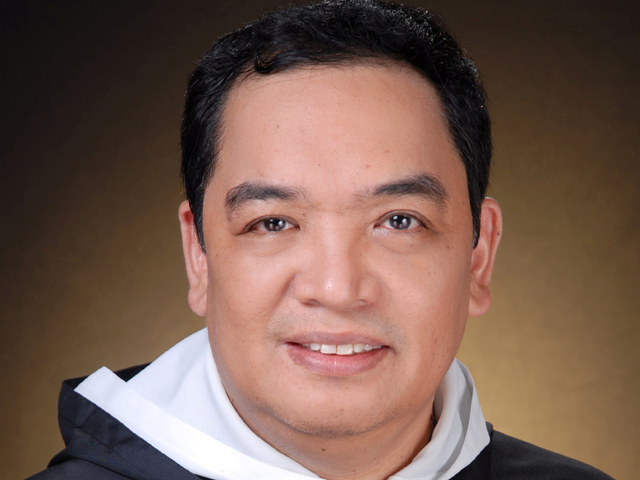 Fr. Herminio Dagohoy, O.P., to be installed as 96th Rector.
The ceremony immediately takes place after the centuries-old UST traditional opening mass called Misa de Apertura, with representatives from the Commission on Higher Education, Church hierarchy, academic institutions, members of the diplomatic corps, alumni, and the Thomasian community.
Born on July 8, 1965 in Hagonoy, Bulacan, where he spent his childhood, he completed his basic education at Sta. Elena Elementary School and Hagonoy Institute in Bulacan.
He finished Accountancy at the Polytechnic University of the Philippines in 1985, and later on professed the evangelical vows in the Order of Preachers on May 10, 1988.
As a Dominican, Fr. Dagohoy obtained the following degrees: AB Philosophy at the Philippine Dominican Center of Institutional Studies in 1990; Bachelor in Sacred Theology at the UST Ecclesiastical Faculty of Sacred Theology in 1993; Master of Arts in Philippine Studies in Philosophy at the University of the Philippines, Diliman, Quezon City, in 2000; Licentiate in Philosophy at the UST Ecclesiastical Faculty of Philosophy in 2011 and Doctorate in Philosophy also at UST in 2012. His areas of specialization include Ancient Philosophy, Theodicy, Social Philosophy, and Hermeneutics.
Fr. Jojo, as he is fondly called, was ordained to the priesthood on September 28, 1994 at the Santo Domingo Church in Quezon City. He previously held posts as Prior/Superior of the Santo Domingo Convent, QC, and Caleruega, Batangas, and is currently the Prior of the Priory of St. Thomas Aquinas in UST. He was also formerly the Rector of Angelicum College in Quezon City. As a respected academic, Fr. Dagohoy has published articles and book reviews in scholarly journals. He also engaged in significant scientific, ecclesial and cultural activities, and delivered various talks and lectures both in the Philippines and abroad.
CONTACT: ASSOC. PROF. GIOVANNA V. FONTANILLA
Director
Office of Public Affairs
University of Santo Tomas
Tel no.: 731-3544, 786-1611 loc. 8315
Telefax no.: 740-9727
Go to comments