How women should wear the 'barong Tagalog'
Who would have thought the traditional barong Tagalog can be chic and wearable today? Designer Veejay Floresca showed this is possible by injecting Filipino cultural sensibility into New York high fashion in his Holiday 2012 collection shown during the Philippine Fashion Week last May 26.
His innovative designs didn't mean deconstructing the traditional barong or removing the whole concept of it; instead he enhanced it and made the barongs wearable for every woman who has great appreciation of the traditional garment.
"My collection is actually challenging every woman that you can still look chic wearing our national fabric," Veejay says.
He believes that women can wear a barong and "if ever barong is invented today, that's going to be how it looks like," says Veejay, who in his mind knew it is not just made for specific occasions like weddings and baptisms.
The beauty of Veejay's barong Tagalog is such that any woman strong enough to wear it will turn out fabulous.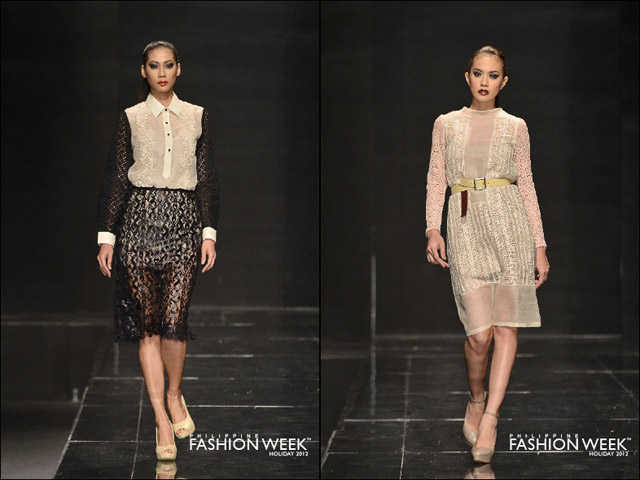 Of high slits and sequined dresses
The collection includes oversized jackets, knitwear, structured sequined dresses, leather, and high slit skirts.
His sheer tops with tribal cutouts have this touch of ethnicity that depicts "a conservative Filipina turned modern fast paced New York woman without forgetting her culture."
The embroidery of the barong Tagalog provided the inspiration for his prints. He adds, "If you're going to look at the embroidery of the barong, it is very ethnic. Pinalaki ko lang 'yon. And even with the customized prints."
Besides that, the high slit skirts represent a "modern conservative Filipina embracing her inner sexiness." He contrasted the high slit skirts with the below-the-knee length of the dresses.
According to him, "I want the contrast na parang it looks conservative but ang taas nung slit so it is very sexy."
That means even though his clothes are sexy, the women wearing his designs must never forget her Filipina Maria Clara roots.
The collection is clearly a fashion statement. His vision embodied how a conservative Filipina and a New York woman can be mixed into becoming a strong woman on her own.
"Love your own, embrace what we have, and promote our culture,"—that's how Veejay put his love for our country.
For Veejay, incorporating and maximizing the garments our country produces in his design aesthetic is a true form of Filipino empowerment.
New York on his mind
A two-week trip he made to New York helped him come up with ideas for his Holiday 2012 collection.
"I went to New York for two weeks for vacation and I really appreciate how women dress up in New York and I want to achieve that kind of mood," says Veejay.
New York is known as the city that never sleeps and his runway show collection depicted how the women he described are fashion ready from day to night.
The clothes can be used during an afternoon lunch or a night out.
Other that than, the runway show of Veejay was a roller coaster ride. It took you from the simplest silhouette to elegant chic.
Project Runway
Veejay became known in fashion circles when he joined the first season of the reality show Project Runway Philippines. He was one of the top three finalists and placed third.
He says being a part of the first season really helped him to be where he is now and it was one of the best decisions he made as a fashion designer.
"It opened a lot of opportunities and parang because of the show, I was accepted as a designer," says Veejay.
The former fashion design professor at De La Salle-College of St. Benilde for AB-Fashion Design and Merchandising also believes that teaching is a heroic job.
For him, teaching "the future people of fashion" is a way of enjoying the art and at the same time imparting what he knows to his students.
He also adds, "We are talking about the future of fashion and it is a privilege to be part of their learning process." –KG, GMA News
Photos courtesy of Philippine Fashion Week