Music review: Pedicab thumps out floor-smashers at their EP launch
Switching on the radio can make you feel like the last 15 years never happened. Maybe it's because musical inspiration became less senti in the 00's, but big local bands have largely ignored the past decade's advances in favor of bleeding heart alt-rock.
This moping marathon is the reason why going to Pedicab's launch show last June 8 for their new EP "Kaya Mo Mag-Sando?" felt like mainlining adrenaline through an eyeball vein. Once the band gets going, it becomes very obvious that Pedicab doesn't want you to cry about girls in your bedroom; Pedicab wants you to get on the dance floor and thrash it out.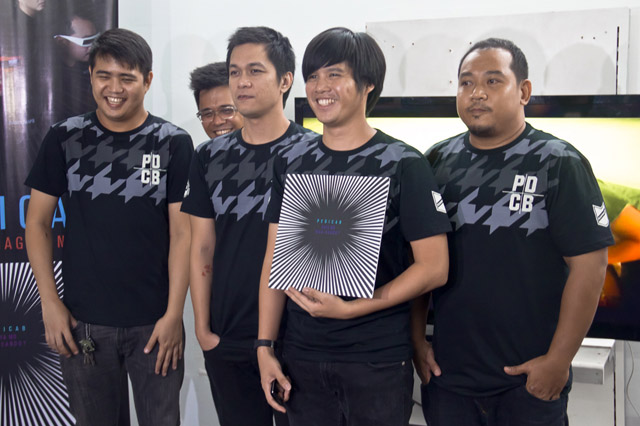 Pedicab gleefully style themselves a "dangerous band from the Philippines." Photos by Emmanuel Natola

The band members have a love for over-the-top technicolored pieces of gear. For the new EP, they've donned a signature look of Team Manila-designed military polos and neon shades ripped from a K-Pop producer's acid trip. The clothes, along with seizure-inducing lights and a visual display dominated by giant multi-colored ants, created the perfect electro vibe for the show.
During a marathon 20-song set, frontman Diego Mapa shouted things your mom doesn't want you to hear in his punky staccato monotone, which is the easiest kind of singing to sing along with if you're busy jumping up and down and smashing into people.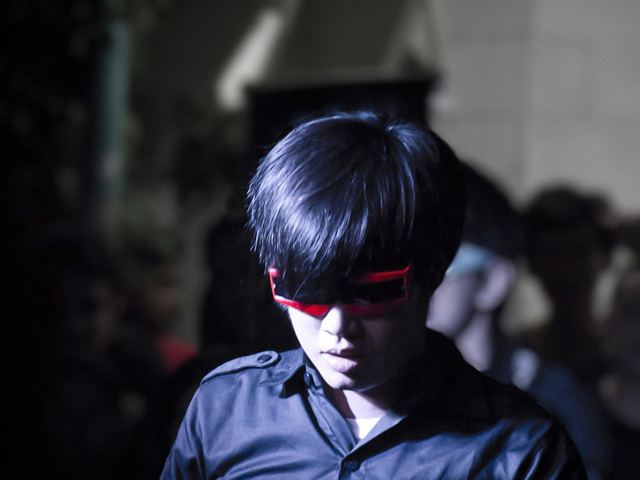 Pedicab frontman Diego Mapa Photos by Emmanuel Natola
Dancing is what crowds have been doing at Pedicab shows since they formed in 2004. While a straight-up synthpunk band at heart, Pedicab broadened textures on their second album in 2008, a trend which continues on their new EP. The payoff was most noticeable when they took to the stage: every sound felt like a new angle of attack in the war against sitting down.
This attention to detail doesn't mess up their bread and butter, however. Many bands find their trademark sound washed out by the second or third album; the pressure to do something different, along with learning more about the studio process, can lead to an over-focus on tinkering with sonic properties at the expense of fun riffs and memorable lyrics. Pedicab have avoided this on their new EP: The meatier arrangement complements the sound the same way gravy complements a slow roast, by making what's already there even more delicious.
Pedicab (who gleefully style themselves as "a dangerous band from The Philippines") culls its members from heavyweight local acts: frontman Diego Mapa (Daddy Maps) comes from Cambio and Monsterbot; Raimund Marasigan (Sugar Raims), who handles synths and vocals, hails from Eraserheads, Sandwich and Project 1; Jason Caballa (J. Sonic) from Twisted Halo, handles guitars and vocals; drummer Mike Dizon (Masterbeat) plays with Sandwich and Teeth; and RA Rivera (Just Toni) mans synths and vocals on top of managing visuals. –KG/HS, GMA News