Unified PSE celebrates 20 years with '2012 National Art Competition'
As trading opened on the Philippine Stock Exchange on Wednesday, National Artist for Visual Arts Benedicto Cabrera, also known as Bencab, and National Artist for Sculpture Abdulmari Imao joined the PSE board of directors in the ceremonial ringing of the bell.
This unusual mix of artists and men of finance had a purpose: to launch the Sining PSE: 2012 National Art Competition, which the institution is holding in sync with its 20th anniversary as a unified bourse.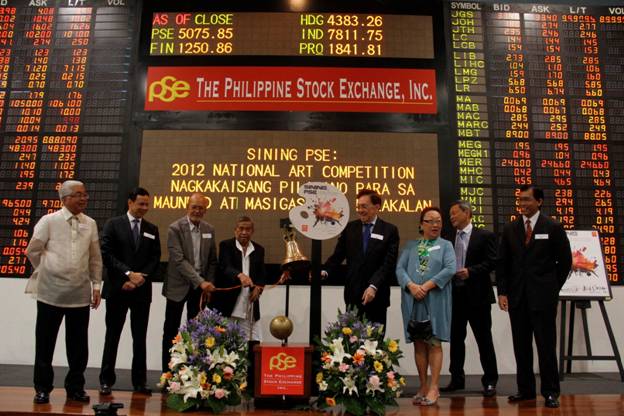 PSE launches SiningPSE with national artists Hon. Benedicto Cabrera (third from left) and Hon. Abdulmari Imao (fourth from left). Spearheading the launch is the PSE Board of Directors from left: Edgardo Lacson, Emmanuel Bautista, Chairman Jose T. Pardo (fourth from right), Vivian Yuchengco, Alejandro Yu and PSE President and CEO Hans Sicat.
The PSE was incorporated on July 14, 1992, and the merger of the Manila and Makati Stock Exchanges was declared on December 23, 1992. The first general membership of the merged entity was on March 20, 1993.
"Through this art competition, we hope to portray and showcase how working together can produce positive results toward development of business, livelihood and trade," PSE chair Jose Pardo said in a statement.
The competition's theme is "Nagkakaisang Pilipino Para sa Maunlad at Masigasig na Kalakalan," said Corporate Planning and Communications Department head John Benette Mamañgun. "We want the message of the organization to be the impact of working together — working together works," he told GMA News Online during the launch.
Mamañgun noted the competition is one of the activities aimed at educating the public. "We've been going to schools, we've been setting up business courses, and holding seminars.
"In that context we thought that art could be one form, an effective way to communicate our message.
"Essentially what we want to do is inculcate among Filipinos the habit of investing, and one of the venues of course is the stock market. But in this case we're using art to deliver and relay that message," he said.
The PSE believes that investing in the creativity of the Filipino is tantamount and parallel to investing in education of a different form, said Pardo.
Creativity, orginality, artistic excellence
"Art is a universal and unifying language that people from all walks of life and various cultures understand. Art is important in reaching out to various markets as we continue to flourish in a global economy," he added.
PSE president Hans Sicat said they decided to do something other than the usual activities related to finance. "Hopefully this is something meaningful not just to us but to other sectors," he said.
On choosing the judges, Sicat said they selected top artists. "We wanted to make sure that it had the right prestige," he said.
Bencab and Imao will head the board of judges for the Painting and Sculpture categories of the Sining PSE: 2012 National Art Competition.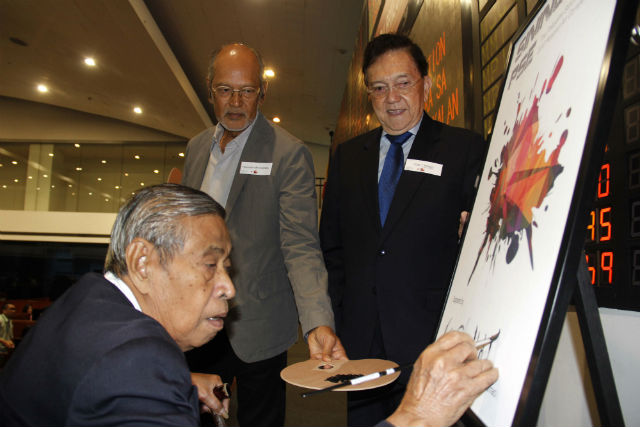 Abdulmari Imao signs the poster for SiningPSE.
"We hope we can attract a lot of talented artists. Their idea is to have artists that have not had a one-man show, so young artists from 21 up," Bencab added.
In line with the Sining PSE objective to develop creativity, originality, and artistic excellence, the contest requires that all entries must be original works by the participant and must not have been entered in other art competitions.
"It is our hope that through this nationwide art competition, our vision and the role of the capital markets in national development will be communicated through the broad and confident brush strokes and the bold stylized forms of the works that will be created in the next few months," Pardo said.
Sining PSE is a nationwide competition open to all non-professional Filipino artists. The PSE will pick 10 finalists from each category, and three grand prizes will be awarded in each category. The seven non-winning finalists will also receive cash prizes.
Apart from prize money, the winning artworks will be featured in the 2012 PSE annual report.
The winners will be chosen based on their originality, overall impact or message, and the rendition or use of material. Deadline for submission of entries is on October 1, 2012.
Entry forms for Sining PSE: 2012 National Art Competition may be downloaded from the
PSE website
or their
Facebook page
. Application forms are also available at the Project Secretariat office at Studio 5 Designs, 28 Paseo de Roxas corner Jupiter St., Bel-Air Village, Makati City, with telephone numbers 8953971/75. —
VS, GMA News