'Captain Marvel': Drawn from Pangasinan
His secret origin reminds you of Charice's. He posted his most breathtaking Thor artwork yet online. Someone tweeted it. It reached Marvel Comics. And now, he's penciling "Captain Marvel," the flagship superhero of the world's largest comic publisher.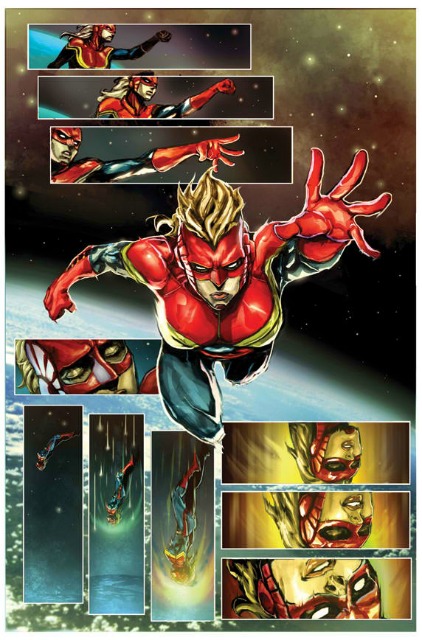 A preview of the artworks for Captain Marvel done by Dexter Soy
Dexter Soy, an architecture graduate and freelance artist from Pangasinan, must have thanked the god of thunder for receiving his biggest break from Marvel Comics. But Soy credits "Trese" creator Budjette Tan as the reason he landed the gig.
"Last November, ('Trese' writer) Budjette Tan stumbled upon my Deviantart page and tweeted the Thor fan art that I did, which caught (Marvel senior vice president of creative and creator development) C.B. Cebulski's attention. Cebulski then emailed me asking for some more of my stuff and I responded," Soy narrates.

Soy, who has only drawn a comic book for Electronic Arts and some independent creators, feels everything is surreal. "I wasn't expecting them to give me a famous title since I'm a newcomer. Moreover, it's my first Marvel work," Soy says. "I was surprised too because I only found out later on that it was a headlined title when it was teased over the net."
Tan, who tweeted Soy's artwork, believes the artist deserves the break. "I was happy to find out that Dexter got that Marvel gig," Tan says. "I was just really blown away by Dexter's Thor pin-up. It felt like it was part of concept art for the Thor movie."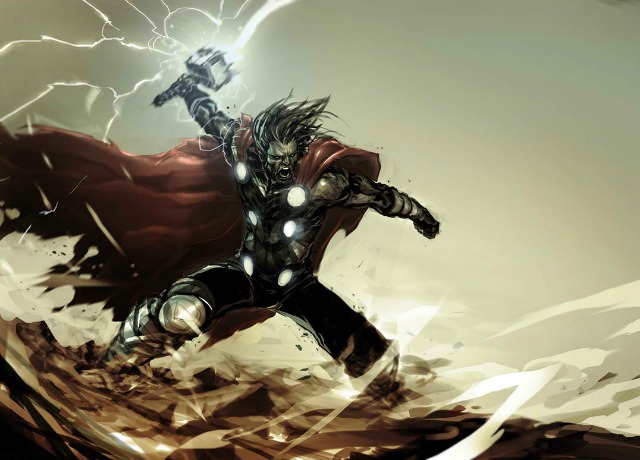 The Thor artwork by Dexter Soy that caught the eye of Marvel Comics
Ms Marvel
Soy is collaborating with renowned writer Kelly Sue DeConnick for the series that centers on Carol Danvers, formerly known as "Ms. Marvel." Filipinos may remember her as the superheroine whom Rogue absorbed flight and super-strength powers from in the 90's X-men cartoon.
In the comics, she struggled with the loss of her powers from Rogue, became an alcoholic, and then turned her life around as one of the Earth's mightiest heroes, "The Avengers."
"As far as the new story goes, it looks like she's trying to give meaning to her new title as Captain," says Soy. He says readers should expect "great characterization, action, World War 2, planes, mechas and badass stuff."
He admits, however, that he missed reading Danvers' past adventures whose latest series under the moniker "Ms. Marvel" lasted 50 issues.
Soy also had to deal with naysayers who do not like the costume originally designed by Jamie Mckelvie. Soy says Mckelvie aimed for a more military look to reflect the character's skills as an Air Force pilot.
"I think they don't like it because they were accustomed to see Ms. Marvel as a sexy character, which is obvious from her past costume," Soy says. Before the relaunch, the character wore a one-piece black suit with a lightning icon and a sash.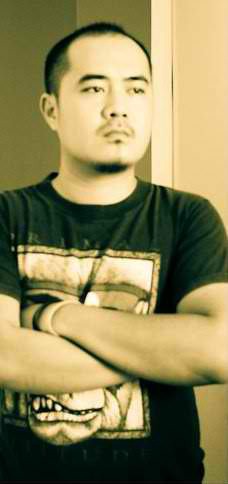 Dexter Soy hopes Filipinos will like his work.


Newest Filipino Marvel
Soy follows a long line of Filipino international superstar artists that include Leinil Yu ("New Avengers"), Carlo Pagulayan ("Hulk"), Mico Suayan ("Punisher"), and Stephen Segovia ("Xtreme X-men").

"I think these guys who get to work for Marvel and DC and other foreign companies are a source of inspiration for all comic book artists," Tan says.
"I feel proud, flattered and I feel pressured as well. And please don't call me a 'superstar artist.' 'Filipino artist' would do," says Soy who cites comics artists Joe Madureira, Ashley Wood, Greg Capullo and Humberto Ramos as his inspirations.
"I dig what I see on their works. I always wanted to convey dynamism, movement, and kinetic and aggressive look on my drawings," Soy says.
Soy promises "Easter eggs" for Filipino readers who would read Captain Marvel. "I hope they like what I did visually for my first work on Marvel," Soy says. His first title will be released this July.
"I actually don't mind if I only get to do a few issues for the title," Soy says. "I'll leave that to the readers and my editors if they like what I do. But I'm trying my best to give the title justice." –KG, GMA News

Photo and artwork courtesy of Dexter Soy