Playgrounds are back in vogue in Bonifacio Global City
Playtime today is usually indoors, and often in front of a computer. It's not unusual for a child to use a mouse before even learning how to hold a pencil.
People who grew up spending weekends at the Children's Playground in Luneta Park, or biking at the Quezon Memorial Circle or by the Manila Bay wax nostalgic about the good old days, when playing meant getting your knees scraped and dirtying your clothes with mud and grass stains.
No one had any fancy gadgets. All you needed for an afternoon of fun was a few marbles, stones lying around, or some string. Kids could entertain themselves for hours playing games like habulan, taguan, piko, luksong baka and luksong tinik.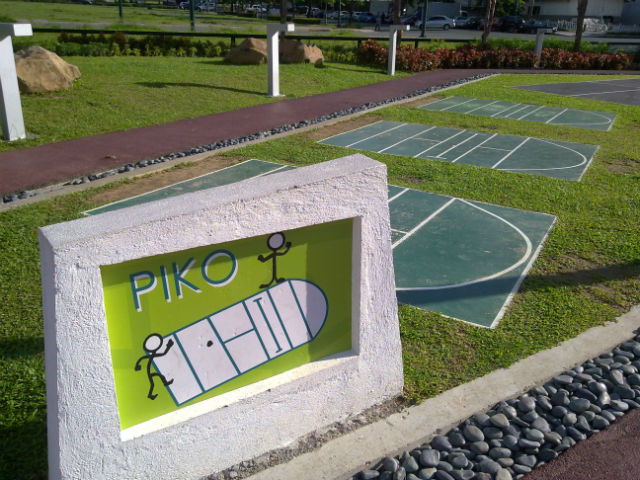 At Bonifacio Global City's new theme parks, parents can teach their kids some old games, as well as learn new ways to play. Built right next to the business and shopping rows, Terra 28th features creative installations as well as space for outdoor play.
On the other side of Bonifacio High Street is Track 30th, an outdoor space designed for fitness enthusiasts. Even couch potatoes can appreciate the playgrounds, if only to look at the interesting installations. They might even get inspired to work out. Jogging trails run through lush greens and wide lawns, big enough for circuit training and group exercises.

A Raised Running Disc made of recycled shredded rubber helps track the distance the runner has covered. Another eco-friendly feature is Pole Position, old telephone poles made into an installation for stretching, push-ups, sit-ups and other fitness routines.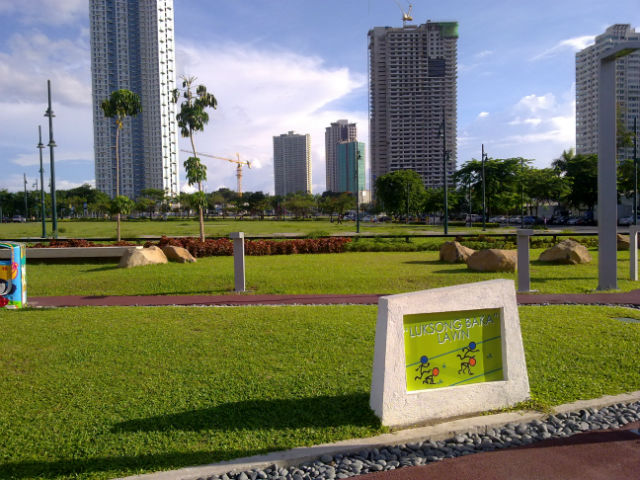 A jogging path also runs through Terra 28th, with a Larong Pinoy Area on the left and the Rest and Play Ribbon playground on the right.
At the Larong Pinoy area, there's a luksong baka lawn, as well as permanent piko lines and space for habulan, holen and patintero. Stick figure drawings show the kids how to play. Everything is designed with kids in mind - even the trash can is colorful. Nearby, kids can jump on the steel and glass Musical Steps designed by Rico and Chachu Lascano. There's also a fascinating Color Me Chameleon that changes color as its glass beads turn.
The Rest and Play Ribbon playground is brightly colored, with unusually-shaped monkey bars, swings and a seesaw. "It looks more like a decoration," an eight-year-old girl said as she considered the colorful play sets. One structure resembled a DNA diagram, while another looked like a half a slide. A group of kids tried climbing the ladders before deciding to hang out at the swing set, which looked like a favorite for both children and parents. Although the playground is supposed to be for children up to 12, parents end up trying it out as well.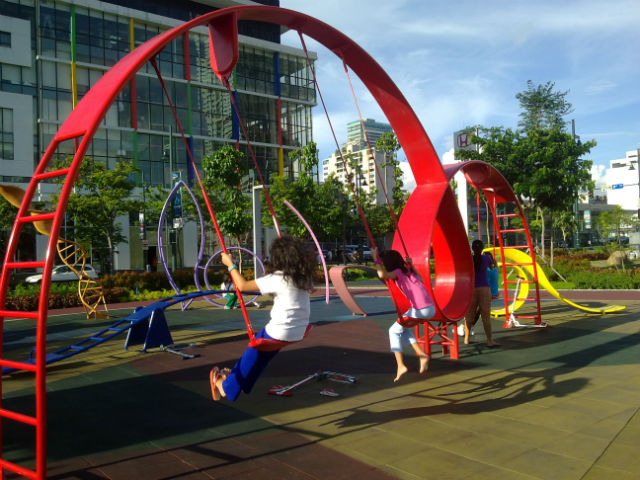 The only problem is the heat. During the day, there aren't too many people at the playgrounds. Although they are quite pleasant open spaces in the middle of all the buildings, there's not enough shade. There are a lot more people at night, when it's cooler. Fortunately, the playground is well-lit, and parents don't have to worry too much.
Terra 28th and Track 30th are open daily from 6 a.m. to 10 p.m. — TJD, GMA News