ADEC Group promotes healthy lifestyle in the workplace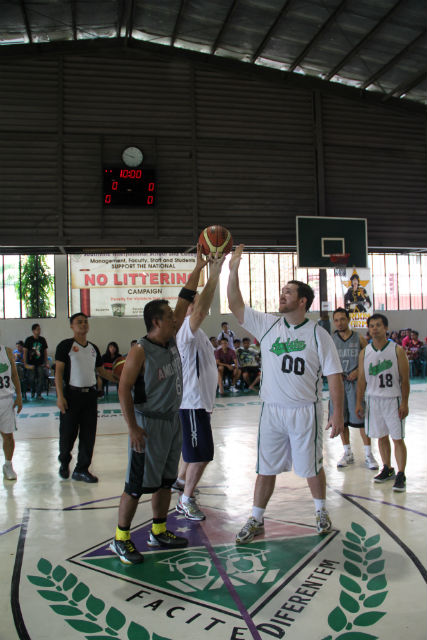 American Data Exchange (AMDATEX), a member of ADEC Group, promotes an active lifestyle through its annual sports fest.
ADEC Group, a leading provider of customized global outsourcing solutions headquartered in the Philippines, continues to promote a healthy lifestyle in the workplace. "Across all ADEC Group companies, our people are our most valued assets," stated James Donovan, ADEC Group chief executive officer. "We understand the demands of the industry, and the best way for our people to succeed in a fast-paced and highly competitive sector is to live healthy."
An advocate of sustainable business practices, ADEC Group's production facility has a pleasant environment free from air and noise pollution. "Because of our strategic location, we ensure a comfortable workplace for our employees. We have designed our business campus so employees can leave their workstations during breaks to stretch or sit on park-style benches to relax during their free time. We also have a landscaped garden with a waterfall and koi pool to help relieve stress," stated Noel Siscar, head of Employee Relations.
In addition, American Data Exchange (AMDATEX), a member of ADEC Group, promotes an active lifestyle through its annual sports fest. "We organize sports fests every year to keep the mind and body healthy. It also strengthens friendships and encourages our employees to do well in areas outside their job descriptions," said Siscar.
The theme and title of this year's sports fest is "Boot Camp" which kicked off last summer. Among the attendees was channel manager Mariz Ariza, who has been part of AMDATEX for over nine years. "As early as January, my team and other colleagues were already anticipating the sports fest and signed up for gym training or scheduled basketball and volleyball games to get in shape," she said. "Sports fests really bring teams together inside and outside of the office as we vie for the championship."
Several volleyball teams from past sports fests still continue to practice together whether to up their ante in this year's games, or to simply enjoy time with friends. "We still play volleyball even if it is not a practice- or game-day, as long as there's no conflict in our schedules," said Renchie Advincula, adding that they also organize small team building activities within their respective departments because good team dynamics lessen the pressures of work. Shem Carpio, a new employee, added, "Work distribution is never a problem since we get additional support when the volume of work increases."
The company also shared tips on how employees can stay healthy while working odd-hour shifts. A common problem among night-shift employees is the difficulty in getting enough sleep during the day. To achieve a conducive environment for sleep, making the room as dark as possible is recommended. Thick curtains or solid blinds can block light coming in from the outside. Eye masks are also useful for this purpose.
Sometimes, employees may feel sluggish during their shift. To rejuvenate their bodies, they can go for a healthier yet cheaper alternative — exercise. Physical activities can have lasting and more beneficial effects than a nicotine or sugar fix. Exercises that can be done within office premises include brisk walking, stretching, or at least 15 counts of squats during breaks.
Scheduling a workout pre-shift is more beneficial since exercise helps energize the mind and body. Night-shift employees who may find it difficult to exercise because of their work schedule can do simple exercise routines at home. For example, using the stairs can be an effective cardiovascular workout, and common household items such as water bottles or containers can function as weights.
ADEC Group recognizes that every individual is unique and each has different ways of coping with the demands of their work. Therefore, it encourages its employees to embrace healthy practices and prevent illnesses caused by stress and unhealthy behaviors. The company conducts year-round health and wellness programs based on recommendations from the Department of Health and the World Health Organization. Through such programs and activities, employees learn about health risks and how to take better care of themselves, whether through exercise or improving dietary habits. "And while we operate 24/6, we strive to make sure that everyone enjoys their much-needed personal or family time," said Siscar.

Press release and photo from ADEC Group