NCAA
:

Pampanga Trio delivers 62, dispatches CSB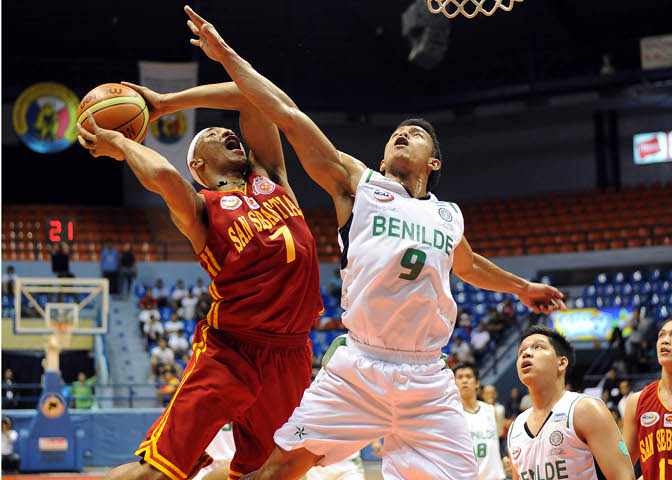 A Beast-ly Calvin Abueva (left) dominated the game to the tune of 23 points and 23 rebounds.
KC Cruz
Reigning MVP Calvin Abueva lived up to his nickname, "The Beast," as his dominant performance helped the San Sebastian College-Recoletos Golden Stags survive the College of Saint Benilde Blazers, 95-93, allowing them to barge into the win column of the 88th NCAA seniors division basketball tournament, Saturday at the FilOil Flying V Arena in San Juan.
Abueva exploded for 23 points and 23 rebounds, the latter tying in career-high, as the Golden Stags rebounded from a 74-80 opening day loss against the season's hosts, the Colegio de San Juan De Letran Knights.
The Blazers, who rallied from 11 points down in the final period, tried to send the game into overtime but Carlo Lastimosa and Paolo Taha were foiled on their potential game-tying baskets.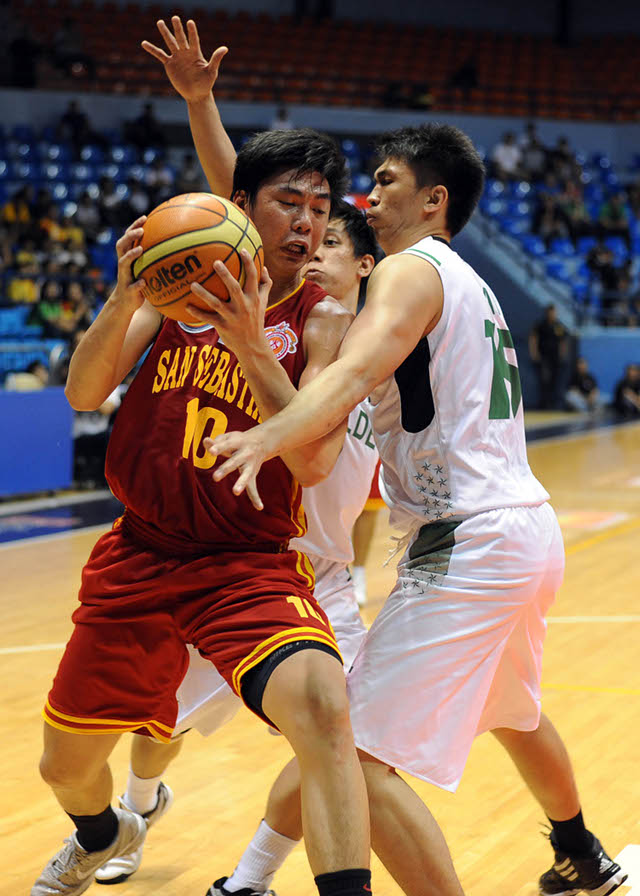 Ian Sangalang (left) holds his ground against the CSB doubleteam.
KC Cruz
"The teams have really improved, that shows how the NCAA has evolved. I always remind my players every time they [opposing teams] play against us, they will give their best," said San Sebastian mentor Topex Robinson. "They won't come here and just don't bring their A-game. We have to always on that level na kaya naming tapatan or angatan yung being aggressive ng kabilang team."
In his second game back from an ACL injury, Ronald Pascual woke up with a 20 point and six rebound performance, while Ian Sangalang had 19 points and 6 rebound for San Sebastian.
"Noong first game [against the Knights], hirap kami. Nahirapan din kami [against CSB]. Pabalik pa lang si Ronald [Pascual], he is not yet 100 percent. Pinipilit na ibalik ang dating porma ng team," said Abueva.
The Golden Stags were ahead by 85-74 when the Blazers unloaded a 17-6 run capped by a Joel Tolentino 3-pointer to tie the count at 91-91 entering the two-minute mark.
It was a short-lived celebration for CSB though, as Abueva and Sangalang nailed consecutive baskets for San Sebastian to take a 95-91 advantage, with 40.1 seconds remaining.
Lastimosa scored on a power drive for the Blazers, to move within two, with 17.4 seconds remaining. Then on the next play, CSB forced a turnover, picking off an errant Abueva pass, allowing them to get out and run. Unfortunately for them, the Stags' transition defense saved them, with Ronald Pascual blocking Lastimosa's potential game-knotter, and Taha misfiring off the repossession.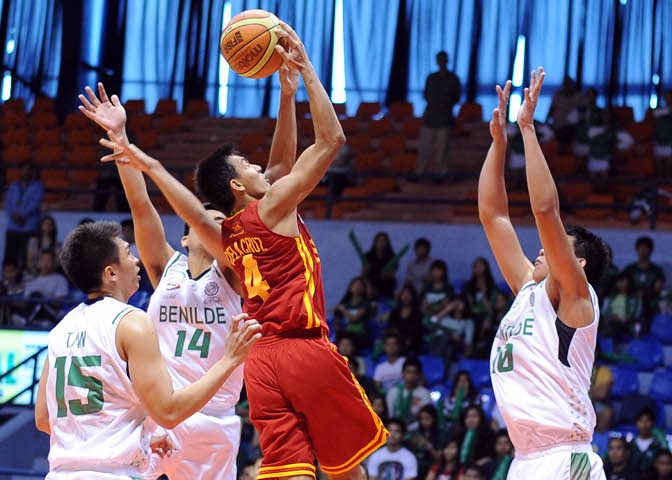 Jovit Dela Cruz was the antidote for when teams clamped down on the Big Three, scoring 16.
KC Cruz
Former Green Archer Tolentino, paced the Blazers with 20 points, while Lastimosa added 19 markers and 5 rebounds.
The Blazers, who dropped to 1-1, failed to post their best start in three years.
CSB was holding a seven-point halftime lead when San Sebastian went hot in the third period, forging a 73-67 advantage after Jovit dela Cruz scored on a follow-up at the 1:32 mark of the third.
The Golden Stags continued their scoring splurge with their running game, as they took a 79-69 lead after Sangalang scored on a breakaway, with 8:40 remaining in the game.
Taha had 9 points in the first quarter when the Blazers were in command with a 27-22 edge.
The Stags next play on Monday, versus the upstart Perpetual Help Altas, while CSB will try to bounce back on Thursday against the Mapua Cardinals.
- AMD, GMA News
The scores:
SSCR 95 – Abueva 23, Pascual 20, Sangalang 19, Dela Cruz 16, Antipuesto 8, Rebullos 5, Juico 4, Vitug 0, Miranda 0, Maiquez 0.
CSB 93 – Tolentino 20, Lastimosa 19, Taha 17, Romero 14, Sinco 10, Tan 5, Bartolo 2, Maconocido 2, Grey 2, Ongteco 2, Deles 0, Dela Paz 0.
Quarter scoring:
22-27, 46-53, 73-69, 95-93
Inboundpass has been covering collegiate basketball for six years. For more NCAA stories and information, check out inboundpass.com and follow Inboundpass on Twitter at @inboundpass