Erik Spoelstra: He puts the Heat on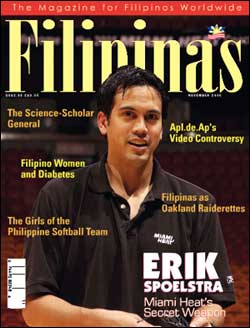 Once the final buzzer went off ending the deciding game of the 2006 National Basketball Association (NBA) finals in Dallas, marking the first championship victory of the 18-year-old Miami Heat, its legendary coach and future Basketball Hall of Famer Pat Riely didn't turn to the $362-million Heat team franchise owner, Mickey Arison or to the Heat's duo of superstars Shaquille O'Nel and Dwayne Wade for his celebratory hug.
Instead, he reached out for Erik Spoelstra, one of his assistant coaches.
Whether the hug was pure spontaneity or a wello-thought out act on Riley's part, Spoelstra deserved such an acknowledgement.
Spoelstra quietly worked the sidelines as an assistant coach, training young players, among them Dwayne Wader, the hottest NBA superstar of late. He devised their game plans from long hours of watching video recordings of games the team played. Spoelstra was an insider in the process that led to the team's first gold.
Born to a Filipino mother, the former Fe Celino, the 35-year-old Spoelstra is an ex-collegiate basketball players at the University of Portland, Oregon, a former professional player/coach for Tus Herren, a team in the professional sports league of Germany.
In Portland, where he was the starting point guard for four years, he averaged 9.2 points, 4.4 assists, and 2.4 rebounds per game and was named the West Coast Conference Freshman of the Year.
Spoelstra graduated from Portland in 1992 with a degree in communications. He's the first Filipino American ever to crack the highest playing rank in the NBA bureaucracy. There are only 90 bench assistant coaches in the NBA, a highly selective profession.
"While playing professional basketball in Germany, I applied for an entry level video coordinator position with the Heat. I applied for an entry level video coordinator position with the Heat. I had always wanted to get into coaching and I figured this might be a good way to get my foot int he door," Spoelstra relates. "I never imagined I would be here for eleven years."
"He did such a good job with that position and with working with players in the off-season that he became a bench coach on the Heat staff," says Tony Fiorentino, a former Heat assistant coach and now a SUN sports TV analyst.
Head coach Riley adds: "Erik comes as a whole package to the Heat organization. He is an intelligent operator who knows how to push the right button. He has a knack for seizing weak spots in opposing teams' defenses and turns around with smart game plans."
Unlikely champs
"The 2006 playoff series put us all through the wringer until Wade threw the ball up in the air in victory," admits Spoelstra.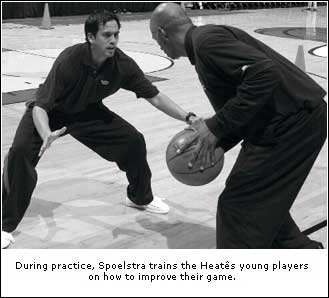 Naysayers regarded the Heat as less than championship timber because they dropped 18 games in the regular season and posted only a 2-12 record against other division winners in the league. Early in the playoff eliminations, the team lost two games to the Chicago Bulls after struggling to secure two wins to start the series.
In Game 1 of their playoff games against the New Jersey Nets, the Heat suffered a blowout loss on its home court, fueling doubts even more. Four straight wins later, the Heat advanced to play against the Detroit Pistons in the Eastern Conference finals. They defeated the Pistons in six games to reach their first NBA championship showdown.
"When we finally played against the Dallas Mavericks in the NBA finals series, we fared miserably at the start, down 0-2 quite in lopsided losses," recalls Spoelstra.
Critics started counting the Heat out again. Though battered, beaten, and bruised, the Heat bounced back, winning all their next four games, three on their home court and one on the road.
In Game 6, with the score at 95-92 and the clock at 0:00, Riley's "15 strong" raised their arms in triumph. Amid fanfare, the team brought the most coveted Larry O'Brien NBA championship trophy to Miami before an adoring crowd of 200,000 in a victory parade down Miami's celebrated Biscayne Bouelvard, where its home court arena proudly towers over Miami's coastal skyline.
Spoelstra has two tasks as an assistant coach. First, he trains perimeter players in support of Riley's defensive and offensive thrusts. Second, he prepares plans for the Heat's upcoming games.
"We primarily run our offense through O'Neal in the low post," Spoelstra says.
This set play runs on a scenario where the Heat perimeter players get the ball to O'Neal in the middle for a post-up offense. If a strong double team confronts O'Neal, the ball is pitched back to the perimeter players for them to shoot from the outside, or pass to a cutter either from the baseline or the wing for an inside shot.
Spoelstra's task along this strategy is to coach the Heat's outside players on passing well to post players, making plays to stretch the defense, and the like.
"We also push our offense through Wade and give him enough floor speace to let him play above the rim," Spoelstra explains. With the Heat's big men — O'Neal or Alonzo Mourning and Udonis Haslem — manning the painted area, and the Heat's small forwards James Posey or Antoine Walker providing three-pointer offense from the wing, and point guards Jason Williams or Gary Payton directing traffic from the perimeter. Wadeis up to freelance at any stretch of the floor for outside and inside offense.
Off the court, Spoelstra spends long and tedious hours watching video recordings of games played by the Heat, to draw up game plans for upcoming games. "Basketball has now become a science — a game of statistical probabilities and of floor strategies," Spoelstra says.
Game plans
"I usually design three to four primary offensive and defensive keys for every game. The purpose of the exercise is to give our players more insight and information about our opponents, i.e, their team statistics, their specific player's tendencies, a player's specific shooting range — a host of information that would help in homing in on our opponent's dominant set plays and in his coming up with our defense matchups to be beat them at their own style of play," says Spoelstra.
Sports analyst Fiorentino says: "Erik's most important contribution to the Heat is having improved Wade's driving ability and offensive touch."
When Wade came back from the Olympics in September 2004 right before his second year in the NBA, Eric worked on his balance and jump shot. Wade, during his rookie year, used to fall down a lot because he attacked the basket with a full head of steam. Erik changed that.
"Wade wasn't particularly extending his arm on his shot and at times was off balance when shooting the vall. Erik worked on both those things with him, and Wade became a much better shooter in the month they worked together with much improved mid-range jumper off the pass and off the dribble. With his driving and finishing ability, Wade made it to the All-NBA Second Team in his second year in the league," Fiorentino concludes.
In the 2006 playoffs that led to the Heat championship Wade exploded to 13 three-pointers, a performance comparable to Michael Jordan's third-year NBA playoff performance of 12 three-pointers during his time.
"The amount of time Erik spent on Wade led to a golden premium for the Heat in the playoffs," Fiorentino adds.
With the NBA title now in Miami, the Heat made good on a promise made by coach Riley 11 years ago and reiterated in the summer of 2004 by one of the 50 great basketball players of all time, Shaquille O'Neal. The championship also marked the rise to basketball stardom of Dwayne Wade, the MVP (Most Valuable Player) of the series.
Spoelstra hopes to stay with the Heat as long as possible.
"Sure, like any other assistant coaches, I aspire someday to become a head coach myself. But I am not in a hurry," he smiles. "There is a saying that I keep to myself: 'Don't mess with good'," he continues.
"But there is one thing that I am definitely interest in doing in the future, and that is helping develop basketball in the Philippines. I have been talking recently with the NBA about me putting together basketball clinics in my mother's home country, hopefully in one of these next couple of off-seasons. It will be a wonderful chance to see some of my family over there and reconnected with my roots," he grins.
Spoelstra will manage the next Heat summer league, overseeing the development program for younger players. He will remain an invisible face in the Heat organization, sitting on the bench with pen and notepad in hand in every stretch of any Heat game. He'll draw up game plans just like a seasoned general in Napoleon's army.
---
Nick Vicera is based in Miami, Florida.
This article originally appeared as the cover story of the November 2006 issue of Filipinas Magazine.