A night of music and dance in Ballet Philippines' 'Songs' production
Ballet Philippines (BP) dancers "sing" on Friday night (July 6) using their bodies as they usher in the opening of their 43rd season with the staging of "Songs" featuring an intoxicating mix of new, old, local, and foreign masterworks from the company's cache of dances.
"Songs" is composed of several suites namely, "Les Petit Mots D'Amour" by Redha Beintefour (France), "Moriones" by Agnes Locsin (Philippines), "This is My Life" by Alden Lugnasin (Philippines), and works by BP Artistic Director Paul Alexander Morales, as well as a new pas de deux choreographed by former BP Artistic Director Augustus Damian III, said BP President Margie Moran-Floirendo.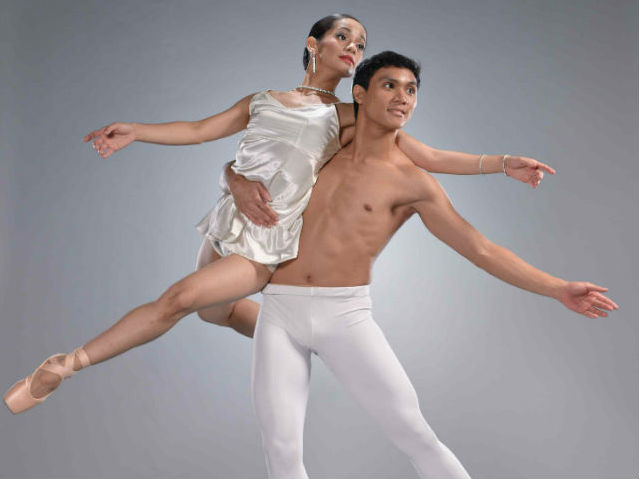 Damian's piece will be premiered by Candice Adea and Jean Marc Cordero, both of whom
won awards
at the 2012 Helsinki International Ballet Competition.
The "Les Petit Mots D'Amour" is a compelling dance piece that embodies a man's innermost desires. The French work conveys how a man is reduced to his primal origins as he covets and yearns for an "interactive idea" that thrusts him into an enigma. The "Les Petit Mots D'Amour" was first performed in the Philippines in 1994.
The "Moriones," which premiered in July 1991 in Manila, was inspired by the Moriones festival of Marinduque and was choreographed by Locsin for BP's participation at the Recontres Festival Du Danse in La Baule, France. It was a study for movement for the "Guardias Civil" dance for Locsin's ballet musical "Encantada."
BP resident choreographer Lugnasin's "This is My Life" is a solo contemporary dance piece highlighting the independence and elegance of woman.
In an interview, Moran-Floirendo said: "'Songs' and the rest of the shows for the 43rd season are efforts to reach to a wide range of market and audience for ballet." She added, "These are market-driven pieces, which are very nice ones. Some of them are classical like the 'A Midsummer Night's Dream,' which we are mounting on a light note and with more modern sceneries."
"We need to reach a wider market and audience: those that go to musical, those that go to classical, and those that go to modern or contemporary. We have to have a mix. There are those who like watching ballet pieces created by Filipinos," Moran-Floirendo said.
In a separate interview, Morales said BP's 43rd season has "dragon song" for its main theme.
"The BP celebrates its 43rd year this year which is the year of the dragon. We want the dragon's magic to have an effect into generating more interest for the local ballet. We like the idea of the dragon. A dragon is very strong, an enduring character, very noble. We aspire for nobility in what we are doing, that is ballet as a form of service."
"As the word symbolizes, the dragon plays with the imagery of magic. All dance pieces in the season feature some form of magic like the 'Neo-Filipino: Anting' has amulets, 'A Midsummer Night's Dream' has fairies, and 'Rama Hari' has the element of transformation," Morales said.
"Magical stories are very important because they teach us to aspire for higher and noble ideas. Magic connotes hope. Hope that there will be transformation for the arts in the Philippines despite the lack of support and audience. We have to mount ballets and hope that magic comes, such as Candice Adea's winning in Helsinki which I think, is miraculous. Her winning shows we can compete with countries with much more support for the arts and longer tradition," he added.
More productions
Other dance works to be staged for this season are:
"Neo-Filipino: Anting," which runs Sept. 14-16 at the Cultural Center of the Philippines Little Theater, features four noted Filipino choreographers who bring to life dramatist Tony Perez's libretto which explores the world of talismans and amulets of Filipino magical traditions.
"Rama Hari," based on the Indian epic "The Ramayana," will be staged from Nov. 30 to Dec. 9 at the CCP Main Theater. "Rama Hari" will be choreographed by BP founder Alice Reyes, with music by Ryan Cayabyab, and libretto by National Artist for Literature Bienvenido Lumbera.
The restaging of "Rama Hari" coincides with the grand theater design retrospective on its set and costume designer, National Artist for Theater Design Salvador Bernal, to be mounted also at the CCP. "Rama Hari" features top Filipino singers and live musical performance by the Manila Symphony Orchestra.
"A Midsummer Night's Dream," which runs on February 2013 at the CCP Main Theater, is an entirely new production of Shakespeare's timeless romantic comedy by award-winning Hong Kong-based choreographer Carlo Pacis. –KG, GMA News
For details, contact Ballet Philippines at (02) 551-1003, 551-7919, or 624-5701. Or visit Ballet Philippines at www.ballet.ph or at the 4/F Cultural Center of the Philippines Bldg., CCP Complex, Pasay City.

Photo courtesy of Ballet Philippines