PBA
:

Never-say-die Ginebra nails game-winner on Jaworski night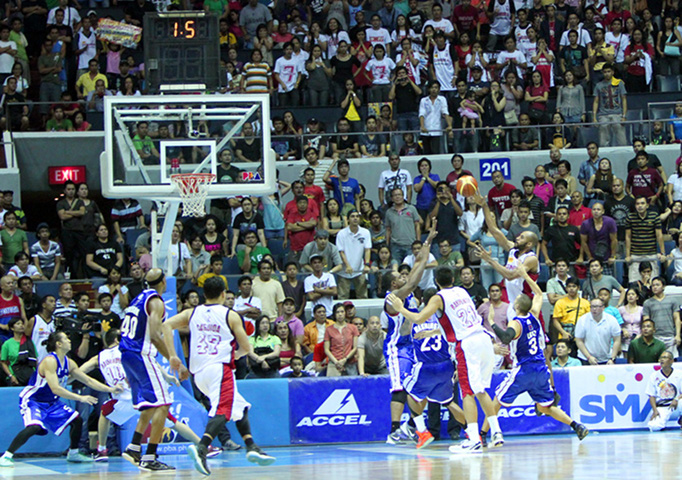 Cedric Bozeman's game-winner for Ginebra capped off a memorable night for Filipino hoops fans. Nuki Sabio
The Barangay Ginebra Kings ended a historic night with a classic Sunday bout, as they notched a come-from-behind win against sister team Petron Blaze Boosters on a Cedric Bozeman game-winner, Saturday at the Araneta Coliseum, 87-85, as part of the on-going PBA Governors' Cup Finals.
"God couldn't have written it better on a night that we're celebrating the foundation of Barangay Ginebra. To show a never say die spirit, I think that's the best send off retirement gift we could give him," said Ginebra head coach Siot Tanquincen, as they played their second game in the semifinals right after Robert "Sonny" Jaworski's jersey retirement ceremonies.
The Kings wore throwback jerseys to honor the "Big J", who now finds his jersey number bannered at the rafters of the Araneta Coliseum.
Petron raced to an early lead as a Chris Lutz three-point play gave them a 10-3 advantage. Kerby Raymundo and Mark Caguioa teamed up for Ginebra on the other end, going on a 6-1 run to trim the lead to two, 11-9, but Lutz would score seven more to spark a Petron rally to end the quarter strong, 23-15.
The Boosters continued to enjoy a comfortable lead in the second period, with Dondon Hontiveros pushing the advantage up to 13, 32-21. Caguioa would spark a Ginebra run at the other end to bring the lead down to six, 33-27, before new import Marcus Faison helped Petron keep the Kings at bay to end the half, 42-34.
Just before the start of the second half, Robert Jaworski came out to shake the hands of the Ginebra players to the delight of the crowd. The gesture went a long way, inspiring his heir apparent Mark Caguioa to score nine in the third, including the Kings' first go-ahead basket, 56-55.
Petron would regain its composure at the other end however, as Hontiveros chalked up eight points, including a buzzer-beating three to end the third, 69-58, with the Blaze Boosters still up.
Petron led comfortably early, thanks to big plays from guys like Alex Cabagnot (center).
KC Cruz
The Kings started to roll at the start of the fourth, going on an 11-4 run to cut the lead to four, 73-69. The game started to get very physical, with both teams hacking at whoever ventured to take an attempt in the shaded lane.
After two missed free throws from Arwind Santos, Caguioa would score inside to help Ginebra inch closer, 80-79.
On Ginebra's next posession, "The Spark" drew a foul while taking a three. Though last conference's best local player went 2-of-3 from the line, it was enough to propel the Kings ahead, 81-80. Chris Lutz responded by taking the ball inside on the other end, with Rico Villanueva being called for a goaltending violation to give the lead back to Petron, 82-81.
A Bozeman split from the line tied the game at 82-all, before Santos split from the line to give Petron a one-point advantage, 83-82. After Caguioa missed a floater, Petron called a timeout with 41.4 seconds remaining in the game.
Faison would miss but Ginebra's Rico Maierhofer was fouled while attempting to grab the defensive rebound. Maierhofer missed two crucial freethrows, but the Boosters left Dylan Ababou to collar the offensive rebound for a basket and a foul, giving Ginebra a two-point lead, 85-83, with 25.8 seconds remaining.
Alex Cabagnot responded on the other end however, as he evaded the defense of Willy Wilson with a crossover and a tough right-handed layup to tie it up at 85-all in 15.9 remaining.
After a timeout, Ginebra milked the clock. With Caguioa denied, Cedric Bozeman would take a screen from Kirby Raymundo, as he went right towards the baseline for a floater. The shot swished through, leaving Petron to take a Hail Mary heave from their backcourt with 0.8 remaining. It of course missed, as Ginebra marched on to take their second straight victory in the semifinals.
"Great players make great plays. The play was for Mark, but he was being defended by their import. Adlib lang nabasa ng mga players. (It was a) good win for us and I'm thankful for it," said Ginebra head coach Siot Tanquingcen.
Caguioa led all scorers with 25 points, to go with his six rebounds and six assists. Bozeman added a double-double of 13 points and 11 rebounds, while young guns Dylan Ababou and Rico Maierhofer combined for 23 markers and 12 boards.
Petron got four players as well in double-figures, led by Faison's 19, but nine missed free throws in the final period did them in, as they finished 10-of-22 from the foul line, in sharp contrast to Ginebra's more solid 20-of-30 outing.
Ginebra managed to cop the win despite allowing Petron to shoot 46.1 percent from the field. They did rule the boards however, to the tune of 54 to 41, with a six offensive carom advantage, 18 to 12.
- AMD, GMA News
The scores:
GINEBRA 87 - Caguioa 25, Bozeman 13, Ababou 13, Maierhofer 10, Villanueva 8, Raymundo 8, Helterbrand 4, Cortez 3, Hatfield 3, Maliksi 0, Wilson W. 0, Mamaril 0.
PETRON 85 - Faison 19, Lutz 17, Washington 11, Hontiveros 11, Santos 9, Yeo 6, Cabagnot 6, Pena 4, Miranda 2, Reyes 0, Ildefonso 0.
Quarter scoring:
15-26, 34-42, 58-69, 87-85