MCO Foundation holds concert debut of 3 young musicians
If you live or work in Makati City, you know fully well how the usual sounds of bellowing vehicles, hurried foot steps, clacking heels, and elevators going up and down can make working people even more stressed than they are.
So if you happen to need a breather, or if you find yourself in Makati for whatever reason tomorrow (July 12), try to drop by at the Ayala Triangle for a night of beautiful music that will hopefully drown out the sounds of the city, or at the least, blend beautifully with it. Three music prodigies will debut in Manila Chamber Foundation's (MCO) series of concerts this July.
Seventeen-year-old violinist Christian D. Tan opens the 2012 season with the theme "Three prodigies now, Tomorrow's music masters," at the Filipinas Heritage Library, Ayala Triangle, at 6:30 p.m. tomorrow.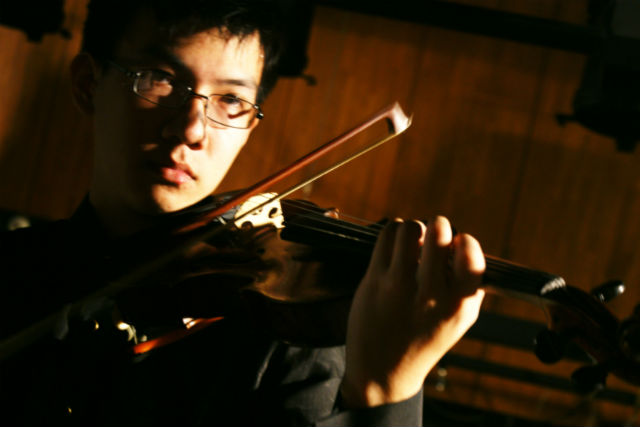 Violinist Christian Tan
Baltazar Endriga, chairman of the MCO Foundation said of Tan, "he is considered one of the Philippines' most promising young violinists and is the youngest musician to be invited to participate in the Asian Youth Orchestra's 17-City Asian tour."
Tan is a consistent winner in the National Music Competitions for Young Artists (NAMCYA) and was given the Asian Youth Orchestra Artistic Director Achievement Award for Excellence "for his extraordinary commitment and dedication to hone his artistry." It was the first time that Richard Pontzious, Asian Youth Orchestra founder and music director handed out such award for excellence.
Tan is under the current tutelage of violinist Gina Medina, concert master of the Manila Symphony Orchestra (MSO) of Arturo Molina and Jeffrey R. Solares, where he is also a member.
In a separate interview, Angel Nacino, MCO Foundation's Executive Director, said Tan's repertoire includes: Eugene Ysaye's ( 1858-1931) "Sonata for Solo Violin, Op. 27, No. 2 Jacques Thibaud" in four movements: "Obsession: Prelude," "Malinconia," "Danse de Ombres: Sarabande," and "Les Furies."
Ysaye's "Sonata for Solo Violin, Op. 27, No. 2 Jacques Thibaud" is the composer's tribute to four of his friends, with each movement dedicated to one violinist-friend of his period.
The Ysaye suite is followed by Camile Saint-Saens' (1835-1921) "Violin Sonata No. 1 in D Minor, Op. 75 (1885)" in two movements: "Allegro agitato-adagio" and "Allegretto moderator-Allegre molto."
Nacino said the second-half of Tan's season opening concert features Henri Wieniawski's (1835-1880) "Legende Op. 17," Pablo de Sarasate's (1844-1908) "Zapateado," and closes with Maurice Ravel's (1875-1937) "Tzigane".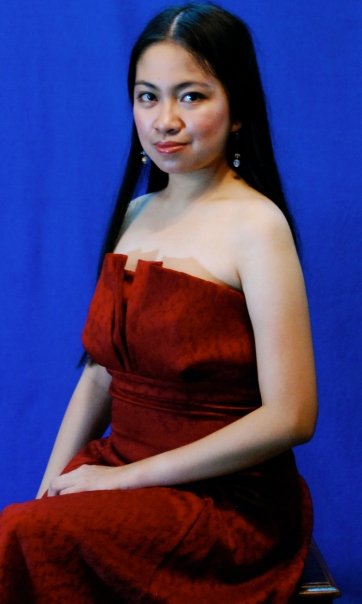 Soprano Elainne Vibal
Nacino said the two other artists featured in the MCO Foundation's "Young Artists' Series 2012" are soprano Elainne Vibal, with a concert on July 19, and flutist John Raymond Sarreal, who mounts a concert on July 26. Both concerts are at the Filipinas Heritage Library.
Vibal is a prize-winner in the 2009 Jovita Fuentes Vocal Competition, a student of soprano Camille Lopez-Molina of the UP College of Music, and was a chorus member in the MusicArtes' Inc. production of Giacomo Puccini's "Madame Butterfly" staged at the Cultural Center of the Philippines on June 22-23, 2012. Vibal also completed a series of performances as "Maria Clara" in the Dulaang UP Production of National Artist Felipe Padilla De Leon's "Noli Me Tangere."
Sarreal, another consistent NAMCYA winner, recently received his Bachelor of Music at the University of the Philippines, Diliman, under the tutelage of Prof. Enrique Barcelo. He has studied under Antonio Maigue, Thomas Perrzoli, Bernard Goldberg, and Hiroshi Matsushima.
Sarreal passed the Rome Music Festival Auditions that will enable him to participate in the Rome Music Festival Orchestra, Nacino said.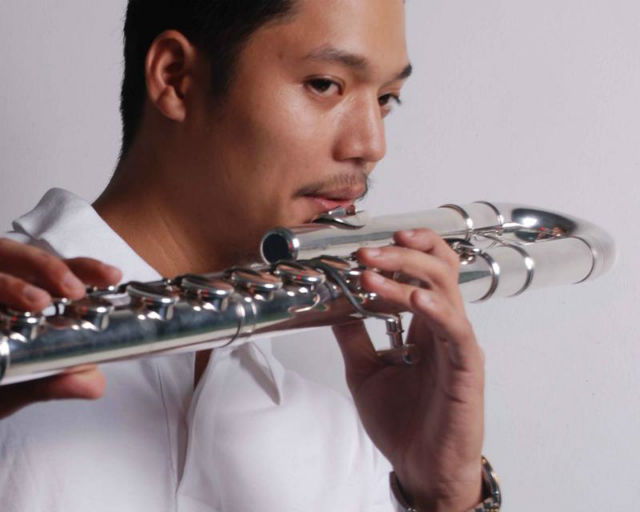 Flutist Raymond Sarreal
"To give our audience a taste of the best of chamber music, we are presenting several of the mentors of our young artists in a concert called 'Trio: The best of chamber music' with pianist Mary Anne Espina (2008 Aliw awardee), violinist Gina Medina, and US-based cellist Wilfredo Pasamba," she said. "Trio" is on July 20, 2012 at the Filipinas Heritage Library.
The MCO Foundation, established in 1985, is as a non-stock, non-profit cultural organization dedicated to the promotion of classical and cultural arts. One of MCO Foundation's programs supports the young artists through its 'Young Artists Development Program' which provides our young artists the experience through performance opportunities, endorsement, and exposure to a wider public.
–AC, GMA News
For details, call the MCO Foundation Secretariat at (02) 750-0768 or 0920-954-0053; the Filipinas Heritage Library at (02) 892-1801; or Ticketworld at (02) 891-9999.
All photos courtesy of MCO Foundation