Youscoopers pay tribute to Dolphy
On the day Malacañang declared July 13 as National Day of Remembrance in honor of Dolphy, fans and former workmates shared with GMA News Online their cherished memories and creations inspired by the comedy king.
Painting a 'King'
Graphic artist Ralph Raymund Tobias Cifra sent a time-lapse video of a Dolphy painting he drew the very night he learned his idol passed away on Tuesday.
"'Di ba namatay siya 8:34 p.m.? Pag-kauwi ko pa lang, mga 12 midnight, the night he died, sinimulan ko na yung painting. I finished at 2 a.m. the next day," Cifra said. "Pinaint ko siya kasi haligi siya ng industriya, at idol ko din siya. Galing siya sa mahirap na pamilya, pero naging successful. Balak ko na sana siyang i-paint dati pa, noong nalaman kong hindi na maganda yung kalagayan niya."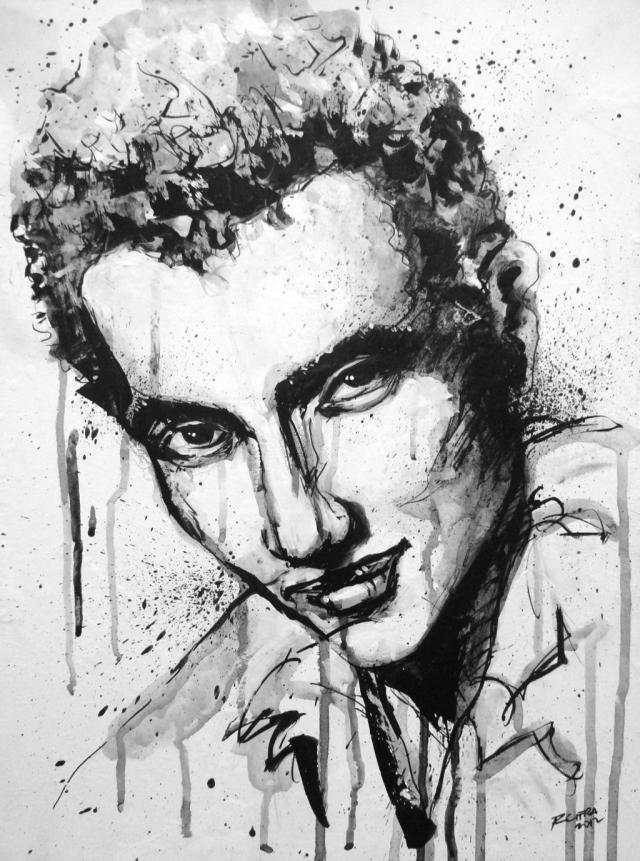 Dolphy: Hari ng Komedya, Pencil, Ink, Acrylic on Canvas 12" x 16" by Ralph Raymund Cifra.

The pencil, ink, and acrylic portrait of a young Dolphy is on 12" x 16" Canvas. Cifra said he painted this because he wanted the "Comedy King" remembered in his prime. Cifra is a graphic artist for GMA New Media Inc.
Dolphy in Hong Kong
While on tour in Kowloon, Hong Kong, architect Eduardo B. Ong bumped into his idol Dolphy in a shopping district.
"Bakit ka nandito?" a surpised Ong asked the comedican.
Dolphy said he was on vacation with his son Vandolph. "Mga seven o eight pa lang si Vandolph noon," Ong noted.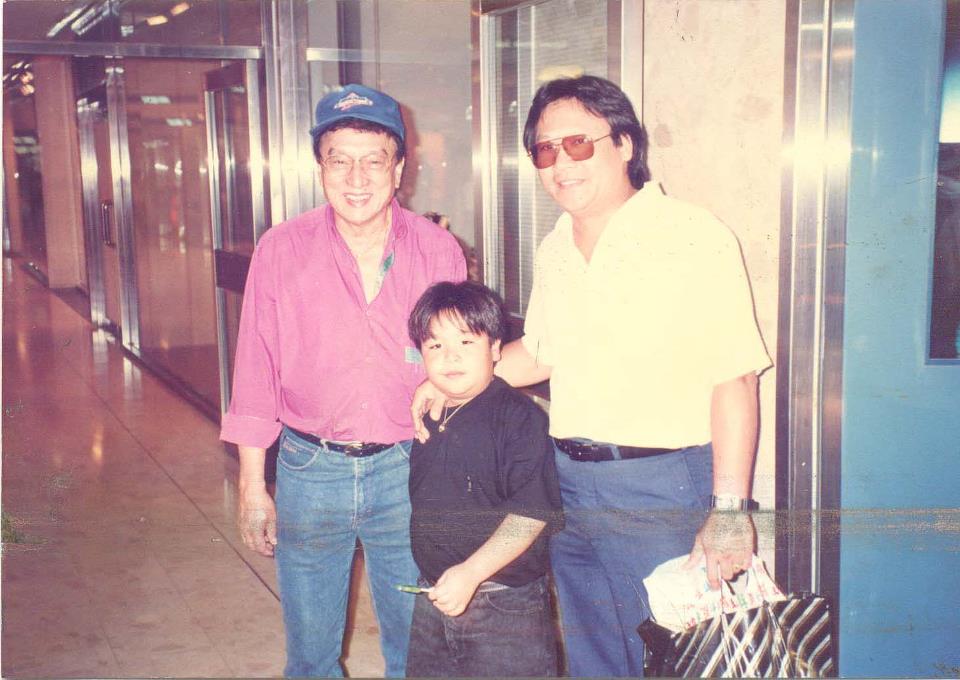 The Comedy King with youngest son Vandolph and fan Arch. Eduardo B. Ong in Kowloon, Hong Kong.

Dolphy was so approachable that Ong asked Dolphy if they could have a picture together. The comedian readily obliged.
Ong does not remember the exact date the picture was taken, only the memory associated with it. "Basta batang-bata pa si Vandolph, tapos makulit, siksik!" he said.
'Childhood memories'
"Back when I was in second year high school, my friend and I were eating at Cafe Bola," narrates Youscooper Betti Bernabe. "Dolphy was with his [production assistant] lang, eating."
"We were so star-struck kasi siyempre childhood memories in the flesh but we didn't want to bother him sana, but well… it's not like you see him everyday," Bernabe said.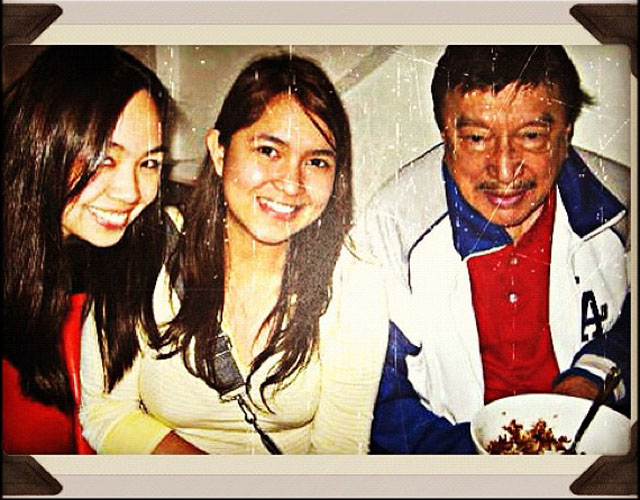 Young fan Betti Bernabe and friend with Dolphy in Greenbelt.

She and her friend eventually summoned the courage to ask for a photograph and stood stiffly behind Dolphy.
Ever the man who can diffuse an awkward situation with a laugh, Dolphy joked, "Tabihan nyo naman ako, baka hindi ako makita sa picture, eh."
Co-workers
Chris Calario remembers meeting Dolphy as a young boy. "He was so friendly. One time pinakilala ako ng tatay ko kay Dolphy. Palabiro siya, he patted my head," Calario said
Calario's father was the cameraman for "John en Marsha." "Here he is with Dolphy at a taping in Hong Kong during the Mid 1980s," he said, pointing at the picture.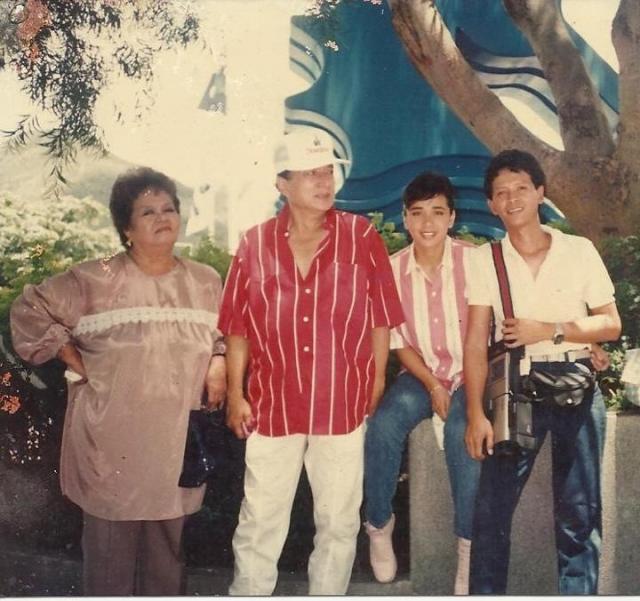 Dolphy with Alma Moreno, mother of his youngest son; comedian Adelaida Fernando, better known as Dely Atayatayan; and cameraman Antonio Calario.

In the photo, the man with the camera is Antonio Calario, Chris' father. With him and the Comedy King are Alma Moreno and comedian Evelyn Bontogon, better known as Matutina.
"This was back when John en Marsha was still aired in RPN 9," Calario said.
Even before, Dolphy was generous with people he worked with. "Everytime matatapos yung taping, nagbibigay ng pera sa buong crew, biglang abot [ng] kamay sa mga tao, mga 200 pesos every taping talaga," Calario recalled.
Meanwhile, Mae Agnes Mesina recalls how the Comedy King helped her family, proving that onscreen rivalry is nothing to him. Mesina's father-in-law is Jessie Mesina, also known as Rocco Montalban, a character actor and kontrabida.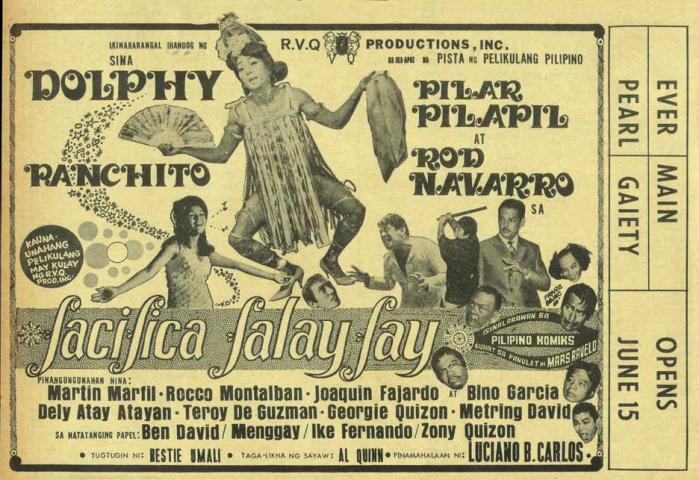 Ticket memorabilia of FACIFICA FALAYFAY. Mesina's father in law's name appears in the ticket.

"Tumulong si Dolphy nung nagkasakit si Rocco Montalban," Mesina said.
Even though he died in 1997, Mesina will always remember the kindness Dolphy extended to their family. "Nagbigay siya ng pera para sa mga gamot, tseke. Walang hiningi na kapalit," she said. Help from the comedian was not a one time thing, "Maraming beses niya kaming tinulungan, hindi ko na matandaan kung ilan."
Mesina said her family is not the only one Dolphy helped. There are countless others. "Ganun daw talaga si Dolphy," she said.
Digitizing the 'Comedy King'
Meanwhile several Youscoopers rendered digital images of the "Comedy King."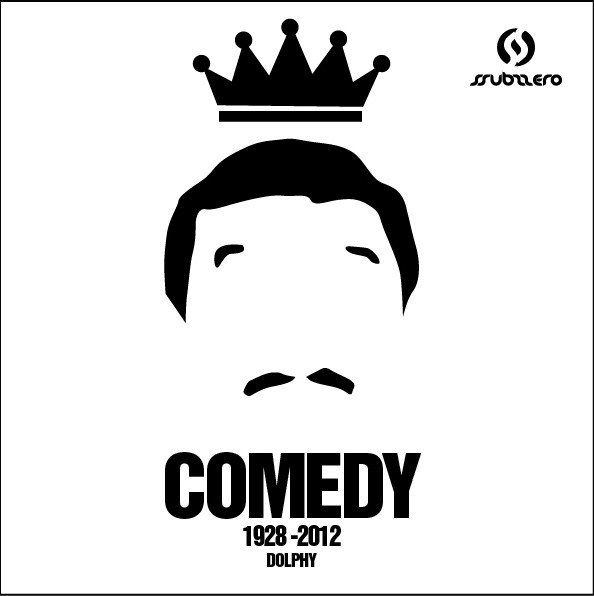 Adobe Illustrator artwork by Alvin Gilbert Gonda.

Alvin Gilbert Gonda used Adobe Illustrator to create this image. "Favorite ko ang John en Marsha at Home Along the Riles," he said.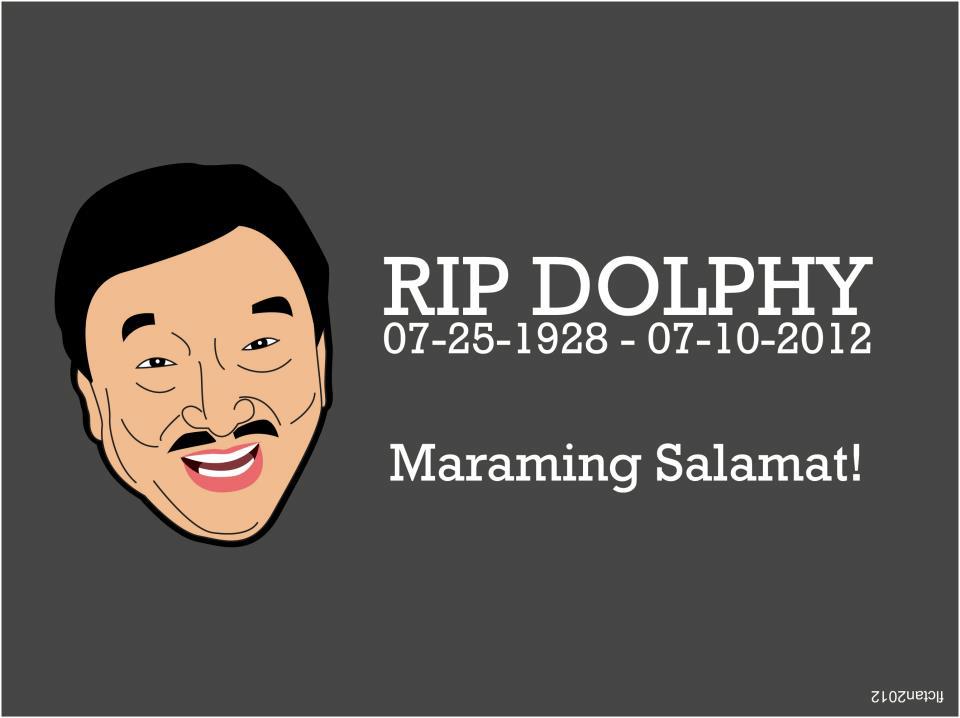 Lawrence Tan's sketch of Dolphy, immortalizing his birthday and death.

Lawrence Tan of Caloocan also sent in a banner of Dolphy with the words "RIP DOLPHY July 25, 1928-July 10, 2012, Maraming Salamat!"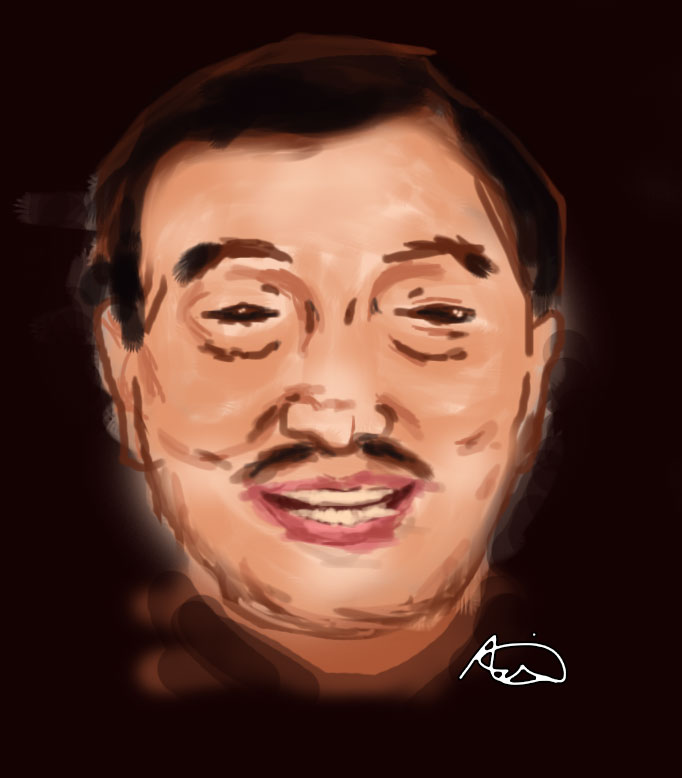 Smiling King: Beau Randell Garcia created this sketch in Draw Something and Photoshop.

To cope with the sadness over his favorite comedian's death, Beau Randell Garcia sketched a portrait of a smiling Dolphy using the popular mobile app "Draw Something." He himself fixed the sketch on Photoshop for about 20 minutes, said the graphic artist and web designer. "Gusto ko siya, kasi ang comedy ni Dolphy ay comedy na 'di laitan," he added. — AC/VS/TJD, GMA News