UAAP
:

Tigers slip late, fall to the Tamaraws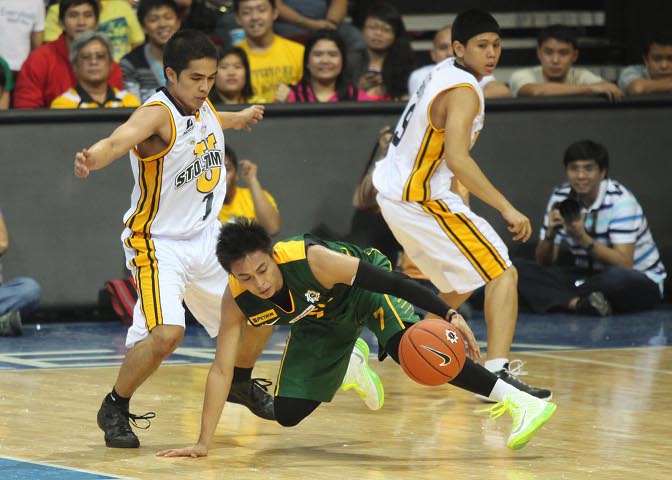 Not going to let this one slip away - Terrence Romeo (center) and the rest of the FEU Tamaraws held on against Jeric Fortuna (left) and Clark Bautista's UST Growling Tigers.
KC Cruz
After trailing for virtually the entire game, the Far Eastern University Tamaraws snuck past the University of Santo Tomas, 73-72, in the first round of the UAAP Season 75 men's seniors division tournament on Saturday at the Mall of Asia Arena.
RR Garcia led the Tamaraws with 21 points, five rebounds and seven assists, including a perfect 4-for-4 clip from downtown. Fil-Am Anthony Hargrove scored 14 points, and added 14 rebounds and three blocks, while former Rookie of the Year Terrence Romeo added 13 points despite a 6-for-16 outing from the field.
Romeo, now in his third year, caught fire at the start of the fourth, using a variety of moves to score seven unanswered points. It brought the Tams back from the dead, after trailing by as much as 12 with less than a minute left in the third, 60-48. However, Aljon Mariano and Karim Abdul converted on back-to-back plays to stave off their opponents, 64-57.
Garcia answered with consecutive treys from the top of the circle, and a Tolomia layup capped off an 8-0 blast for the Tamaraws, as they briefly took the lead, 65-64, before a free throw from Abdul knotted the score with three and a half minutes to play.
Romeo pushed the Tams ahead by two, only to be deadlocked by a baseline jumper from Fortuna. FEU scored again on a lob play by Hargrove, but Teng answered with a drive and a triple to take a three point lead, 72-69, with just over a minute in the game.
With half a minute to play, Kevin Ferrer was called for basket interference, leading to FEU trailing only by one, 72-71. Jeric Fortuna took time off the clock before attempting to score, only to be stripped by Romeo when he made his move, and Garcia finished with an easy lay-up on the other end.
UST had a chance to tie with under ten seconds to play, but they had no timeouts left. Mariano's attempt at a game-winner then clanked against the side of the rim allowing the Tamaraws to secure the rebound and the victory.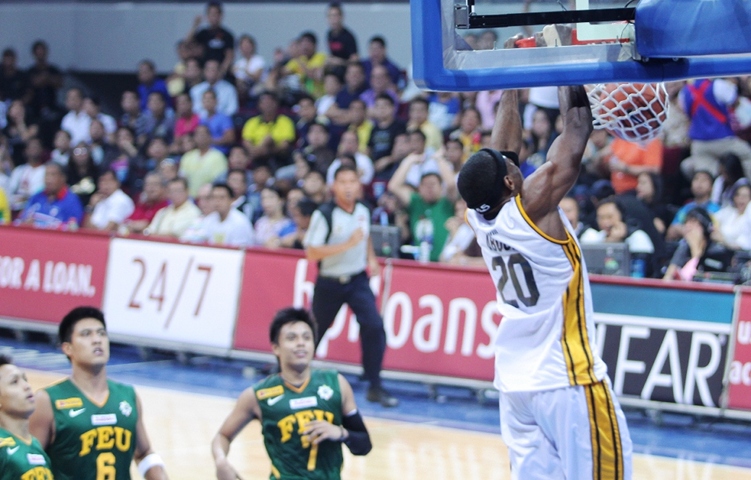 Center Karim Abdul (right) provided quite a lot of muscle for UST early on, but FEU's defense solved him late.
Jeff Venancio
The Tamaraws started in a 6-0 hole but soon equalized, thanks to stout play by Garcia. Karim Abdul scored the next three points for UST while Roger Pogoy and Fil-Am Anthony Hargrove made consecutive baskets to edge ahead, 12-9.
However the Tams would not score over the next three minutes while UST went on an offensive tear. Abdul started the action with a 15-footer, and Jeric Teng and Clark Bautista followed with treys from the right wing. A twisting move by Mariano and a two-handed slam by Abdul put the finishing touches on an 11-2 run with over two minutes remaining in the first quarter.
FEU, however, made amends in a hurry. Cris Tolomia and Mark Bringas scored under the basket in the dying seconds to trim the margin, 21-18, after the first period.
In the second quarter, the Tigers' zone defense proved ineffective as FEU found ways to score inside. Tolomia and Gyrann Mendoza were fouled inside and notched five points for the Tamaraws. UST countered with a jumper from Melo Afuang and a pair of charities from Abdul to keep a slim lead, 25-23.
Some nifty passing from FEU found Carl Cruz open underneath the basket, where he converted for two points. RR Garcia rifled a trey from the top of the circle to retake the lead, followed by a basket by Hargrove to complete seven unanswered points for the Tamaraws, regaining the lead, 29-25, halfway through the period.
The Tigers pushed back even harder, denying FEU another field goal until the end of the half. Meanwhile Aljon Mariano, Jeric Fortuna and Abdul repeatedly finished at the rim and tallied four points apiece to build a 12-0 run. Roger Pogoy converted a pair of charities with thirty seconds remaining in the half to put his team back on the board, and the Tamaraws carried a 37-31 hole heading into halftime.
When play resumed, UST couldn't connect on several tries from deep. Nevertheless, the Tigers fended off the Tams, creating an eight point lead, 42-34, off a free throw by Melo Afuang. However after an and-one play by Pogoy, Hargrove scored four straight points and Garcia converted from the field to cap off a 9-4 run as the Tams cut the lead to three, 46-43, with under five minutes in the third.
UST countered again as Clark Bautista and Teng converted thrice from beyond the arc en route to a 13-3 rally for the Tigers, opening their biggest lead of the game, 59-46. With under a minute and a half to play, FEU salvaged the period by outscoring the Tigers, 4-1, and held a 60-50 deficit after three quarters.
Tams head coach Bert Flores chalked up his side's victory to their veteran savvy, saying, "
Mas
experienced
kami sa
UST.
Ilang
years
na kami nasa
Finals.
"
Lamang kami dun
."
It was everything but the W for the Tigers; Pido Jarencio's team hit 6-of-16 from deep, or 37.5 percent, and held significant advantages in rebounds (47-39), and steals (7-2). FEU, however, led in terms of fastbreak points (13-3, including Garcia's clincher), and field goal shooting (43.9 percent to 37.8 percent).
- AMD, GMA News
The scores:
FEU 73: Garcia 21, Hargrove 14, Romeo 13, Tolomia 8, Pogoy 6, A Bringas 4, Mendoza 3, Cruz 2, M Bringas 2, Belo 0, Escoto 0
UST 72: Abdul 24, Teng 18, Mariano 10, Bautista 7, Fortuna 6, Afuang 5, Ferrer 2, Vigil 0, Pe 0, Lo 0, Daquioag 0
Quarter scoring:
18-21, 31-37, 50-60, 73-72