UAAP
:

Growling Tigers end 12-game drought against Blue Eagles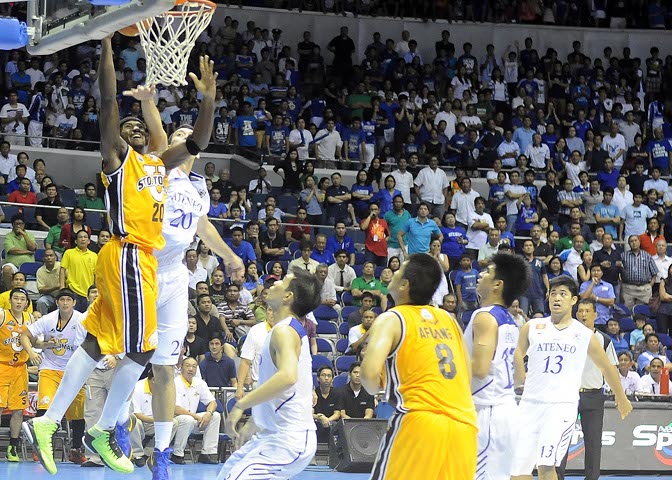 Karim Abdul beats Greg Slaughter off the dribble to score a decisive basket that made it 71-67.
KC Cruz
(Updated 5:08pm)
Jeric Teng and the rest of the UST Growling Tigers held on for a 71-70 squeaker, snapping a 12-game losing streak to the defending champion Ateneo de Manila University Blue Eagles, Thursday at the Smart Araneta Coliseum, in the 75th season of the UAAP.
"[Whether by] one point or twenty points, a win is a win," said a jubilant UST head coach Pido Jarencio.
The Tigers roared to the tune of a 30-11 third quarter to break a 43-28 halftime lead by Ateneo as returning forward Aljon Mariano took the lead out of halftime, forging a 13-1 run that got them to within a point, 51-50, 1:48 left.
A split by Justin Chua made it 52-50, but six straight points by Mariano made it 58-54. The Tigers then got a lucky break, as a Blue Eagle tipped in a last-second heave, making it 58-54 for UST with a quarter left.
The Tigers thought they had escaped after a Karim Abdul drive made it a four-point game, 71-67 with 10 seconds left, but with Abdul celebrating, Juami Tiongson took advantage and nailed a clutch triple, making it a one-point affair with five seconds left.
Off the inbounds though, Ateneo was slow to foul, finally sending Teng to the line with a second and change left. Though he missed both charities, the time it took Slaughter to corral the rebound ran out the game clock, handing UST the win.
Prior to the game, Eagles head coach Norman Black said that Mariano was a player to watch out for on the Tigers. "Pinatunayan ko sa kanila na ako nga dapat ang bantayan," said Mariano, after his performance validated Black's forecast. "Di kami nawalan ng puso, fight lang kami."
Jarencio also commended his leading scorer for his performance, saying, "Breakout game niya, pero marami pa ang lalabas ang laro diyan.
"Consistency nalang ang kailangan niya for the rest of the season."
At the onset of the game, the Eagles shut down UST in the paint and used stops to fuel their vaunted transition attack. Ateneo surged ahead on a breakaway layup by Oping Sumalinog that made it 8-0, forcing Tigers' head coach Pido Jarencio to call a timeout.
Aljon Mariano dropped in a floater when play resumed, but Sumalinog countered with another basket when play resumed, and Salva completed an and-one play to offset a three-ball from Jeric Teng. UST then went on a brief 7-2 surge, capped by a three-pointer from the top of the circle from Fortuna that trimmed the deficit to 15-12, with under four minutes to play.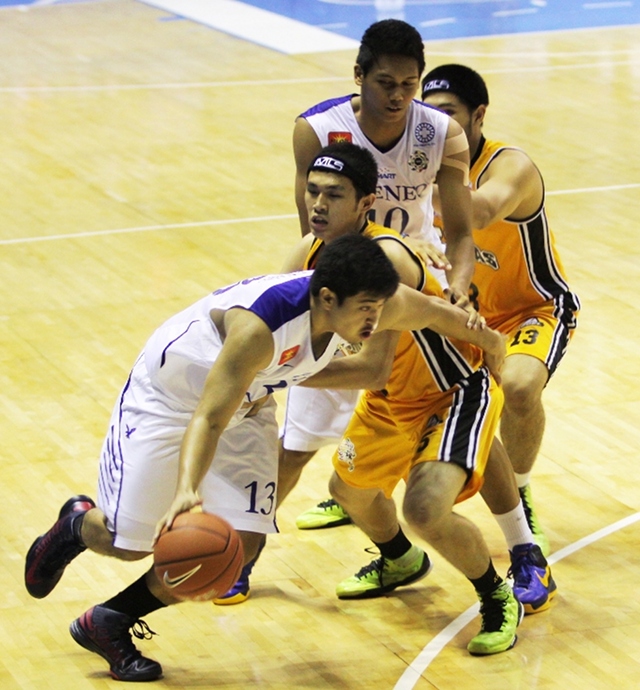 Ryan Buenafe tries to use a JP Erram screen to pick off his defender Kim Lo.
Jeff Venancio
However, the Tigers would not score for the rest of the period as Ateneo's defense shut them down. Meanwhile the Eagles surged ahead on a 12-0 run. Nico Elorde put the finishing touches on the quarter, draining a three from the right wing to put the Eagles ahead, 27-12.
Teng made both charities off a foul in transition at the start of the second quarter. Abdul found space under the basket and made back-to-back field goals, offering a brief 6-0 run for the Tigers as the Eagles went cold from the floor. But it was Salva's turn to put up consecutive makes from the field to fend off UST, 31-18 with under six minutes remaining in the half.
Ravena next scored eight straight for Ateneo, as Abdul tried to rally the Tigers with a two-handed jam off a pick and roll, but the Eagles' advantage still stood at 39-20. Kevin Ferrer scored on a putback attempt for a brief 8-2 run for UST, but Salva had the final say, draining an 18-footer as time expired to take a 43-28 lead into halftime.
UST forward Aljon Mariano exploded for 22 points and 13 rebounds for the Tigers. Jeric Teng had 16 points and seven rebounds, while center Karim Abdul had 14 points, five rebounds and two blocks. Jeric Fortuna collected 11 points and five rebounds.
Sophomore Kiefer Ravena led Ateneo with 19 points, while Nico Salva had 17 points and eight rebounds for the Blue Eagles. Greg Slaughter, hampered by foul trouble, was held to nine points and five rebounds.
In true Ateneo form, the Eagles outscored UST on the break, 23-11. But their effort on the boards was found wanting; UST outrebounded Ateneo on the offensive end, 16-12, which resulted in a 17-14 margin in second chance points.
The victory was the Tigers' first win over Ateneo since an 87-74 win on August 4, 2007.
Both sides are now even at 1-1 in the standings.
- AMD, GMA News
The scores:
UST 71: Mariano 21, Teng 16, Abdul 14, Fortuna 11, Ferrer 4, Bautista 3, Lo 2, Pe 0, Daquioag 0, Afuang 0
ADMU 70: Ravena 19, Salva 17, Slaughter 9, Tiongson 8, Buenafe 5, Sumalinog 4, Elorde 3, Chua 3, Golla 2, Gonzaga 0, Erram 0
Quarter scoring:
12-27, 28-43, 58-54, 71-70