Making an underwater wonderland of an urban underpass
Painter AG Saño's latest work is a mural that makes a rainbow-colored underwater wonderland of the Quezon Avenue underpass. Set to be completed Friday, the mural is already brightening up the long commutes of even the most frazzled motorists.
Saño told GMA News Online that the mural is almost complete, and that he and 150 volunteers from Save Philippines Seas and Dolphins Love Freedom have already finished painting the east-bound side of the underpass.
Saño and the volunteers started sketching July 13. According to a report on GMA News' "24 Oras" this week, they have coordinated with the Metro Manila Development Authority and have been working the graveyard shift every day from 10 p.m. to 2 a.m. to complete the mural.
As with
Saño's other murals
, this one wasn't painted solely for artistic expression, not even for the noble intention of making the urban landscape more attractive.
The swirling brushstrokes and Crayola-bright colors stand as tribute to Philippine marine life, and mean to make people aware of the beauty of the Philippine seas.
"Gusto naming mapakita unang-una 'yung appreciation namin sa yamang dagat, at the same time mabigyan ng tribute 'yung mga bagay na 'to, mga elements ng karagatan na hindi na nabibigyang pansin," said Saño in the TV report.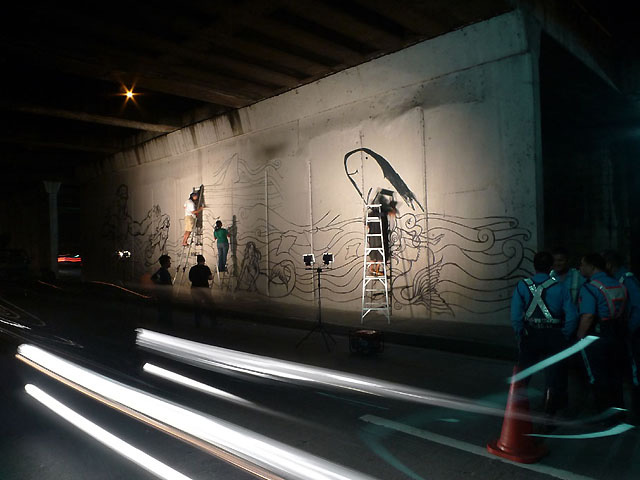 Artists create a water wonderland mural at the Quezon Avenue tunnel in Quezon City. Dino Calderon
"Actually, isang paraan 'to para mapakita sa mga taga-siyudad na itong mga klase ng hayop na ito—karamihan dito hindi alam ng mga kabataan. 'Di nila alam 'tong mga pawikan, hindi nila alam na endangered ito," he added.
Saño shared in an interview with GMA News Online that he started painting murals at a young age, and has even been involved in painting a church in Benguet.
"I have been painting murals since I was in grade school. But as for my own projects, it was in 2005 when I painted the altar in a church in Benguet," he said via email.

Marine conservation

But it was only two years ago when he realized that the art could be used as a platform for raising awareness about marine conservation.
"For the marine and dolphin murals, it was in 2010 when I started painting them," he said, adding that his involvement in marine conservation prompted him to start doing the paintings.
"I have been involved in marine conservation since the late 90s and I have been doing marine mammal research since 2010. That is why I have this passion and great interest in painting marine life," he shared.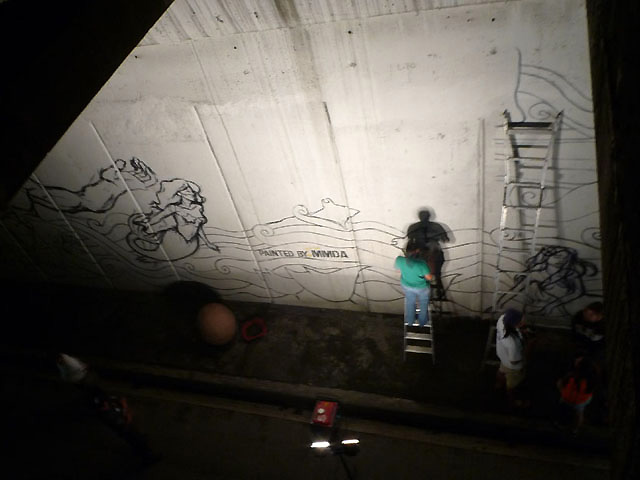 The mural is part of AG Saño's marine conservation efforts. Dino Calderon
Now, he hopes that aside from being something nice to look at, his paintings awaken viewers to his advocacy.
"Hundreds of thousands of people pass and see the murals that we have painted all over the country," the artist said.
"Seeing [the murals] would instantly pass on the idea to the viewers in varying degrees," he explained.
Next stop: Katipunan
Saño also shared that another project is in the works—this time in the Katipunan area.
"I have been tapped to plan the art transformation of the Katipunan area. This project is in the planning and organization stage already and will hopefully be done by first week of December of this year," he said.
At this point, it seems that Saño's artwork is poised to take over the city, bringing the easily forgotten beauty of the underwater world onto the walls of the dreary urban jungle, and into the minds of those who have not ventured beyond it—though after seeing Saño's eye-catching murals, who knows but perhaps they will. – KG, GMA News