UAAP
:

Eagles win late, survive Maroon mob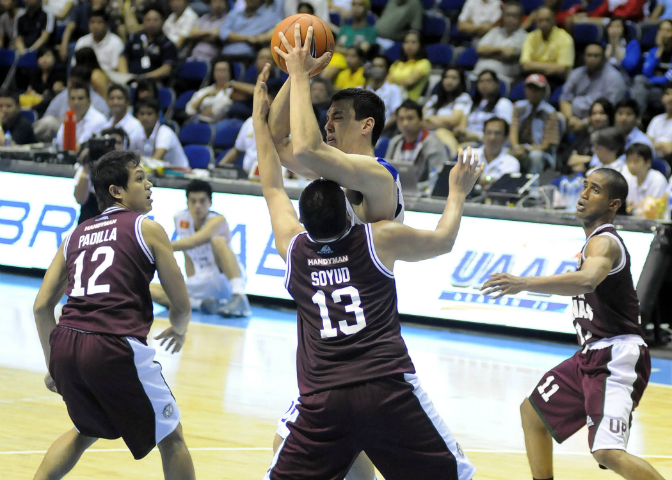 Swarming Slaughter - UP's defense was keyed in to stop Ateneo center Greg Slaughter, but the Eagles still got the "W" late.
KC Cruz
(Updated 5:08pm)
After trailing for nearly three quarters, the Ateneo de Manila University Blue Eagles quelled the University of the Philippines Fighting Maroons, 76-70, in the first round of the UAAP men's seniors division basketball tournament, Thursday, at the Smart Araneta Coliseum.
Nico Salva led all scorers with 21 points. Greg Slaughter added 13 points, 11 of them in the second half, and nine rebounds. Kiefer Ravena had 11 points and six rebounds, and Oping Sumalinog offered 10 points, including two big three-pointers in the second half.
"We're always going to get the other teams' best games because we're Ateneo," said their head coach Norman Black, whose team trailed by as much as ten points at the start of the third quarter. "In this game we couldn't control their perimeter points; they shot very well against us."
The Maroons in fact, made 7-of-14 baskets from downtown.
Chris Ball and Raul Soyud had four apiece in UP's hot start, as the Maroons were active on the offensive glass early in the game. Nico Salva had six points to keep the Eagles within striking distance, but they had trouble running their vaunted transition attack, and trailed, 12-8, with 5:04 left in the first.
Rookie point guard Henry Asilum nailed a three at the 4:49 mark that pushed the Maroons up, 15-8, but Ateneo, after shuffling their front court, saw reserve center Justin Chua lead the second unit with five points in a 9-4 run to close the quarter trailing by two, 19-17.
In the second quarter, the Maroons had several fastbreak opportunities but failed to capitalize on them. Still they led, 23-19, off a transition layup by Jelo Montecastro, until consecutive baskets by Ryan Buenafe and Salva knotted the score anew, 23-23, 6:11 left in the first half.
The Eagles, however, could not contain Montecastro as he found his way to the rim with ease. UP followed it up with a lob play for Silungan for a 29-25 lead. Greg Slaughter scored his first points on a tip on the next possession, but UP countered with a trey from Ball and a Soyud tip-in. After a trey by Asilum, Lopez hit a follow-up basket to finish off a 16-7 run for the Maroons.
Both teams ended the half from the line as Tonino Gonzaga and Soyud made charities for their respective sides, establishing a 40-32 lead for the Maroons at halftime.
When play resumed, Padilla sank a floater from the left block for UP, but Ateneo worked its way to the rim and reeled off a 9-3 run by attacking the shaded area, capped by a cutting move to the rim by Oping Sumalinog.
Over the next few minutes, Salva took over for his team and scored seven of their next nine, displaying his arsenal of moves in the paint. Mike Gamboa fended off the charge, scoring five of UP's next nine.
A drive by the rookie point guard put UP ahead, 54-52, 3:27 left in the third. Oping Sumalinog responded with a trey from the left baseline to give Ateneo its first lead of the game, but Gamboa pulled UP anew with his own three-ball on the other end, only for Slaughter and Salva to combine for six unanswered over the final three minutes to let Ateneo surge ahead, 61-57, after three quarters.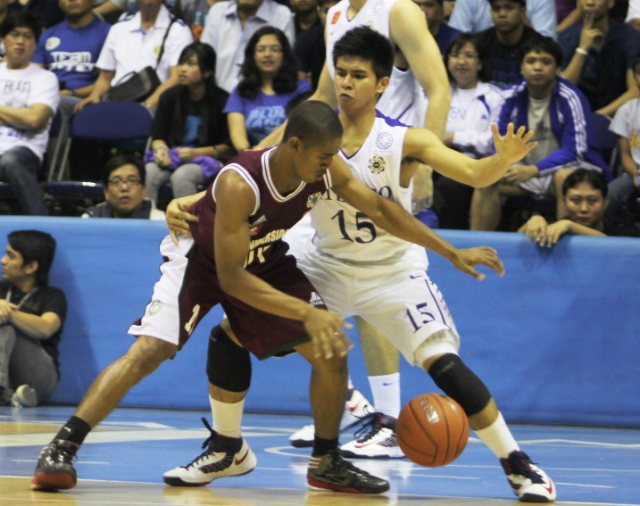 Mark Lopez led the Fighting Maroons attack with another versatile attack.
Jeff Venancio
Ravena and Buenafe made an and-one play each for an early 6-1 run for Ateneo, 67-58. Lopez and Gamboa responded with a trey each, but Sumalinog delivered again in the crucial moment, scoring five of their next seven to establish a ten point lead, 74-64, with two and a half minutes to play, safeguarding the victory for the blue and white squad.
Mark Lopez led the Maroons with 15 points, seven rebounds and five assists. Center Chris Ball added 11 points and seven rebounds. Alvin Padilla tallied 11 points as well, and fifth-year point guard Mike Gamboa came off the bench for 10 points.
The last time Ateneo lost to UP was in the first round of Season 72, 68-58.
The teams were practically even in terms of fast break and second chance points, but halfcourt execution spelled the difference for Ateneo down the stretch. Ateneo shot 24 for 49 from the field, or 44 percent, against a 27 for 78 effort, or 35 percent, from UP.
"We're not surprised by anything," said Black, despite UP's largely unexpected strong performance. "I've been coaching for too long, and I have no expectations when I play. I go into the game as if it'll go down the stretch." He also commended his team's defense for their crucial run in the second half.
Ateneo improved to 4-1 in the standings, while UP stayed winless in four tries.
Due to a malfunctioning shot clock on top of one basket and a faulty game clock on the other, league officials decided to play the game without all on-court clocks.
- AMD, GMA News
The scores:
ADMU 76 - Salva 21, Slaughter 13, Ravena 11, Sumalinog 10, Chua 7, Gonzaga 5, Buenafe 5, Erram 2, Elorde 2, Pessumal 0, Capacio 0
UP 70 - Lopez 13, Ball 11, Padilla 11, Gamboa 10, Soyud 6, Montecastro 6, Asilum 6, Romero 2, Mbah 0, Manuel 0, Hipolito 0, Gallarza 0
Quarter scores
: 17-19, 32-40, 61-57, 76-70