Davao City launches its first ever tourism mobile app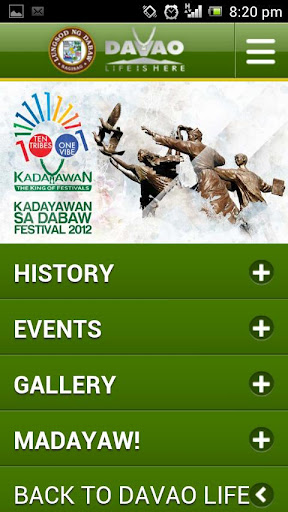 The Davao City Government, in partnership with SMART Communications, launched its first ever tourism mobile app, Davao Life. Touted as the first app of its kind in the Philippines, it aims to offer comprehensive tourism information direct from the local government.
The local media was given a brief glimpse of the capabilities of this app at a press conference in Davao City Hall on Thursday. Subscribers who download the app can get news, events, places, promotions and tourism interests all over Davao City direct from the city government. All the establishments listed in the app come with accreditation from the Department of Tourism and the Davao City Tourism Office. They will be maintained and the content will be updated regularly by the Davao City Information Office.

What's unique about this app is the Madayaw! Section which contains features related to the Davao City Festivals like The Arawng Davao, the Summer Sports Fest, the Pasko Fiesta and Kadayawan. In fact, the app will be officially launched tomorrow at the Kadayawan Opening Ceremonies at People's Park where the public will see for the first time the Kadayawan features of the Davao Life app.
Macky Macavinta of Alienware Group, a Davao-based tech company commissioned to develop the app, shared how important it was for them to finish the app in time for Kadayawan. "The app was supposed to be a 60 day project. We finished everything, including the debugging, in only 20 working days. It's basically a complete app; all the city government needs to do is to regularly update the content."
Mayor Sarah Duterte was also there at the press conference and was extremely grateful for all the work the developers have put in and the efforts that SMART has put into to make this project possible. Bert Barriga of ICT Davao could barely contain his excitement of what this app means for Davao City. "This is a ground-breaking development. This is the first time in the Philippines for a local government unit to have its own app. This could serve as a benchmark for local governments."

Rolando Peña, head of PLDT-SMART Network and IP Systems, assures the public that Davao City is more than ready to support the app and its users. "We already completed our network modernization upgrade of our base stations here in Davao so the timing is right. This app is a good example of how mobile technologies can be maximized by local governments for their projects. We're happy to support Davao City in their tourism efforts."
For now, the Davao Life app is only
available for Android phones
and can be downloaded from Google play. An iOS version of the app is still being developed. Other mobile phone users can also access the content on this app through their browsers at
www.davao-life.com
.
— TJD, GMA News