NDRRMC: 'Gener' death toll rises to 37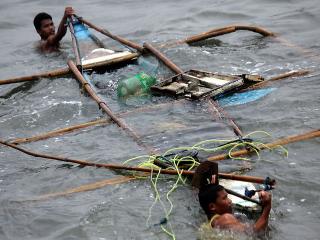 'Gener' inflicts more damage as it heads for Taiwan. Two fishermen in Manila Bay try to salvage what was left of their sunken outrigger after it capsized during a storm surge triggered by Tropical Storm Gener on Thursday. Danny Pata
The death toll from Typhoon Gener (Saola) rose to 37 Friday, even as damage to property shot up to P240 million, the National Disaster Risk Reduction and Management Council (NDRRMMC) said.
In its
Friday update
, the NDRRMC said the latest fatalities were from Metro Manila, Ilocos, and Central and Southern Luzon.
Among the most recent fatalities were:
Angela Nicole Gregorio, 12; Patricia Gregorio, 11; Elisa Mae Dolfino, of Malinta, Valenzuela City (drowned at Artex compound in Panghulo village in Malabon City);
Anthony Capsuyan, 25; Reynaldo Polca Frio, 38; Arlene Tinaza Paz, 16, drowned in Ilocos Sur
Crisanto Rapusol, 22, drowned in Bataan;
Winnie Capiles, 43, drowned in Bataan;
CJ Marco Carlos, 6 months, drowned in Obando, Bulacan;
Angel Ignacio, 6, drowned in Masantol, Pampanga; and
Hazel Mae Arpullos, 6, drowned in San Jose, Occidental Mindoro.
At least four people remained missing while 33 were injured.
The NDRRMC said Gener affected 111,097 families or 519,665 people in 741 villages in 117 towns and 25 cities in 32 provinces.
Of these, 4,121 families or 17,563 people are staying in 81 evacuation centers.
At least 980 passengers, 55 rolling cargoes, seven vessels and nine motor bancas were stranded in the wake of Gener.
State of calamity
The following areas declared a state of calamity in the wake of Gener:
Metro Manila:
Ilocos:
Brgys. Hacienda, Portic and Cayanga in Bugallon, Pangasinan
Central Luzon:
Southern Luzon:
Mabitac, Laguna
Bacoor, Tanza, Ternate, Rosario, Kawit, Naic, Noveleta, Cavite City in Cavite
San Luis and Lemery in Batangas
San Jose, Occidenal Mindoro
Damage
Damage to property was estimated at P240,149,615.48, including P79,730,000 in infrastructure and P160,419,615.48 in agriculture.
At least 776 houses were destroyed while 3,528 were damaged.
Dams
As of 10 p.m. Thursday, one gate in San Roque Dam was opened at 0.5 meter.
Roads
At least 30 roads and three bridges were affected. Among the more recent affected roads and bridges were:
Sitio Barangobong, Dipilat, Vintar in Ilocos Norte not passable due to landslide
Pancian Adams Road in Ilocos Norte not passable due to landslide
Maniago, Brgy. Minalin Pampanga Road not passable due to flooding
Baguio-Bontoc Road (Topdac Section) closed to traffic
Junction of Talubin-Barlig-Natonin-Paracelis Road, Barilig Lias Section in Mountain Province closed to traffic
— RSJ, GMA News