Ultimate Taste Test 9.0 makes the grade
It's a question for the (digital) ages: why are our social media feeds inundated with food photos?
One could argue that unprecedented multimedia access and generous data plans have refined our pedestrian tastes and introduced more cosmopolitan flavors into our everyday diet. Perhaps more people are taking the adage "you are what you eat" to greater levels of overshare, adding another dimension to online personas already defined by the frequency of relationship status changes, weblinks enthusiastically shared, and photo tags and check-ins at events and places of importance to one's immediate circle of influence. Or it could simply be fueled by the sheer pleasure of mastering a recipe, re-/discovering a dish, feeding an advocacy, even finding art in leftovers.
Whatever the reason, it seems that the Internet has made foodies of us all, and the success or failure of new restaurants or food ventures is hastened by word-of-mouth reviews on blogs and social media accounts.
It was precisely this spirit of vox populi-meets-food hipster-slash-bargain hunter vibe that permeated the Ultimate Taste Test 9.0. This should come as no surprise, given that event co-organizer Anton Diaz is the voice behind the lifestyle blog Our Awesome Planet, and, together with partners RJ and Vanessa Ledesma and Gary and Janice Villanueva, has ventured into the food market business with
Mercato Centrale
,
Distrito
,
Mezza Norte
, and Soderno weekend markets held across the metropolis.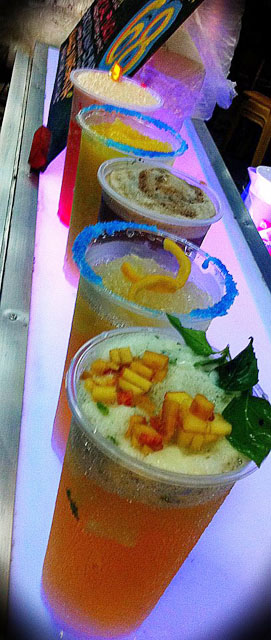 Don't mock these tasty drinks from Mocktail Republic. Photos courtesy of Geiser Maclang
Feeding frenzy
The premise of the Ultimate Taste Test is fairly straightforward: for a set entrance fee, customers get to try any of the specialties offered by participating food merchants. All servings are sample-sized and you can't take seconds, though larger portions are available at full-price. Afterward, customers must rate and provide feedback for each dish, on a "passport" provided by the organizers.
This particular incarnation of the taste test was held at the Soderno market in Molino Commercial Center, Alabang last Saturday. The pre-'Gener' downpour was no deterrent to hungry Southrons, which could mean one of two things: we Southrons like our food and, despite the yummy eats to be had on Aguirre Road in BF, are always ready to try something new; or, that there's no need to stay cooped up in times of bad weather if a food market is easily accessible (Soderno is five to 15 minutes away from the bigger villages in Alabang).
Such foodies are the perfect test audience for Ultimate Taste Test 9.0's participating merchants. That's a hundred or so people, with different tastes and expectations. Some of them may be truly epi-curious, willing to try anything once. Others are creatures of habit who may, due to cost or personal preference, stick to a tried-and-tested dish each time they visit a food market; the taste test allows them to sample food that they would not consider otherwise.
Case in point: I am following a nutritionist-formulated meal plan, and am halfway toward reaching my weight-loss goals. While I have decided to throw all caution to the wind for the Ultimate Taste Test, one of my criteria for evaluating the sample dishes is diet-friendliness.
Contrast this with my sister, Ina: she's skinny, the way all 20-year-old college students are, despite consuming copious amounts of processed food and milk tea. Her primary reason for going to food markets is to taste flavors that are not typically found in a college cafeteria or mall—because that would be too mainstream. Our shared mission for this food trip was to find dishes or vendors that could satisfy both our cravings.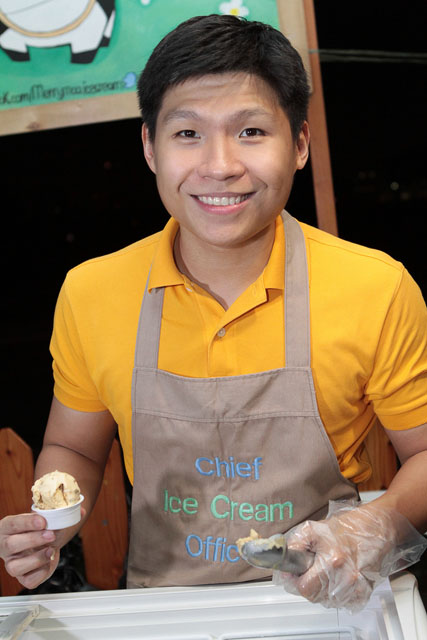 Former winner Merry Moo Ice Cream is still top cow.
Healthy options
I was laboring under the impression that weekend food markets are not the best dining option for dieters, so I was pleasantly surprised to find a few selections that would not make weight-watchers feel deprived of the glorious, savory flavors one associates with excess salt, fat, and oil.
Manila Q offered a tasty, seared ham that—had I been told otherwise—I would not have identified as a cream dory fillet cured with secret spices. Take away the fatty bits and Balamban Liempo's juicy, roast herbed pork would meet my nutritionist's approval. The reliable Chinese deli Polland served a generous helping of fresh vegetable lumpia, while Ogannika offered an assortment of bottled vegetable juices. Tsokolate from Neneng's Cacao and goat's milk from Leon Philippe added a splash of guilt-free sweetness.
Weight loss may not be everyone's priority, but we could all make better food choices. While not exactly diet-friendly, some food stalls provided healthier versions of sinful favorites. VIP Chicharon was less oily and less salty than most chicharon I've tasted. Royal Brands offered reduced-sodium patis, 15 percent less than other brands. Alcohol packs lots of calories with its punch, so a cocktail lover like myself (and my non-alcoholic sister) appreciated the alcohol-free options of Mocktail Republic.
Winning combos
While I was driven by health consciousness, Ina and her hipster constitution sought out novelty flavor combinations or non-traditional versions of familiar dishes.
In the savory category, Manila Q's best-selling bagwang was the undisputed champion; this take on bagnet replaced liempo with pork jowls, and added herbs to the standard salt rub.
The dessert vendors were incredibly creative, and Ina merrily sampled everything they had to offer.
Little Bites Cupcakery combined red velvet cake and crinkles for the prosaically-named but quite yummy Red Velvet Crinkles. Frisch Liquor Ice Cream's Choco Rumboozle hit on the perfect combination of chocolatey sweetness and the boozy decadence of rhum. And we were over the moon with Merry Moo Ice Cream,
a previous Ultimate Taste Test winner
, which debuted three new flavors in Soderno: Chili Bacon Tablea (sweet, savory, and spicy), Strawberry Shortcake (generously laden with bits of pound cake), and Coffee Toffee (strongly flavored with kapeng barako).
Sampling items from all food merchants took a little over two hours—almost double the time we usually spend at a food market, sans the stress of looking for adequate seating and the pressure to pick only one delicious, fairly-priced treat from the wide selection offered.
And despite our disparate tastes, my sister and I had similar favorites: Manila Q (bagwang for her, fish ham for me), Neneng's Cacao (tsokolate for me, tablea cupcake for her), Mocktail Republic (Apple Mojito for her, Lemon Drop for me). Last but certainly not least, Frisch Liquor Ice Cream's Choco Rumboozle and anything from Merry Moo Ice Cream are worth the extra calories. I'm still suffering the effects of the sugar relapse; I regret nothing.
We did try to upload a few photos, but in the end, we had way too much fun eating, and couldn't be bothered to take pictures, much less art-direct creative shots, before digging in—an even better testimonial of a truly delicious meal than any filtered Instagram post. –KG, GMA News