Your Say: The Hazards of Hazing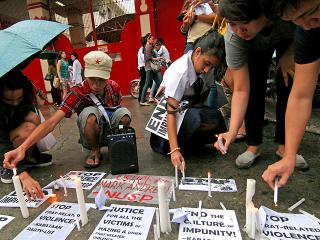 Students cry justice for San Beda frat hazing victim. Student activists stage a picket in front of San Beda College in Mendiola on Friday to protest against fraternity-related violence as they called for justice for hazing victim Marc Andre Marcos, a 1st year law student from San Beda. Danny Pata
Barely half a year since the death of hazing victim Marvin Reglos, another student from the San Beda College of Law succumbed to the same fate, once more raising heated debate about the initiation rituals adopted by fraternities.
Twenty-two-year-old Marc Andre Marcos, a neophyte of Lex Leonum Fraternitas, died on Monday due to extensive traumatic injuries in his upper and lower extremeties resulting from the blows he received during the fraternity's initiation rites.
Why would brothers hit their would-be brothers? netizens wondered. Although concerned citizens are saddened by Marcos' seemingly senseless demise, opinions diverge as to where to lay the blame.
Here's what the GMA News Online community have to say:
ang totoo nyan...frats are not true brotherhood..true brothers will not hurt each other like that just to test their loyalties..these organizations are run by crazy poeple..the truth is..they are just being used..although there are good programs, the culture of frats are really violent in nature...i advice all of u to watch the movie BATCH '81..starring mark gil and noel trinidad..this is how frats really are..
fraternities are not bad. it is the people running it that are to blame. Kung babasahin mo mga by-laws, rituals, or other mission-vision of these organizations, you will see the goodness in it. I for one is a member of a fraternal organization founded in 18 March 1919. In the past, hazing is really the norms as a rite of passage (hellweek, hellnight, etc.) but lately, more focus is emphasized on public humiliation/services. And one important thing is that we do not accept petitioners without parent's consent (with confirmation, not by proxy only).

In the case of fraternal organizations in law schools, it is normal that students will always try to organize and try to create factions/groups. Banning them is not the solution because it will only force them to go underground. The best thing that the law schools can do is to regulate them. Recognize those frats and make them part of the law community. That way, if a neophyte is hazed/dies, you have them frat officials to castigate. In reverse, give luxurious perks to frats who perform well and has given significant contribution to the law school community. The only branch of government that can force this mandate is the judiciary, specifically the supreme court. If they wanted to regain/redeem their tarnished reputation, perhaps this is the best first step to start it off.

and dalawang sentimong duling ko lang po...
law school fratetnities are not the same as other college or HS fraternities. Hindi ito bragging rights or gang related. There is a more complex political and societal disease that needs to be dealt with to end this.

Students who join law fraternities are hoping to get favorable decisions in the courts or career advantage,since most influential lawyers are members of a fraternity.

Sadly for the family, but in a way these people who join fraternities are the same greedy and evil people who run our country.

I was once a law student, and these people are devils in training!
as a law student kc dpat tlaga may frat ka para pag nagng lawyer na tlaga advantage ito for a wider connection and a stronger personalitykaya, i think na dpat magkaroon n ng btas na kelngan iregister na ang lhat ng frat sa buong pilipinas together with their officials and members lalo na yung mga incharge sa hazing, at dpat documented ito signed by those persons involved para may accountability at kpag member ang isang student ng isang frat na nde registered automatic tanggal sa eskwelahan..
I agree. Dapat may workshop pa nga on initiation (lets use the term initiation shall we?)at padaluhin ang mga master initiators. Sa initiation rites dapat hindi closed door. gusto pa nila me kinatawan ang gobyerno na tumitingin..(wag lang sana ka brod ng mga mag iinitiate! lolz). Sa totoo lang, at ung totoo, we cannot completely eradicate fraternities eh. DEEEEEEPPLY inculcated na ang culture na yan lalo na sa mga law students. And akin lang i-regulate.

When I saw the news this evening about Marc Andrei Marcos, natamaan ako. Kasi I also have a son. Hindi ko makokontrol ang mga aktibidades nya pag college na sya. I can only pray and wish and hope na: A. WAG na SANA syang sumali sa frat B. Kung sasali man sya at di ko sya mapipigilan sa marubdob nyang pagnanasa sumali eh andoon ako sa initiation, AHA! AT dapat standard, may ritual na sinusunod. me parttern. mahirapan man sa rite of passage, at least alam kong walang power tripping, walang foul play. dapat nga may ambulance pang handa. mga suwero..(kasi madalas hypovolemic shock ang kinakamatay nila). ung handa ka sa kung anong mangyar!

Mapipigilan mo ba naman ang kapusukan ng mga bata? If you can't beat them (because they will just simply go underground) then join them and make sure that they are properly supervised. mga bata pa din yang mga yan. Sa mga nagsasabing e-eradicate ang frat...sige nga try nyo gawin..kung kaya nyo, di go! Pero it is simply not possible, i think. Let us focus on more possible and realistic solutions shall we?
sa tingin mo kaya kung sasali ang anak mo sa frat ipapaalam syo? paano ka makakasama sa hazing eh malalaman mo nalang na sumali na pala ang anak mo pag uwi sa bahay na iika ika or kulay berde or kulang talong na ang mga hita at marami pasa sa katawan or wag nman sana na malalaman mo na wala na pala huli na, kaya sana nga lang mahinto na ang hazing sa frat, or sana wala ng sumali sa frat dahil kung wala na sasali sa frat siguro malalaos na at di na mapaguusapan pa, kaya mahihinto na, maisip sana yun ng mga kabataan, sayang nman kung dahil lang sa frat nawala kinabukasan nila-
Hazing is a lot different from initiation. Initiation is done through a ceremonial way. Not by intentionally hitting with no reason at all. It simply means that they don't intend the neophyte to be their future brother/ sister. They just want to prove that they are tough or whatsoever. I stand in behalf of the soul of the departed future leader may rest in peace. Concerned MIT student
There are a lot of uses for fraternities. From what I've observed, some people connected with the law use it for secured information but, it doesn't end with just that. There are so many unthinkable ways so-called brotherhood can do.

And with the initiations or the hazings, it may be the preparation for the consequences of betrayal for they can experience something more than just that.

I am basing this from what I've observed. I'm looking at this with a bit of a psychological understanding but, please do correct me if I'm wrong.
Ban hazing and intoxication in fraternity and sorority initiations. They can be fatal, like what happened to this young man - violent hazing is violent bullying. Those who resort to violent hazing or forced intoxication are inclined to be violent in real life. Fraternities and sororities are nothing but status symbols for those who hunger for attention. Mayayabang pa mga 'yan. Pwe!
This is so frustrating. No one is learning from the past. Consenting adults na tong mga to, maraming nang hazing victims na nagdaan dapat they should know better. Why can't the government do something and make fraternities unlawful if they keep on propagating such a vicious cycle. I don't think HAZING itself is the problem anymore, its the FRATERNITIES themselves that keeps thinking this is a tradition worth keeping.
exactly.- The government won't do anything not because they can't but because they don't want to.This is the status quo. How many government officials have frats di ba? or kung 'di frat e tapos ng PMA? kapatiran. kampihan. takipan.
that's what I find annoying. These government officials should know better and know that human life is more valuable than a bunch of thugs in dark suits. Marami namang nakakatapos ng law na hindi sumasali sa fraternity eh. At the end of the day, your law prof will judge you by your mettle and not the fraternity that you belong.
when the sheep's keeps on barging onto the lions' den despite knowing what the worst outcome would be, you can't help but lose some sympathy. :(
Ang tanung ko lang bakit pa nila kelangan sumali sa mga fraternities when they are taking law or pag nasa college na

, tulad nyan galing sa mga pamilya ng lawyers. Anu pa ba ang kailangan nya recognition from the fraternity members or para lang masabi na miyembro ka. Sana gamitin nyu ang utak nyo for other college students. Sana maging lesson na ito sa mga estudyante, may mga magulang kayu at tangi sila lang ang masaya pag nakikita kayu nadito sa mundo at nag tatagumpay sa buhay nyo. Ang mga brod at sis nyu sa fraternity masaya lang pag nakakasama ka pero in reality bale wala lang ang buhay mo sa kanila....May you Rest in Peace Andrei...
I am not against fraternity or whatever idiocy they are after just to look cool but seriously why cant they put "Hazing" Off their list. There are better ways to accept members into their brotherhood. Those frats still doing hazing are a bunch of show-offs [redacted]