UAAP
:

Mariano lifts UST in double overtime as Archers lose third straight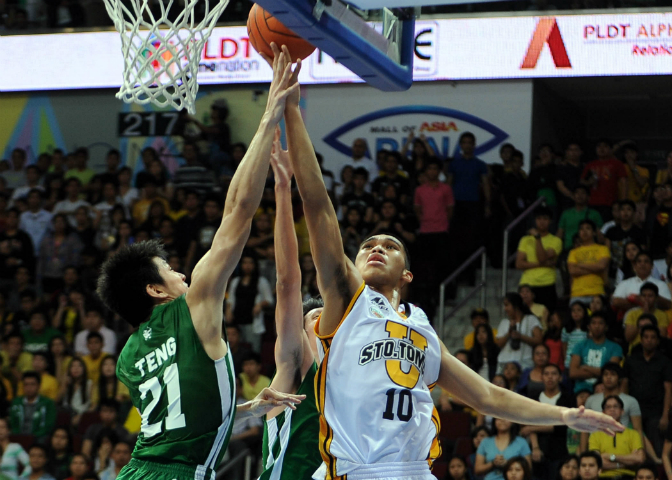 Mariano's the man - Aljon Mariano (in white), who missed Season 74 due to an injury, continues to shine for UST, carrying them late.
KC Cruz
(Updated 5:50pm)
It took two overtime periods, but the University of Santo Tomas Growling Tigers finally out-lasted the De La Salle University Green Archers after two field goals by forward Aljon Mariano, 84-82, Saturday at the SM Mall of Asia Arena, in the 75th UAAP men's seniors division basketball tournament.
UST head coach Pido Jarencio was proud of the way his players were able to grind out a win, saying, "Yung attitude na pinasok ko sa mga players ang pinakamatibay na naituro ko sa kanila," he said.
He especially commended the efforts of center Karim Abdul, whom he said proved to be one of the most resilient players he has mentored.
With over two minutes remaining in regulation, Jeric Teng hit his third triple of the game, this time over his younger brother Jeron, to create a 69-66 gap. But Jeron found payback on the next play, stripping the ball and feeding LA Revilla for a lay-up attempt. The heady point guard was fouled and converted on the two charities, 69-68.
On the following La Salle possessions, Teng and LA Revilla were sent to the line, but both halved their charities, good enough for a slim 70-69 lead with under a minute to play.
UST couldn't come up with a basket on the other side of the court with 35 seconds left, despite two offensive rebounds from Abdul. La Salle finally hauled in the miss with enough time for a two-for-one possession advantage, but Abdul mistakenly fouled Teng.
The move turned out to be a blessing in disguise though, as the rookie forward split his charities once more, to make it 71-69 with 23 ticks left on the clock. Aljon Mariano then put back a miss by Abdul, just his second make of the game, with nine seconds left, to knot things up. After a timeout, LA Revilla connected on a floater, but the referees ruled that the ball had not left his hands before the buzzer, resulting in the first overtime.
Mariano kept on shining for his squad, hitting a floater and getting an and-one call on a post-up play to put the Tigers ahead, 76-73. La Salle countered, regaining momentum with a split trip to the line by Norbert Torres and a spin move in the lane by Jeron Teng.
With 46 seconds left in the first extra period, Mariano and Torres exchanged conversions, but with the game on the line, Mariano couldn't close, getting stripped on a drive to send it into another overtime period, 80-all.
Revilla drained a jumper to give his side the early lead, but the Archers missed out on opportunities to up their advantage due to missed charities. Mariano then redeemed himself by driving to the rim for two with under a minute to go to once again forge a deadlock, 82-all.
Getting the ball back, Mariano, who missed last season due to injury, then calmly drained the clock before hitting the go-ahead basket with seven ticks left in the second OT, 84-82. La Salle had two more chances to win or tie, but in both instances, Karim Abdul was there for the denial, handing the win to the Growling Tigers.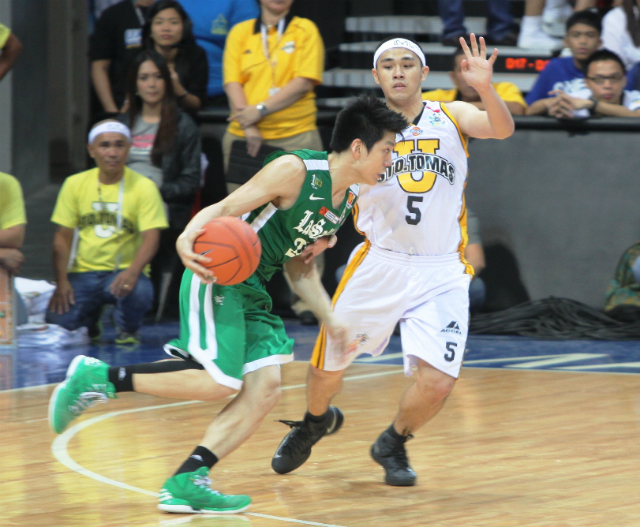 Jeron Teng (left) got the better of his match-up against his brother Jeric, 17 to 9, but his team went home without the win.
Jeff Venancio
"Lahat ng teams sa UAAP pahirapan," added Jarencio. "We treat every game like a championship game, at dapat lagi kaming nasa taas [of the standings]. Bihira lang na three straight wins na mananalo ka sa close game."
La Salle burst out of the gates with an 8-2 run, while the Tigers had difficulty scoring inside against the Archers' swarming defense. Still, UST stayed close, as Clark Bautista and Melo Afuang both connected, as they trailed by just a deuce, 17-15 after the first quarter.
Bautista's hot shooting carried over though, as he fired two from deep, part of a solo 7-2 run that gave UST their first lead of the game, 22-19, 6:10 left in the second period. It was short-lived though as the Archers countered with a 10-2 blast, forcing Jarencio to call timeout. The quick rest did them well, as they held DLSU without a field goal in the last three minutes of the first half, out-scoring them 6-1 to cut the Archer lead to a point, 30-29 at the break.
UST then took control in the third period, as the reserve unit of Kevin Ferrer, Clark Bautista and Melo Afuang lorded it over the DLSU squad, to the tune of a 16-3 run that had them up by ten, 49-39, 3:13 left. The Archers slowly reeled them back in though, and seven unanswered by Jeron Teng, Jed Manguera and Yutien Andrada knotted things at 66-all, 2:36 left in the fourth.
Returnee guard Clark Bautista finished with a game-high 21 points and five rebounds for the Tigers. Karim Abdul racked up 16 points, 16 rebounds and three blocks. Aljon Mariano, who delivered in the clutch for his team, had 15 points and five boards.
LA Revilla scored 19 points for La Salle. Jeron Teng added 17 points, 12 rebounds and four assists. Yutien Andrada tallied 16 points, nine rebounds, three steals and three blocks, and Joshua Webb came off the bench to contribute 13 points and six rebounds.
The Archers had 13 second chance points against UST's four. However, they were hobbled by a poor performance from the line, making only 16-of-30 free throws, or 53 percent.
Now at 3-1, UST looks to stretch their win streak to four, when they tangle against the UE Red Warriors on Wednesday. DLSU meanwhile, at 2-3, will try to prevent their losing streak from hitting four defeats when they Adamson on the same day.
- AMD, GMA News
The scores:
UST 84: Bautista 21, Abdul 16, Mariano 15, Teng 9, Fortuna 8, Afuang 8, Ferrer 5, Pe 2, Lo 0, Daquioag 0
DLSU 80: Revilla 19, Teng 17, Andrada 16, Webb 13, N Torres 7, Manguera 6, Van Opstal 2, Tallo 2, Torres 0, Dela Paz 0
Quarter scores:
15-17, 29-30, 56-48, 71-71, 84-80