Ilocos eats: Cross-cultural cuisine at Saramsam
Ilocandia's landscape is charmingly rough and picturesque, and its cities are cut from the same cloth. Saramsam Ylocano Restaurant in the heart of Ilocos Norte's capital, like an open secret waiting for the lucky foodie to find it, carries that same Old World charm while at the same time retaining an Ilocano vibe.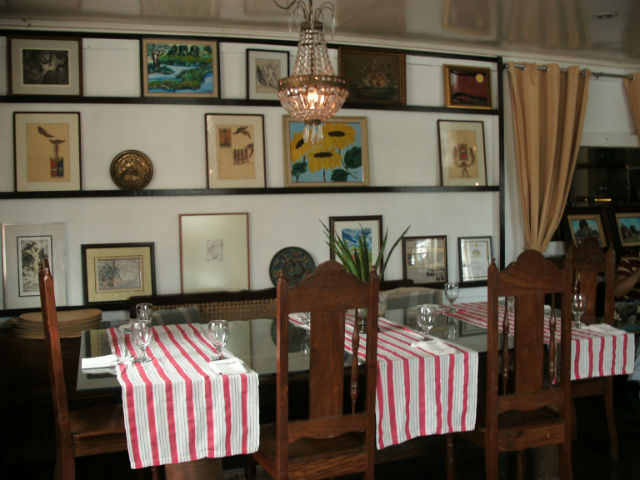 Saramsam Ylocano Restaurant carries that same Old World charm while at the same time retaining an Ilocano vibe.
After a year of postponing a vacation, my fiancée and I finally got the timing correct, booked a piso flight out of the city, and flew up to Laoag. We spent a couple of days getting chillaxed to the core in Pagudpud, enjoying the life of a beach head, and then scooted back down and east to Laoag on the third day.
The last time I was at Saramsam, it was on assignment in the fourth quarter of 2010. As such, my mind was always on work mode; taking pleasure was incidental and always thinking ahead first.
This time, I swear to savor the food, to enjoy everything that's set in front of me without question, to be in the moment. The food, yes; a unique gourmet blend of international and Ilocano served at affordable prices.
When we're seated, it's like something out of a Spanish soap opera. It's all elegant yet inarguably casual dining. The cozy, homely, and "back home" provincial ambience is reinforced by stained-glass décor, wooden chairs and tables, immaculate settings with color palettes of the earthy and natural.
The details of the interiors are as enthralling and laid back as the lounge music floating upbeat notes in the air. The adjoining area is a function room where business meetings, parties and catered conferences can be held.
Owned by Samuel "Sammy" Blas, a native son and former expat who's worked in the hotel and leisure industry of Europe, Saramsam was built from his savings, as was Balay Da Blas, the pension house he's proprietor of and one of the more popular establishments in the city.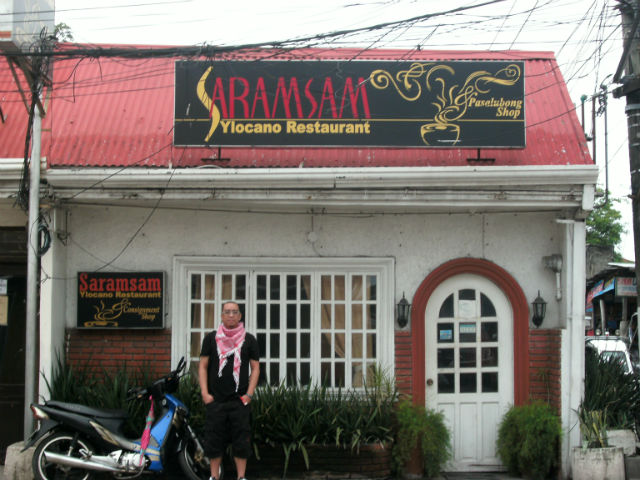 Y is for yummy in Saramsam.
The inspiration for what's served here is cross-cultural blending, not "fusion," a word that's kind of like a unicorn for Mr. Blas—imaginary and mainly for fantasy novels, not for your dinner table. "Cross-cultural is seamless. A meeting of two things," explained Blas. So what's with the "Y" in their tagline of Ylocano Restaurant? It stands for "yummy."
The staff wear uniforms: a maroon polo shirt, with a distinctive yellow "S" embroidered on the right side, and black pants complementing the muted pastels of the place.
We're served Baraniw (or wild basil iced tea; P40 for a glass, P150 for a pitcher). With its sweet and strongly earthy flavor, it's a welcome opener for the humid afternoon.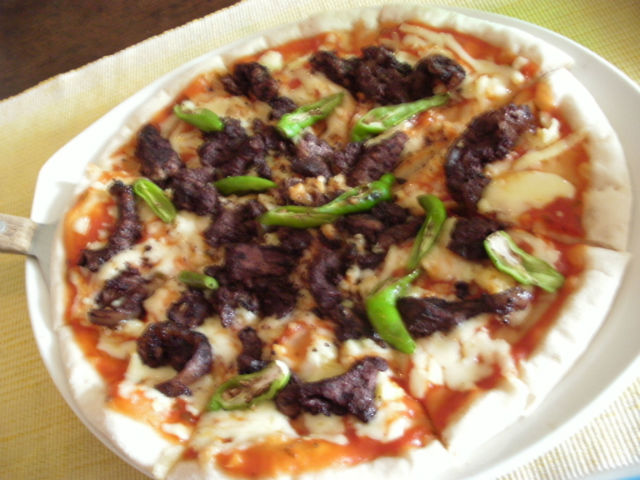 Dinardaraan Pizza
When the main course comes about, it's Dinardaraan (dinuguan) Pizza (P170-P300, depending on size). It's for the adventurous, with the blood gravy contrasting with the stark, albeit mild heat of green chilli. It's a great way to experience exactly how Saramsam is bending the rules on how to serve local dishes.
Next up is the brilliant Saramsam Pasta (P140 for the small serving). It's spaghetti with shrimps, green and red bell peppers, fresh tomatoes and onions, green and ripe mangoes with olive oil and parmesan. It's served with buttered thyme bread on the side. I'm not one for seafood but, darn, is that shrimp sweet and cooked to a perfect texture. Simply a filling delight, it's best with bagoong and chilli oil to neutralize the tang of the kamias in it.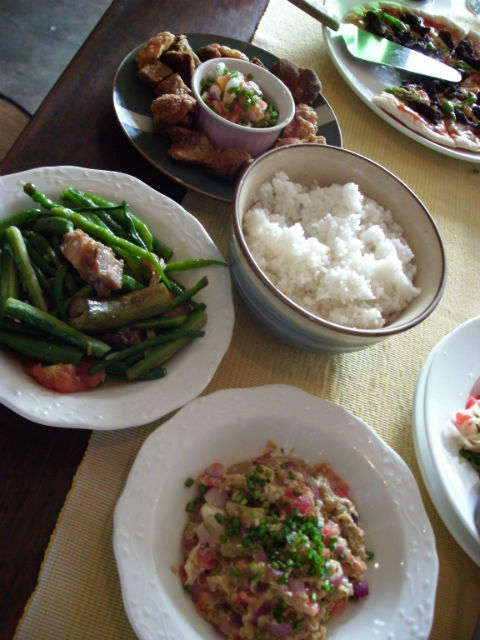 Poque Poque, classic pinakbet and bagnet.
The classic Ilocano pork dish, Bagnet (P220) with KBL ("kamatis, bagoong at lasona") also has a twist to it. It's blanched and deep-fried then dried, then fried again until the skin is crispy and the meat is as tender as a virgin's thigh. This explains how exquisite the meat is while the skin retains that chicharon-like texture that makes it crackle with flavor when you bite into it. Definitely not for those with arrhythmia or anybody watching their calories, it'll make your heart thump and your taste buds do a backflip.
Another of the must-try dishes here is the Poqui Poqui (P110). If you're wondering, yes, it's pronounced just like what's between a woman's legs in Tagalog, or, twice with an American twang as "Pookie." There's also a pizza equivalent of this dish where they delicious slather this recipe onto a great dough.
What is it? It's an vegetable omelette dish ala the flatlanders' tortang talong. It has grilled eggplant, tomatoes, onions and eggs. What makes it way smoother and creamier to the palate than your garden variety recipe of the same name is that the egg is mixed in and made the base instead of left out ensalada style.
Want more pork, meat lover? Try the Insarabsab (P190), grilled pork slices mixed with alt, vinegar, onions and calamansi.
How about something exotic and definitely off-menu? Then ask for the Abuos Tapenade (P175). "Abuos" is the Ilocano word for giant red ants and, if it's harvest season, you'll find that their eggs are bountiful wherever rice and yam crops are found. The eggs themselves look like small white beans but are soft and meaty when cooked.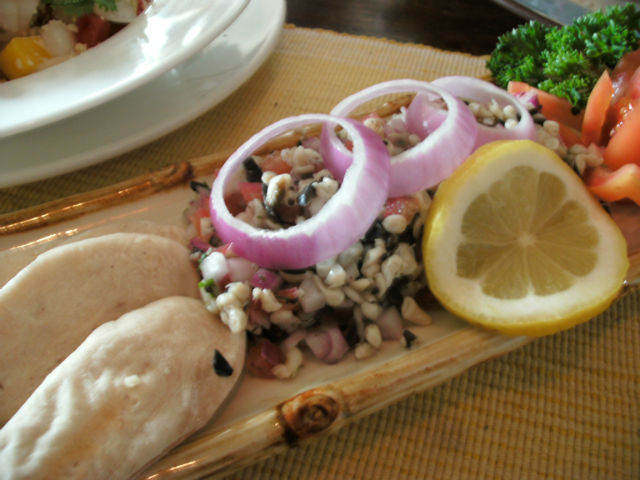 Abuos Tapenade: red ant eggs a la Provencal
And here's where the collision of cuisines comes out: a Tapenade is a Provencal dish that's composed of finely-chopped black olives, capers, anchovies, and olive oil. With the ant eggs providing the base of the dish, the circle of fusion is complete. The dish has a sharp, very acquired taste that's best alleviated by eating the freshly baked thyme bread served with it.
The glorious end to everything is the very inventive dessert that I truly loved the last time I was here. It's their Ilocano take on the fondue called Kalti (P170). With sliced camote and banana chunks, a bowl that's perpetually kept warm by a candle underneath it is filled with melted muscovado sugar and a sprinkling of bilo bilo, creamed with gata. People with a sweet tooth could eat this all day, and it's great for any merienda scenario.
This high-voltage dessert is one of the best, most creative, collisions of the local and the international that I've ever tasted. With the taste of muscovado still on our tongues, it's an apt and amazing way to cap our visit to this gem of a restaurant. So go north, people, go north.
- BM, GMA News
Saramsam Ylocano Restaurant is located at the corner of Hizon and Rizal Streets, Barangay 7-A, Laoag City, Ilocos Norte. For details contact (+63) 77-7715825.

All photos by Tanya Tiotuyco