The Smashing Pumpkins' Billy Corgan on his spiritual journey through music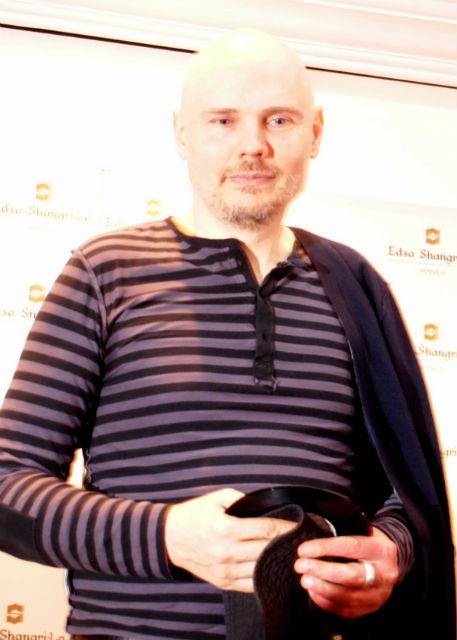 Billy Corgan towers over everybody at 6'3".
(Updated 3:20 p.m., August 7)
- It's two days before the first ever concert of rock icon The Smashing Pumpkins, and it's still raining buckets. When Billy Corgan steps into the function hall of EDSA Shangri-La Hotel for the press conference, we're all unprepared for the sight of him.
He towers over everybody at 6' 3" and he's in one of those long-sleeved, striped shirts he likes to wear in non-performance settings, hiding the reddish brown birth mark that covers his left side, from his hand to most of his torso. He's carrying a black hat, and a sweater is draped over his shoulders.
I've waited more than a decade to see William Patrick Corgan Jr., lead singer and guitar hero of the band that defined the way guitars are played by what the '90s pundits dubbed the "alternative nation." Next to Cobain, this man was the reason I picked up a guitar and wore flannel and declared that the world was a vampire.
To see him in the flesh is a moment of shocked unreality. From the looks of it, glancing around the room at the awed faces, the rest of the music press feels the same way.
The Smashing Pumpkins are in town for their latest record, "Oceania," released earlier this year. (Read the review
here
.) The Manila leg of their tour will have them playing at the SMART Araneta Coliseum on Wednesday, August 8, presented by Little Asia.
Despite the absence of the rest of the current line-up that includes young drum prodigy Mike Byrne, Veruca Salt's Nicole Fiorentino (bass guitar), and guitarist Jeff Schroeder (who also worked on their previous LP "Zeitgeist"), Corgan gamely answered questions we'd previously written down and read aloud by our host, The Dawn's former guitarist Francis Reyes.
Articulate, outspoken and sharp as a chainsaw, Corgan spoke on a diverse array of topics, including how alternative music of the 1990s was hijacked by corporate greed: "Everybody loved alternative music when it was making people a lot of money. When it stopped making them money, they weren't so in love with alternative music anymore."
As a corollary, he commented on the Pumpkins' place in that collision of money and music: "How much money has Smashing Pumpkins made selling records, selling tickets, selling T-shirts? How much has Smashing Pumpkins made selling headlines, drama, death, destruction? We made a lot of people a lot of money by just being weird."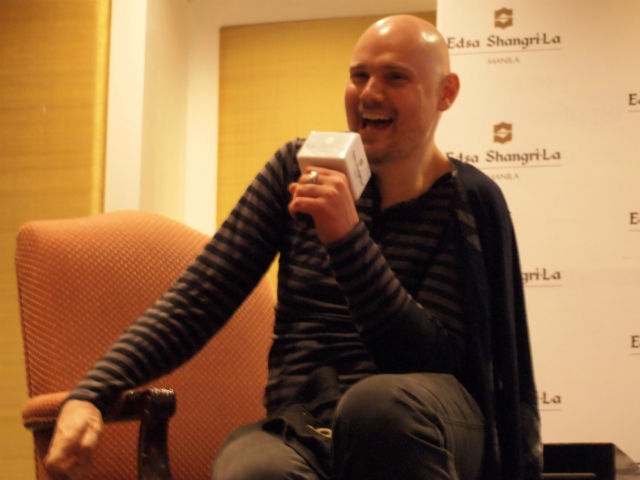 Billy Corgan says the Pumpkins made a lot of people a lot of money by just being weird.
His most incisive and keen insights were, however, reserved for his music and the conceptual inspirations that fuelled them. In an exclusive interview with GMA News Online, he explains more about the gigantic project the band has been working on.
The album "Oceania," you see, is merely a chunk of a larger work-in-progress that is several albums long; a conceptual undertaking entitled "Teargarden by Kaleidyscope." When it's finished, Corgan claims, the monstrosity will be 44 tracks long.
Is there a conceptual story arc behind "Teargarden by Kaleidyscope," or will we just find out when it's complete? BILLY CORGAN
: It relates to the themes in my book ["God is everywhere, from here to there," to be published by St. Martin's Press], which is a spiritual journey. If you know the Tarot [a card deck used for divination and fortune-telling], the Fool's Journey is narrated in the Major Arcana.
You start life out as a Fool, which is the zero card. It's ironic because I didn't know it when I called myself Zero [Corgan embodied the character Zero in the double disc "Mellon Collie and the Infinite Sadness"]. And you go on this journey where you gain something and you lose something. You lose your innocence and gain wisdom. To gain more wisdom maybe you lose your enthusiasm, maybe you gain more enthusiasm, but in doing so you lose more innocence. I think that's what the basic storyline is. Can I reclaim my innocence without losing my wisdom?
That's the storyline of "Teargarden." I think the difference is I'm doing it in public and I'm willing to fail. Many artists aren't willing because they want their failure to happen behind the scenes, they don't want to be criticized. I don't care about being criticized because I think the journey is really valuable.
That requires a lot of trust in the audience.BILLY CORGAN
: It's incredible to me how sophisticated people really are when you give them the opportunity to be sophisticated. The music business essentially operates on a dumbing down principle. How dumb do we have to go to sell this record to the most amount of people? There are very few bands who are able to keep their intelligence on record; Radiohead is a good example. They have a very high message and are still very popular. But for the most part the charts are dominated by music that's essentially dumbed down in melody, style, tone, texture, and message because it reaches the most amount of people.
So it's amazing that when you let people go with you on a deeper journey they all eventually figure it out. Most people are deep. You go into people's families and you talk, grandma's the smartest person in the room.
It can get hard to hold on to that wisdom given how the dumbing down principle gets us acclimatized to mediocre music and pablum.

BILLY CORGAN
: I grew up around a lot of Filipinos, in the outskirts of Chicago, and there's always that uncle, that grandma, who knows what the hell's going on. That's where the real wisdom is, you have to listen to that. You can't dumb your family down, you can't dumb your community down, you can't dumb your country down, you can't dumb your bands down. I think with where I am now I don't want to be dumbed down. I just think that's the worst thing for rock and roll.
-
YA, GMA NewsEditor's Note:
In tweets posted Tuesday afternoon by Billy Corgan of Smashing Pumpkins, he announced that the concert in Manila originally set for August 7 will be rescheduled for Wednesday, August 8.

"I'm happy to report thanks to our great crew and with the helpful assistance of Manila promoter we have rescheduled our show for tomorrow," Corgan tweeted. "The safety of our fans is ALWAYS a huge priority. With 24 long hours delay our 1st Manila show will be at same arena, same time tomorrow!!" he added.
–KG, GMA News
All photos by Tanya Tiotuyco