'Born to be Wild' special report: Habagat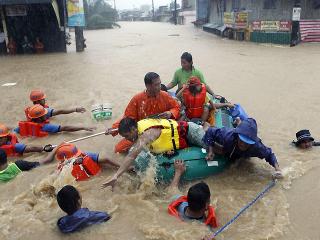 Amid disaster, heroes are made . Rescuers struggle as they pull a rubber boat loaded with residents saved from their flooded homes in Marikina City on Tuesday. Torrential rains submerged many parts of Metro Manila and surrounding areas, forcing nearly 270,000 people to flee their homes. Reuters/Erik De Castro
BORN TO BE WILD interrupts its regular series programming to bring you the latest on "Hagupit ng Habagat", tonight after Saksi.
Rains and floods are natural phenomena. They are part of the water cycle, and are necessary to sustain life on Earth. But from time to time, floods become devastating, and claim lives and properties.
Last Tuesday's floods brought about a devastation to Metro Manila which some say may be considered worse than 2009's Ondoy. A day after the tragedy, BORN TO BE WILD's teams round the metro to aid in rescue and relief operations.
Doc Nielsen Donato and his team head to flooded areas, where residents and pet animals are still stranded in their homes. With the Philippine Animal Welfare Society (PAWS), Doc Nielsen and the team attempt to rescue both humans and animals, alike. While Mariz Umali reports on the aftermath of the floods.
Catch the special report on BORN TO BE WILD tonight, right after Saksi.