Nice day for wet wedding: couple marries in middle of monsoon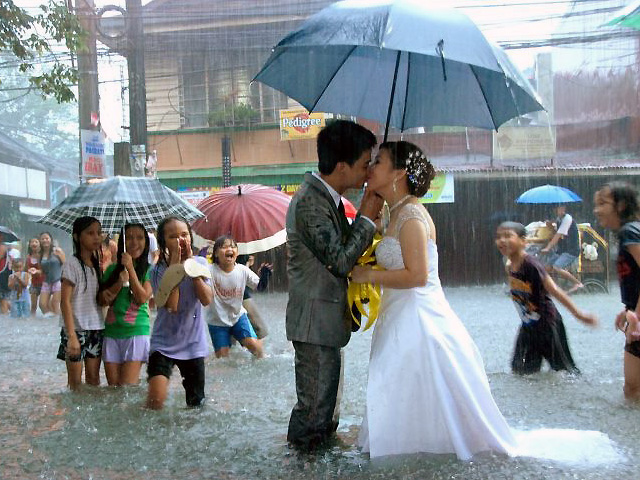 Ankle-deep and head over heels: Ram Campo and Hernelie Ruazol
There are those who hold that a rainy wedding means good luck for the happy couple. If this is true, then Hernelie Ruazol and Ram Campo are in for a blessed marriage indeed—it didn't just rain on their wedding, it poured and even flooded.
The couple's sopping-wet wedding became Internet-famous as a post-nup photo of them kissing in ankle-deep flood in their wedding garb made romantics swoon.
Their seeming obliviousness to the deluge around them lent a bright and hopeful air to the gloom that has overtaken the metro these last several days.
The couple tied the knot last Wednesday inside the flooded San Antonio de Padua Parish Church in Singalong, Manila, at the height of the monsoon rains.
Video of the wedding shows a blooming Hernelie being escorted up the aisle wading in filthy flood water as if it really was the most joyful day of her life.
It might not have happened at all if Hernelie had given in to monsoon-induced, last-minute jitters. "Nung paakyat na ang tubig, iniisip ko 'wag nang ituloy, pero sabi ng mama ko, 'Bakit ka aatras, nandiyan na?'" she recounted on Kapuso Mo, Jessica Soho Saturday night.
In the days leading up to the ceremony, the bride, a teacher at Epifanio de los Santos Elementary School, had begged the weather for a break on her special day.
"Dear Ulan," Hernelie posted on Facebook. "May I request you to please take a rest on Wednesday. Do not ruin the most important day of our lives!!!!"
Obviously, the skies did not heed her appeals, but ultimately, Hernalie and Ram didn't seem to mind. On the day of the wedding, the couple's spirits seemed as relentless as the rain.
"I just want to take it positively... rain or shine tuloy pa din... overflowing of blessing siguro ang mapapasamin," Hernelie said on her Facebook on Wednesday.
Ram was first to reply, saying, "EXCITED!"
On Friday morning, Hernelie posted the third and most viral of their wedding photos, along with the caption: "We only wished to have a simple wedding, but we had an extraordinary one!!!!"
Extraordinary indeed; their story has since been picked up by various news outfits and their pictures have been shared thousands of times online.
"Sinisisi ko habagat; bakit naman sa special day ko? But I realized the habagat is what made my day special," she said.
Their vow of "for better or worse" was tested much earlier than expected. Kissing in a rainy deluge, Hernelie and Ram appeared able to endure any future storms in their marriage.
— BM/HS, GMA News