UAAP
:

Revilla-less Green Archers snap three-game skid, ground Falcons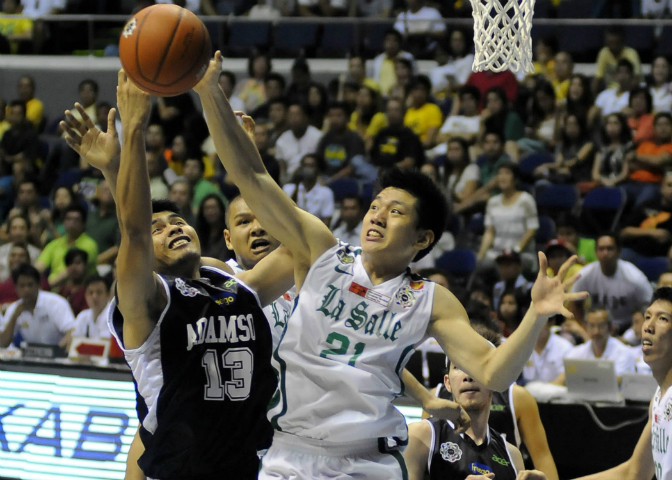 Jeron Teng (right) battles Eric Camson for a rebound. Teng placed the final touches by hitting a charity that made it a two-possession game late.
KC Cruz
(Updated 4:51pm)
The De La Salle University Green Archers held the Adamson University Soaring Falcons without a score in the final 2:38 to snap a three-game losing skid, 56-52, doing it without starting point guard LA Revilla as well, Sunday at the Smart Araneta Coliseum, in the 75th season of the UAAP.
Revilla began the game, but was taken to the locker early on due to a sprained left ankle. The result was a closely-fought game that saw the two sides swap the lead several times until the final buzzer.
"Adamson played good defense [and] we couldn't execute properly," said La Salle head coach Gee Abanilla. "Hopefully we can draw up a few solutions in the next few days."
Norbert Torres and Abanilla said despite their record, they are pleased with the way the team has been playing. "Our record doesn't show how good we've been, especially since they've been all close games," added Abanilla.
A triple by Jericho Cruz knotted things up 43-all, 8:11 left in the fourth, but the DLSU big men made it a three-point game, 49-46, before another basket by Cruz and scores by Roider Cabrera turned the tables and put Adamson up, 52-49.
But that was the last time the Falcons put points on the board, as baskets by Andrada and Jeron Teng gave the Archers a one-point lead. Another Andrada score made it a three-point game with 18 seconds left, and then Jed Manguera came up with a crucial steal of a Falcons inbounds, which led to a decisive free throw by Teng that made it a two-possession game, putting them clear of their opponents.
Cabrera and Rodney Brondial then missed shots that would have shrunk their margin of defeat, finalizing the tally.
The Archers made 24-of-59 from the floor, or 41 percent. However, they only converted 6-of-18 attempts from the line, or 33 percent.
"I think it's a mental thing. I've been stressing to the boys that you have to be strong in your mind," said Abanilla. "We make our free throws in practice, but a lot of people have been harping about it and it gets in the minds of our boys."
It was a game of runs early on, after Jansen Rios drew first blood on an offensive rebound for the Falcons. Norbert Torres and Jeron Teng answered back to make it a 6-2 tally in La Salle's favor. But the momentum shifted in the Falcons' favor as their defense forced La Salle into turnovers. Rios, making the most of his starting nod, along with EJ Camson, scored seven straight, for a 9-6 lead.
The Falcons would not score from the field again in the period however, while La Salle slowly pulled away. Adamson's Rodney Brondial, and reserves Jeff Olalia and Ar-Rouf Julkipli scored four more times from the line, while La Salle, aided by a buzzer-beating triple by Mark Tallo, tripled their score, to take an 18-13 lead after one quarter.
Roider Cabrera opened the second quarter with a deuce, but consecutive lay-ups by Joshua Webb pushed La Salle ahead, 22-15. Adamson wasn't going away however, as a 10-2 run capped by a split at the line by Ryan Monteclaro put the Falcons back in the driver's seat, 25-24.
A hook shot by Norbert Torres ended the Archers' drought, then Teng converted another basket to offset two free throws from Lloyd Abrigo and gave the lead back to La Salle, 28-27, with under three minutes to play. Monteclaro buried his second triple to edge Adamson forward, but Tallo hit a long jumper to knot the game anew.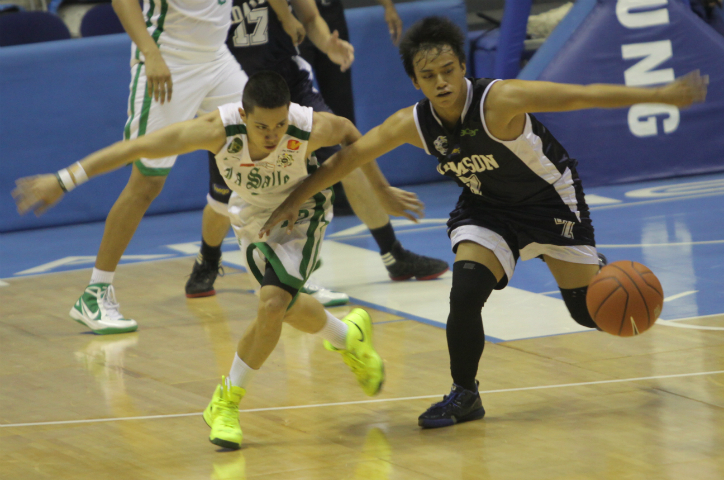 LA Revilla (left) loses the ball against Ryan Monteclaro, and later exited the game, but the Archers still snapped their three-game loss streak.
Jeff Venancio
Right before the first half ended though, Monteclaro fished for a foul from behind the arc and made two of three from the line, to put Adamson ahead 32-30 at the break.
A slow start by both teams saw the scored knotted again, 35-all, with 3:56 left to play in the third period. After a pair of splits at the line by the DLSU reserve guards provided the spark though for the Archers, powering them to an 8-3 burst capped by back-to-back Teng baskets for a 43-38 advantage with 28 seconds left. Eric Camson however scored his first field goal of the game to keep his side close, 43-40, with the fourth quarter left.
Despite a 20-for-30 mark from the free throw line, Adamson shot a mere 14-of-61, or 23 percent, from the floor. The Archers also tallied more assists, 13-7, and outperformed Adamson in points scored on the break (14-5) and off turnovers (13-8).
Jeron Teng led La Salle with 15 points. Norbert Torres added 12. Veteran forward Yutien
Andrada scored all his six points in the crucial fourth quarter.
Said Abanilla of Revilla's absence, "His injury threw us off a bit," said Abanilla, "but we're just relieved to be over the hump."
Ryan Monteclaro led his team with 12 points, while Rodney Brondial and Roider Cabrera chipped in eight each.
Jansen Rios started in the place of Alex Nuyles, who will be inactive for the rest of the season due to a shoulder injury.
DLSU moved back up to .500, at 3-3, and will close out their first round with a match against host team National University Bulldogs on Saturday. Adamson on the other hand sank to 1-4, and face the UE Red Warriors, Wednesday.
- AMD, GMA News
The scores:
DLSU 56: Teng 15, N Torres 12, Tallo 7, Andrada 6, Mendoza 5, Webb 4, T Torres 3, Mangera 3, Vosotros 1, Van Opstal 0
ADU 52: Monteclaro 12, Brondial 8, Cabrera 8, Rios 7, Cruz 7, Camson 5, Julkipli 2, Abrigo 2, Olalia 1, Tollano 0, Petelios 0, Etrone 0, Cabigas 0, Agustin 0
Quarter scoring:
18-13, 30-32, 43-40, 56-52