Dengue in PHL on the rise, gov't undertakes preventive measures
DENGUE 101
Source: World Health Organization
WHAT IS DENGUE?
• Viral infection caused by at least two types of mosquitoes, aedes aegypti and aedes albopictus o Aedes aegypti mosquitoes breed in man-made containers. It feeds during the day, with peak biting periods early in the morning, and just before dusk o Aedes albopictus is considered only a secondary dengue-carrier. It is highly adaptive and it can survive even in cooler temperate regions of Europe.


SYMPTOMS and MANIFESTATIONS
• It takes between 2-10 days after the bite before the infection could manifest in the body. At the onset, causes flu-like symptoms such as fever, headache, pain behind the eyes, joint pains, nausea, vomiting, and rashes.
• Severe dengue occurs with warning signs 3-7 days after the first symptoms. The temperature of the patient usually decreases, even below 38 degrees Centigrade. The patient feels severe tummy pain, vomiting, rapid breathing, fatigue, restlessness, blood in vomit, and bleeding gums. This is also the critical stage as it poses possibility of death within 24 hours. Proper fluid maintenance is very important at this stage.

PREVENTION MEASURES
• Dispose solid waste properly. Remove man-made habitats by covering, emptying, and cleaning water containers weekly.
• Reduce possible mosquito habitats. Clear your surroundings of stagnant water, and damp areas.
• Use window screens, long-sleeved clothes, insecticide-treated materials, mosquito coils and vaporizers.
• Insecticide spraying and fogging may be effective during dengue outbreak.

DENGUE AROUND THE GLOBE
• About half of the world's population may be at risk now.
• Dengue is a disease most common in countries within the tropical region, mostly in urban and suburban areas.
• No specific treatment for dengue has been found. Most of them are under clinical testing. Early detection and access to proper medical care lowers death rates.
In a village in Barangay Pulong Buhangin, Sta. Maria, Bulacan, dengue hit ten individuals for the month of July. Of the ten, a six-year old child, Bryan Reyes, died.
"These were only the documented cases in the village. There may be more cases, even more casualties, but they might not be reported," said Josephine Quimque, barangay volunteer.
At least two are currently confined in different hospitals within the town to date, added Quimque.
The rise in dengue cases is felt not only in Bulacan but also all over the country. In the recent National Epidemiology Center's dengue surveillance report for July 7 to 14, 2012, a total of 51,597 dengue cases have been reported from January 1 to July 14. This corresponds to 16.4 percent rise from last year's 44,327 reported cases (See table below).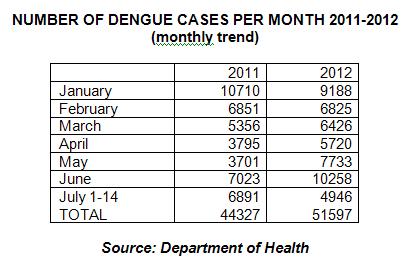 Dr. Rosario Capeding, the study group leader on dengue in the Research Institute for Tropical Medicine (RITM) said that the rise could be attributed to several factors, including rapid urbanization and higher population density which, according to her, might have caused the number of breeding sites for dengue virus-carrying mosquitoes.
The most number of dengue cases, according to the report come from National Capital Region (NCR) at 11, 476 cases or 22.4 percent, followed by Region IV-A (Southern Tagalog) at 7,265 cases or14.08 percent, and Region III (Central Luzon) at 7,044 cases or 13.65 percent.
"Increase in breeding sites means increase in number of mosquitoes," said Capeding in an interview.
Rainy season also causes the number of dengue cases to rise, as shown in the surveillance report (See table below).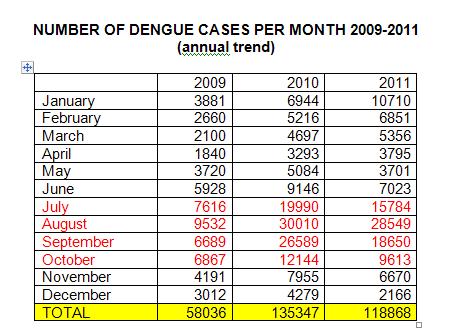 Capeding added, "June to October is the peak season of dengue. However, in the Philippines, we have cases all throughout the year because dengue is endemic to us."
Dengue, including the severe type dengue haemorrhagic fever, was first seen in the Philippines and Thailand during an epidemic in 1950s, according to the World Health Organization.
Dengue outbreaks occur regularly in the country. Capeding also said that the Philippines is also home to all the four types of dengue virus.
However, the number of deaths due to dengue decreased from last year's 0.66 percent, or 293 out of 44,327 cases to 0.64 percent or 328 of the 51,597 reported cases.
This trend could be attributed to better disease management in hospitals, said Capeding.
"Because dengue is a viral infection, it's self-limiting. The only way to manage it is through fluid therapy," said Capeding.
Ovi-larvicidal traps
In 2011, the Department of Science and Technology (DOST) came out with the Ovi-larvicidal Trap System or OL trap kit. The trap is made up of lawanit (a type of wood) paddle that looks like a popsicle stick, a black container, and larvicide pellets.
This trap system is designed to attract dengue-carrying mosquitoes to lay their eggs in the container. The larvicide pellets in the container with stagnant water kill the eggs of the mosquitoes. This method helps communities to reduce the number of dengue-carrying mosquitoes from spreading.
In the same year, DOST and DOH distributed 700,000 OL trap kits nationwide through their regional offices. According to the result of the study the two agencies conducted, there is a significant decrease in the number of dengue incidence in various regions of the country.
Among the regions, Region 8 or Eastern Visayas recorded the highest decrease rate of dengue cases after the installation of the traps. In this region, number of dengue cases decreased by 94.4 percent, from 4,711 in 2010 to 265 in 2011, after the OL traps were installed.
However, the study was not entirely successful in various cities of Metro Manila where the decrease was only about 6.4 percent, or from 6,156 to 5,761.
Capeding mentioned in the interview that the mosquito trap still needs improvement as it mosquitoes can still manage to breed in the trap if left unmanaged.
Proper dengue management
Capeding also said that the key to managing dengue cases properly is through early detection.
"With adequate bed rest, mommy's chicken soup, and daddy's tender loving care, it (dengue) can actually be managed at home," said Destura in a forum last July 30.
Destura explained that the test kit called "Biotek-M," would help deliver proper health care to dengue patients as not all of them should be admitted to the hospital. The kit is designed to detect if the patient has dengue within an hour after the test has been administered.
"In reality 95 percent of dengue cases are self-limiting. It's just that the technology that will point you who are the 95 percent and who are the 5 percent is not yet available in the market," Destura added. — TJD, GMA News