Movie review: 'Brave' is a Scottish visual feast
Wondrous to look at, lovingly animated, and boasting a by now to-be-expected sterling cadre of vocal talent, "Brave" is the latest full-length computer animated release from Disney-Pixar.
In a first for Pixar, the film is an historical epic more along the lines of Celtic literature than anything featuring the toys, insects, fish, cars, superheroes and/or robots of yesteryear.
Indeed, this is the first Pixar production that sounds exactly like the pitch for a traditional Disney princess movie, complete with a plucky young royal who would rather be out having adventures than dealing with the rules and obligations that go with her position. Throw in a pair of parental figures who want nothing more than to see her married, a cute animal sidekick (a horse) and a witch, and the stage is set.
"Brave" tells the story of Princess Merida (played by "Trainspotting"'s Kelly Macdonald), a Scottish lass whose adventurous spirit is matched only by the fiery hue of her gorgeously-rendered hair.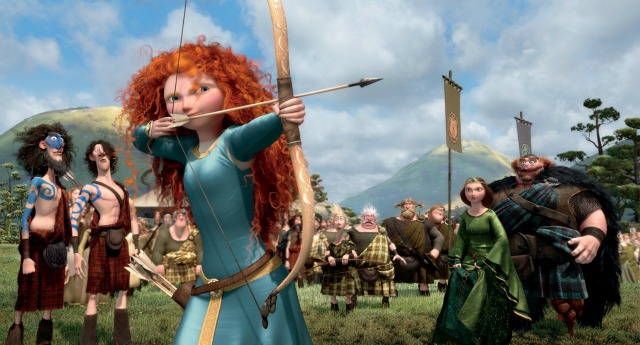 Disney princess though she may be, Merida is no one's damsel in distress
The film opens with a genuinely exciting extended prologue in which Merida's father, King Fergus (comedian Billy Connely) protects his family from the demon bear that will become part of his (oft-repeated) legend. From there, the film flashes forward several years to reintroduce us to the princess at an age where she is expected to enter into one of those fairy tale marriages whose only purpose is to unite kingdoms (clans, in this case) and kick-start plots. King Fergus is presented as a man's man, more likely to knock back a flagon of mead and share war stories (usually about demon bears) than stand on ceremony. His better half is Queen Elinor, played with the appropriate amount of regal bearing by Emma Thomson.
Just when Merida is scheduled (forced) to choose a husband from one of three eligible, if less-than-ideal, princes of neighboring clans, she throws a monkey wrench (a bow, to be more precise) into the works, to the chagrin of her ever-proper mother. Even as relations between mother and daughter are strained to the breaking point, so too are the relations between the clans, whose members demand satisfaction in the form of a decision.
It is at this point, in running away from the castle, that Merida encounters some of Scotland's legendary, luminescent will-o-the-wisps. The hitherto mythological creatures lead her to the ramshackle cottage of a witch (Julie Walters) who moonlights as a woodcarver. The witch, upon learning of Merida's problem, is more than eager (as witches are wont to do in stories of this type) to help the young princess with her dilemma. A deal is struck, and a mystic spell with vague parameters comes into play.
Naturally, the spell goes awry with initially-hilarious consequences that echo a similar plot development in Disney's "Brother Bear." The rest of the film becomes a race against time to undo the effects of the spell, restore the bond between mother and daughter and restore peace to a castle full of angry Scots.

The cast is uniformly excellent, with the uninitiated ear quickly getting used to the varieties of Scottish accents on aural display. On the humor side, there are plenty of good laughs to be had, usually delivered by the antics of Merida's three younger brothers, who will go to practically any lengths to get to the castle kitchen's stock of pastries.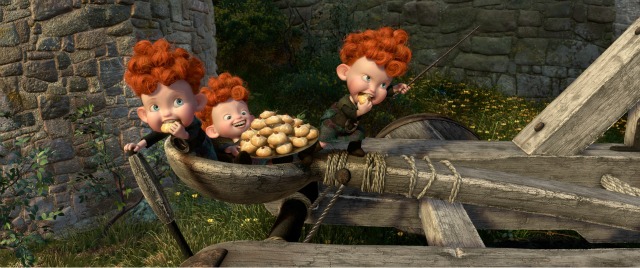 Merida's brothers, Harris, Hubert, and Hamish provide much of the comic relief.
Visually, the filmmakers and animators have outdone themselves. Where Disney streamlined and stylized centuries of cultural and ethnic aesthetics for films like "Sleeping Beauty" (1959) and "Mulan" (1998), Pixar has taken the opposite approach, creating a painstakingly-detailed medieval Scottish world (that just happens to be inhabited by stylized people) . Everything from the emerald forests and plains to weathered castle ramparts is rendered down to the last meticulous detail; you can almost smell the grass by the loch as the breeze rolls in from off the adjacent highlands while you admire the stitching on each clan's unique tartan livery.
Where the film could have used more work, however, is the story. Such as it is, there is no denying that "Brave" is a visual feast, but it fails to hit the mark as far as the level of narrative excellence established by past Pixar productions is concerned. The movie is built on a surprisingly straightforward plot structure, with no unique twists or developments to speak of. While the young ones will find little to complain bout, adults may find themselves wondering if they'd walked into a Dreamworks animation.
The film's diminished ability to engage is especially evident in the sequence of events that befalls Queen Elinor; while certainly well-staged and acted (by Thomson and the animators), it's nothing we haven't seen before (the aforementioned "Brother Bear"), nor is the battle of wills between child and parent that nearly every Disney princess goes through (Ariel, Jasmine, et al.).
To clarify, "Brave" is in no way a bad film, it just has the misfortune of coming so soon after the magnificent one-two punch of "Up" and "Toy Story 3" (let's leave "Cars 2" out of this). If this were a Disney solo effort, a la "Chicken Little," "Bolt" or "Meet the Robinsons," it would be praised as a solid, if unexceptional, addition to their animated canon.
Regrettably, since it is a Pixar film, audiences have rightfully come to expect more, and as such, "Brave" ranks closer to "A Bug's Life" than "Wall-E" but, thankfully, nowhere near pop culture pandering of the average Fox animation ("Open Season," etc.).
In the increasingly-cluttered arena of family animated features, Pixar still stands head and shoulders above the competition—with even their lesser releases giving the competition a run for their money—and, as we would for any contender having an off-day, we wait in rapt attention, ever-eager to see what they'll do next. –KG, GMA News
Photos courtesy of Walt Disney Studios