Music review: Rizal walks the earth in Dong Abay's Rebulto
Those who grew up in the Nineties listening mainly to rock radio would have caught Yano's music. Its frontman, Dong Abay, lent his songwriting talent to much of its output, including "Tsinelas," a song about an activist's beloved and much-worn-out footwear; and the still-relevant "Banal na Aso, Santong Kabayo."
Abay left the band in 1997 and went into isolation following a bout of clinical depression. Stories circulated that Abay "never left his room." This was a slight exaggeration as he did leave his house to run errands.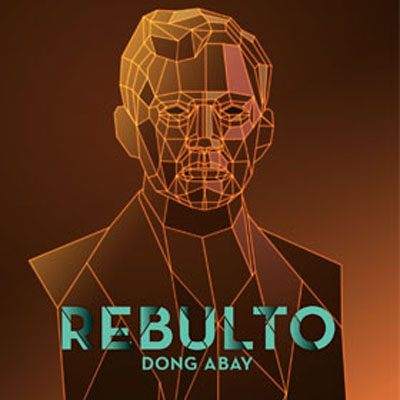 Rebulto (Team Manila, 2012) is inspired by Abay's fascination with Jose Rizal.
After emerging from isolation, he had another a short-lived band called Pan, resumed his undergraduate studies and, became an independent musician. It took nearly six years before Abay released this EP, Rebulto (Team Manila, 2012). It is inspired by Abay's fascination with Jose Rizal. Ex-Eraseheads Raimund Marasigan and Buddy Zabala both produced and played on the album.
The graphic design studio Team Manila's contribution, the EP's design and distribution, stems from a longstanding and equally strong fascination with Rizal's work, exemplified by one of their most iconic designs and best-selling shirts. If there is anything I appreciate, it is an album bearing the marks of their clean and contemporary style, something which draws the modern Filipino aesthetic away from the excesses of baroque.
The music is of good quality; the title track's refrain periodically echoes in my head. However, the rest is hardly memorable compared to Yano's output. It might take, as usual, repeated listening for things to sink in.
But, it is in the poetry where Abay shines. In Rebulto, his words takes on an oracular quality, building a short tale centered on the premise of Rizal's monument in Luneta coming to life.
The opening number "Kilometro Zero" sets the scene by introducing, to a somewhat upbeat rhythm, the Rizal Monument in facts and figures. The next song, "Kikilos," gives the initial impression of the statue coming to life, with a poignant and ironic moment in which Rizal removes his famous overcoat, complaining about the heat. It's a nod both to sartorial common sense and, it may be argued, to Ambeth R. Ocampo's seminal compilation of essays which built his reputation as a historian and "iconoclast."


The EP's first single, "Par Que," talks about Rizal walking about the park very late at night, without the tourists and the guard of honor, on either his birthday (June 19) or at the end of the year (December 30). I found this to be one of the most beautifully written songs in the album, and its video, taken in Rizal Park on June 19, is just as beautifully shot.
In the next track, "Anonymous," Abay, in Rizal's voice, talks about how the hero became an icon; his face and name became part of everything from currency to banks to schools.
Not all the lyrics on this album here are his, though. Abay set to music similarly oracular words written by Amado V. Hernandez, the nationalist author, lamenting how honoring Rizal has not meant a change in our consciousness as a people.
A more ironic song in the same vein, "Bagumbayan," takes up the title of Rizal's "Filipinas dentro de Cien Años" to speak of a future that has not clearly happened yet. Here, Rizal's vision, spoken through Abay, is both a goal and an indictment of how things have not changed.
It is on a note of both patriotism and resignation that Abay lets Rizal return to his place, in the title track, to remain there, stiff and dead. Borrowing both from Jose Corazon de Jesus's poem "Bayan Ko" and the Tagalog lyrics of the National Anthem, the song ends the tale of Rizal's sojourn and Abay's album.
Rebulto is, in the best traditions of Filipino songwriting in a certain vein, both a lament and a call to action. I do hope that, in the time to come, it will endure as much as Abay's earlier work. Perhaps when things have indeed changed, we would look back and be grateful to both Abay and Rizal (beyond the way we honor him now) and so many others who have shaped the landscape of the Philippine nation. — DVM, GMA News