German diver in Robredo's rescue ops now unconscious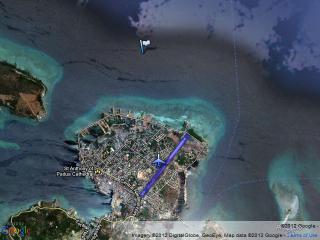 Location of Robredo crash site near Masbate airport. Image of crash site (with pin icon), location based on coordinates found on Pres. Aquino's Facebook page. Pilots of the Robredo plane aimed to make an emergency landing at Masbate Airport. They were less than a kilometer short.
(Updated 4:38 p.m.) A volunteer German diver involved in the search and rescue operations of the late Interior and Local Government Secretary Jesse Robredo on Tuesday afternoon was found unconscious.

In a tweet by GMA reporter Kara David (@karadavid), she noted that the diver is "being revived and given oxygen." She did not elaborate.
German diver involved in search and rescue operations in Masbate is unconscious. Now being revived and given oxygen twitpic.com/alzxar

— Kara David (@karadavid) August 21, 2012








According to
Divers Alert Network
, decompression sickness happens when a diver rapidly ascends to the surface.
David reported on GMA News Tv Live that German technical diver Danny Brumbach was rushed to the hospital, but was immediately released as the hospital did not have the equipment to treat his condition.
Subsequently, Brumbach was transferred to the Philippine Coast Guard's vessel BRP EDSA, which has a decompression chamber and which was stationed at Masbate's offshore, the television report noted.
In a separate
tweet
, David said that Brumbach went as deep as 180 feet.
In her report, David also noted that the diver "shot up," or surfaced to the water rapidly.
Brumbach and his wife arrived in Masbate last night to aid in the search for the late Interior Secretary and the plane's pilot and co-pilot, she added.
On GMA News TV's Balita Pilipinas, Maki Pulido reported that Transportation Secretary Mar Roxas suspended the retrieval operations for the two pilots because of Brumbach's accident.
– KG/BM, GMA News