PBA
:

Air21 loads up via three-team trade with Petron, Ginebra
The Air21 Express shored up their frontline by adding height via a three-team deal that saw them nab former number one overall pick Nonoy Baclao, along with Rob Reyes, KG Canaleta and John Wilson from the Petron Blaze Boosters and Barangay Ginebra San Miguel.
In exchange, Petron got back sophomore Magi Sison, point guard Paolo Hubalde, and a 2014 second round draft pick, while Ginebra added Elmer Espiritu and a 2013 first round selection.
From the #PBA Commissioner's Office: Summary of Approved Trades as of August 23, 2012 - 1. AIR 21 gets Niño (cont) tl.gd/ivs63k

— pbaconnect (@pbaconnect) August 23, 2012



Interestingly enough, both Baclao and Canaleta actually played on earlier incarnations of the Air21 squad.
The 6'6" Baclao had been the number one pick in the 2010 draft, and averaged 3.4 points, 5.17 rebounds, 1.1 assists and 1.49 blocks with Air21, before being traded to Petron, where his playing time and numbers took a big hit. Overall, he has career averages of 2.79 points, 4.25 rebounds, 0.76 assists and 1.14 blocks in 14.98 minutes of play.
Joining him is the 6'5" Reyes, who boasts career numbers of 3.83 points and 3.54 rebounds in 15.56 minutes of play. Further adding height to the Express is 6'6" Nino Canaleta. The former UE Red Warrior averages 8.97 points, 3.68 rebounds and 0.79 assists in 20.49 minutes in a seven-season career.
Rounding out the Express' additions is bit player John Wilson, who averaged 3.75 points, 2.25 rebounds and 0.68 assists in 12.10 minutes over two seasons with Ginebra.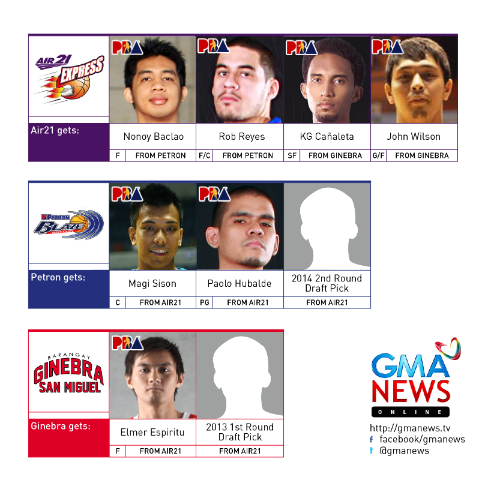 Petron gets a veteran back-up point guard in Hubalde. Last season, he normed 3.42 assists per game, and has career marks of 4.74 points, 2.46 rebounds and 2.22 assists in 15.79 minutes. They also get a project center in Magi Sison, who averaged 2.9 points and 3.55 rebounds in his rookie year.
Finally, Ginebra gets the high-leaping Elmer Espiritu, who has numbers of 5.05 points, 3.91 rebounds and 0.55 blocks in 18.07 minutes after two PBA seasons.
In the recently concluded 2012 PBA rookie draft
, Petron tabbed June Mar Fajardo and Alex Mallari with the first and third overall picks. Ginebra got Chris Ellis and Charles Jensen with the sixth and eighth selections, while Air21 settled for Yousef Taha at the start of the second round, and Simon Atkins in the opening of the third.
- AMD, GMA News