Grading the 2012 PBA Draft: Rain or Shine, B-MEG, Talk 'N Text, Air21, Global Port
The recently concluded 2012 PBA Draft had more than its fair share of surprises. A couple of teams stunned the league by selecting players way before the initial projection, while a couple of teams also astonished the league by passing up on a player who was thought to be one of the most sought after in the draft.
How did the Rain or Shine Elasto Painters, the B-MEG Llamados, Talk 'N Text Tropang Texters, Air21 Express, and Global Port Batang Pier do? Check out their grades, below.
1. Rain or Shine Elasto Painters
2012 PBA Draft haul:
Chris Tiu (7th), Bacon Austria (27th), Jewel Palomique (37th)
What moves does a team fresh off winning a championship need to make? Not much. The Rain or Shine Elasto Painters were happy to select the best talent available. They had the seventh pick in the draft and projections had them selecting Ramos, Mallari, or even Vic Manuel. However, Chris Tiu somehow fell through the crevices, so the Elasto Painters swept him up.
The Painters' only need was to have another ball handler, as Paul Lee will be out for around five months due to his shoulder injury. Tiu gives them that, some shooting, and some more playmaking. The legions of extra fans won't hurt either. Case in point, after the draft, Tiu had to be helped out by six mall security guards as the fans approached him in droves.
Getting second generation player Bacon Austria with the 27th pick is seen as a punchline in some circles, what with RoS being home to Extra Rice Incorporated, but he's actually a good fit for coach Yeng Guiao's system, bringing a bit of everything to the table.
Grade:
A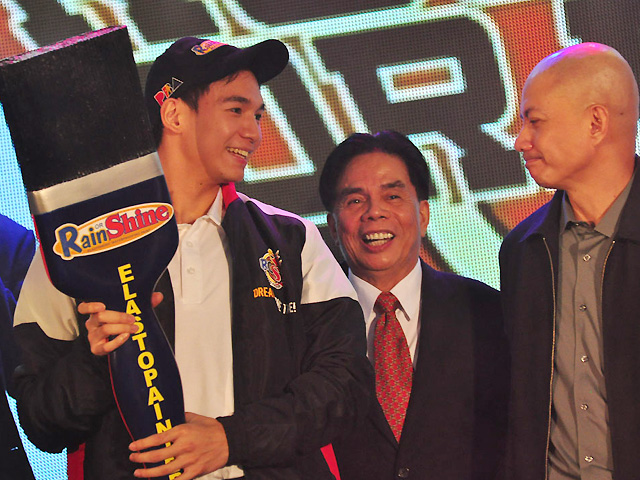 Chris Tiu slipped all the way to the seventh pick, but the 2012 Governors' Cup finalists were not complaining, snapping him up in a hurry.
Jeff Venancio
2. B-MEG Llamados
2012 PBA Draft haul:
Aldrech Ramos (5th), Jewel Ponferrada (13th), Gian Chiu (29th), Ramon Mabayo (39th)
Trading the ninth pick along with seldom-used Val Acuna for Sean Anthony was a tremendous move for the Llamados. They got a player who can be a Fil-Am Sakuragi to complement Marc Pingris. However, Anthony was later traded along with the 12th pick for Aldrech Ramos.
For those keeping count, B-Meg basically traded their 9th and 12th picks plus Acuna for Ramos. The former FEU Tamaraw could be a good contributor later on while Anthony would have been a good part of the rotation instantly.
B-MEG followed it up by drafting two more bigs in Jewel Ponferrada and Gian Chiu, but the duo will most likely spend their time on the bench playing behind Rafi Reavis and Yancy de Ocampo.
Grade:
C+
3. Talk 'N Text Tropang Texters
2012 PBA Draft haul:
Jaypee Belencion (20th), Jason Escueta (30th)
Having the 20th and 30th picks meant that Talk 'N Text had their hands tied, unable to do something drastic during the draft.
As a result, TNT went small and big, drafting sniper Jaypee Belencion and big man Jason Escueta, but there's little reason for the team to throw them into the line-up immediately. The Tropang Texters have been the most consistent team in the league in the last two years, winning three of the last six championships, so "if it ain't broke, then why fix it."
Grade:
C+
4. Air21 Express
2012 PBA Draft haul:
Yousef Taha (11th), Simon Atkins (21st)
The Air21 Express could have taken this draft as a chance to reload their weapons, but they opted to go the trade route in building their squad, which meant their first selection came in the second round.
That said, Fil-Palestianian Yousef Taha was a nice pickup, as he adds some much-needed size to the Air21 line-up. Getting point guard Simon Atkins will also help them strengthen their backcourt and the former King Archer should have no problems taking orders from former DLSU and current Air21 head coach Franz Pumaren
Grade:
C+
5. Global Port Batang Pier
2012 PBA Draft haul:
Vic Manuel (9th), Jason Deutchman (10th), AJ Mandani (14th), Macky Acosta (26th), Jan Colina (36th), VJ Serios (46th) + Val Acuna
A new owner usually means an overhaul of the team, and while the Batang Pier are not exactly undergoing a complete revamp, a trade, coupled with several picks means the team could come out looking differently at the start of the 2012-13 PBA season.
So how does their haul look? They get three players who will surely be in their rotation with their first three selections, and they also got an extra shooter, courtesy of B-MEG. They did have to part with hustle machine Sean Anthony, but Vic Manuel and Jason Deutchman gives them actual size up front.
The kicker here is AJ Mandani, who first cut his teeth in the PBA-DL. If he lives up to his semi-pro averages (12 points, 3.75 rebounds, 4.08 assists), their grade could go all the way up to an A.
Grade:
B
- AMD, GMA News