Sign language for babies helps them communicate their needs
As any parent with a newborn can probably tell you, a baby's crying can be quite frustrating. Without being able to talk, babies cry when they want something. The problem is, parents don't always know what it is their baby wants.
If you're lucky, giving them milk will do the trick, or maybe changing their diaper, or picking them up. Many a couple have found themselves wishing their baby could just tell them exactly what they want. And according to Jaymie Pizarro, a U.S.-certified Baby Sign Language Instructor who holds workshops in the Philippines, they can.
Although babies don't usually learn to talk until they're around one year old, they can learn to sign as early as six to eight months.
"Baby sign language is a new revolutionary way of teaching our babies how to communicate — what they want, what they need, what they feel, or what they're thinking. Practically anything they can sign for, they will be able to tell you about it," Pizarro said during the "Philips Avent: From Pregnancy to Playground" event held at the TriNoma Activity Center in Quezon City on August 26.
Pizarro said that baby sign language began in the late 1970s, when interpreter Joseph Garcia noticed that hearing babies of deaf parents could sign. In 1987, he studied hearing babies of hearing parents, and discovered they could also sign. In 1994, Garcia published his first book on baby sign language.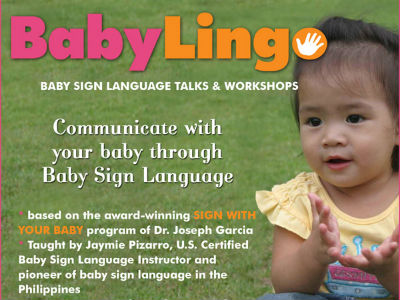 11-month-old Reese signs for book. Poster from Baby Lingo
The most important goal of baby sign language is empowering your baby to communicate, said Pizarro. "It's not to make your baby smarter than your neighbor's baby. It's really to give them a chance to communicate."
Another goal, she said, is to reduce frustration. "Through signing, it gives them the chance to say exactly what they want."
Beyond that, baby sign language enhances bonding, and allows parents to get to know their baby better. "It also gives the parents or anyone else around them a window into your baby's mind and personality. It tells you a lot of things that you wouldn't have learned about your baby," said Pizarro.
Babies who can sign also get a a boost in self-confidence, because they are able to express themselves clearly and get what they want, she said.
According to Pizarro, her daughter Nia could sign at seven months. "Whenever she wanted milk instead of crying, freaking out, or throwing a tantrum all she would do was this," said Pizarro, demonstrating the sign for milk. "It's like you're milking a cow, but with one hand," she said.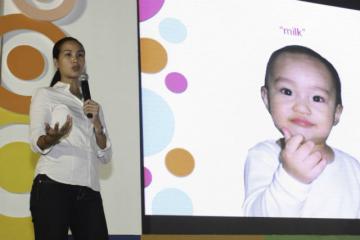 Jaymie Pizarro shows a picture of her daughter Nia signing for milk. Photo from Philips Avent
The sign for milk is one of around 70 signs that Pizarro teaches parents in her three-hour Baby Lingo workshops. "The signs that we teach are actually real signs — they're the signs used by the deaf community. So they're Filipino Sign Language signs," she said.
Pizarro said that when teaching babies to sign, it's important to teach signs when they're relevant; for instance, don't teach your baby the sign for milk if it isn't time for milk yet.
She also warned against confusing the baby by using different words for the same sign — for instance, switching between "Daddy" and "Papa."
It's also important to model the sign correctly. "If you do the sign for hurt, you do the correct sign and you also convey that you're hurt, in your face. You're not going to sign, then parang ang saya-saya niyo. Because aside from the sign, we want the baby to learn the concept of the word," she said.
According to Pizarro, teaching sign language will improve your baby's vocabulary, because every time you teach a sign, you're teaching them the word, the sign, and the concept of the word. "You teach the sign for milk, the word milk, and what milk is. That will help your baby remember exactly what it is," she said.
She also said that if parents teach their baby to sign, the baby will learn, but when the baby learns to talk, they will drop the signs. Pizarro shared some tips for teaching your baby to sign, like taking things slowly.
Add signs gradually. Don't rush it, don't take 20 signs immediately. Start with three to six signs. The goal is communication, it's not to learn as many signs as you can in the least possible time. It's really about more effective communication between you and your baby," she said.
Repetition is also important. Pizarro said that when teaching your baby the sign for milk, just ask your baby, "Do you want milk?" While the baby is drinking milk, ask again, "Do you like your milk?" And afterwards, ask the baby, "Did you like your milk?"
"If you do that all the time, you'll see that at the age of six or eight months, one time, your baby will surprise you that when they want milk, all they'll do is sign," she said.
While there are many signs in Filipino Sign Language, Pizarro said they only teach the signs that will apply to your baby, such as more, please, eat, water, and bath time. They also teach signs for animals, like cat and dog. Because the signs are iconic, they are easy to remember. For instance, the sign for cat is like pulling whiskers, while the sign for dog is like barking.
The Baby Lingo workshop is certified by the Sign2Me Presenters' Network.
For more information, contact Jaymie Pizarro at babylingo@gmail.com or visit the Sign2Me
website
.
— BM, GMA News