UAAP
:

Tigers dispatch Bulldogs in overtime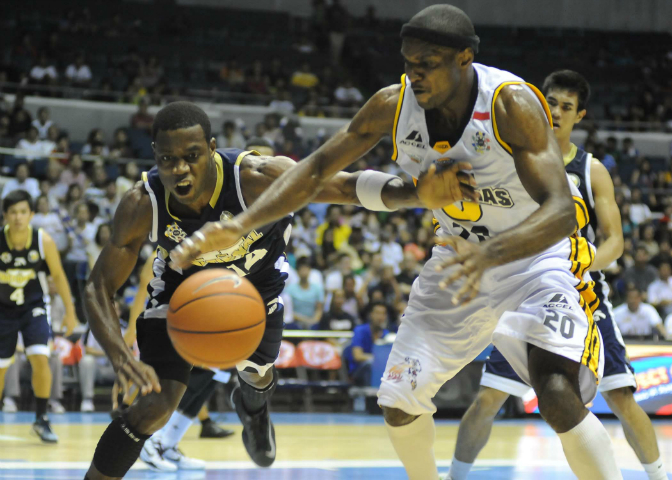 The Abdul solution? NU neutralized the powerful UST big man Karim Abdul (right) with the pair of Emmanuel Mbe (left) and Henri Betayene.
KC Cruz
(Updated 8:26pm)
Just like in their first round match against these same foes, the University of Santo Tomas Growling Tigers roared to an impressive comeback win.
UST flashed tremendous grit, coming back from as much as 17 points to win a highly physical game in overtime, 58-57, against the National University Bulldogs, Sunday at the Smart Araneta Coliseum.
NU was held without a field goal in the last 2:53 in overtime, and in that same span, Jeric Teng and Aljon Mariano hit key baskets to put their side ahead, this time for good.
Prior to that, Jeric Fortuna hit a heart-stopping three-point basket that sent the game into overtime.
Mariano led UST with 22 points, six rebounds and three assists. Karim Abdul added 10 points, 10 rebounds and two blocks, while Teng, Fortuna and Clark Bautista each contributed eight points. Fortuna also notched eight assists.
"We overcame 13-first half points. Okay na rin, panalo naman tayo. Wala na akong masabi kasi basta't dumikit lang, may mangyayari," said UST head coach Pido Jarencio. He also praised his team's fortitude for coming back from 17-points down.
"Noong tinira ni Fortuna [the game-tying three], sabi ko sa kanila, binigay na yan ng nasa itaas. Wag na nating aksayahin."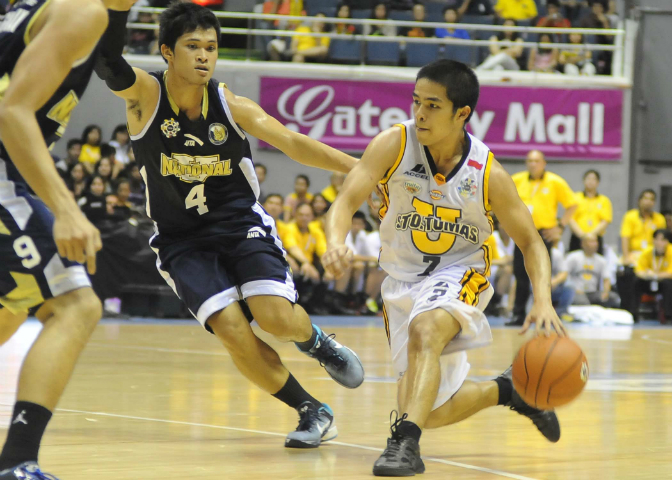 Jeric Fortuna (right) gave his UST team a new life when he hit that overtime-forcing shot. Guarding him in this photo is Gelo Alolino.
KC Cruz
UST stormed through the early minutes of the fourth quarter with an 8-0 run, thanks to tenacious defense and strong moves to the rim, drawing them within two, 42-40. The Bulldogs tallied their first point in the quarter on split charities by Troy Rosario at 6:35.
Midway through the fourth, the game took on a more physical turn, especially between Parks and Kevin Ferrer. Parks and Mbe in particular drew the ire of UST and their fans for their conduct. Over the next few minutes both teams would head to the line, hitting similar 2-of-4 clips with three minutes left in the fourth.
Jeoffrey Javillonar cut to the rim and scored NU's first field goal with under two minutes to play. In response, Abdul knocked down two free throws, and a right-hand drive by Mariano pulled the Tigers within one, 47-46.
On the next possession, NU forced a jumpball off their own miss. The Tigers won the possession, but miscommunication between Fortuna and Mariano led to a turnover. On the other end, Teng was called for a foul while defending Robin Rono, who promptly sank both free throws, 49-46.
Refusing to bow down, Ferrer saved a short three-ball by Teng with a reverse layup, beating the shot clock and forcing Bulldogs coach Eric Altamirano to call timeout with 13.2 seconds left. Parks was fouled on the ensuing inbounds and knocked down both, 51-48. But Fortuna's heroics prevailed, as triple ensured that there would be at least five more minutes of play.
After making the first basket in the extra period, the Tigers were forced into miscues on the offensive end. NU pounced, and a tip-in by Kyle Neypes capped a 5-2 exchange in their favor. Bautista was fouled and split at the line, then Rosario fished Abdul's fifth foul and split from the charity stripe as well.
But UST found a way to convert at the rim: Teng finished a fast break play, and Mariano spun to the basket with 4.4 seconds remaining to take a 58-57 lead, resulting in the final tally as a last-ditch drive by Parks did not fall through.
NU shot the ball better from the line (17-of-24, versus 9-of-19) and edged the Tigers on the boards (51-43). The Tigers, however, shot better from the field (22-of-65, or 33.8 percent, against 19-of-64, or 29.7 percent) and ran the Bulldogs off the floor with a 15-6 margin in fastbreak points.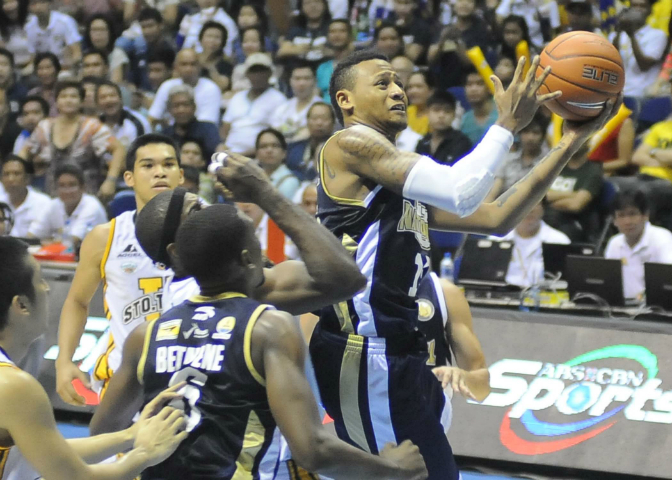 Bobby Ray Parks (right) struggled with his shooting, to finish 3-of-21 from the field.
KC Cruz
The Tigers scored in the paint early on, thanks largely to good ball movement. After a slow start in their previous game versus FEU, UST powered out to a 9-2 run, barely four minutes gone by.
However, UST would not score again until the last 30 seconds of the first quarter, thanks largely to double and triple-teams sent by National University against Tigers center Karim Abdul. Meanwhile, Troy Rosario, Mark De Guzman and Emmanuel Mbe had four apiece in a 12-0 run for National U. Jeff Javillonar scored on a fast break with a minute remaining, but Clark Bautista relieved UST shortly with a lay-up, nursing a 16-11 deficit end the first period
UST's woes continued in the second period, as NU got out to a 10-0 run. The Tigers would only put points on their board when Abdul finally connected, with 3:35 left in the first half. A minute and change later, he would split on free throws, and be responsible for all three of UST's points in the quarter, as the Bulldogs closed with a 31-14 halftime lead.
De Guzman buried a triple at the start of the second quarter, then gifted a drop pass to Mbe to give NU five straight. Mbe then drove to the rim for another two points, and Cedric Labing-isa downed another triple at 4:37 to give the Bulldogs a 10-0 run.
UST returned with a vengeance in the third quarter as Mariano scored on a breakaway layup, then buried a three-pointer. Bautista followed suit with his own three-pointer and fastbreak bucket to mount a 10-2 run in the first three minutes, 33-24.
However, the Tigers could not sustain the momentum and the shots wouldn't fall for them afterwards. To make matters worse, a technical foul called on Abdul resulted into two free throws for Parks. Mbe cleaned up a miss on their end at 4:51 to bring the lead back to 13 for NU, 37-24.
Mariano and Teng managed to give UST some much-needed scoring, but with a second left in the period, Henri Betayene managed to score off a Parks dish, giving the host school a 10-point lead with a quarter to play.
Parks top-scored for NU with 15 points, 11 rebounds and four blocks, albeit struggling with a 3-for-21 mark from the floor. Emmanuel Mbe added 10 points and 13 rebounds, before a hamstring injury forced him out.
With the win, UST stayed in step with the FEU Tamaraws at 7-2, tied for second place in the standings. NU on the other hand, fell to 5-4, a half-game behind DLSU's 5-3 record.
- AMD, GMA News
The scores:
UST 58: Mariano 22, Abdul 10, Teng 8, Fortuna 8, Bautista 8, Ferrer 2, Vigil 0, Pe 0, Lo 0, Afuang 0
NU 57: Parks 15, Mbe 10, De Guzman 8, Rosario 6, Labing-isa 5, Javillonar 4, Betayene 3, Rono 2, Neypes 2, Alolino 2, Villamor 0, Singh 0
Quarter scores:
11-16, 14-31, 32-42, 51-51, 58-57