Stephen Segovia: A 'Funny' thing happened on his way to Marvel Comics
"I am 29, but I do look 39," Filipino comic book artist Stephen Segovia says sheepishly.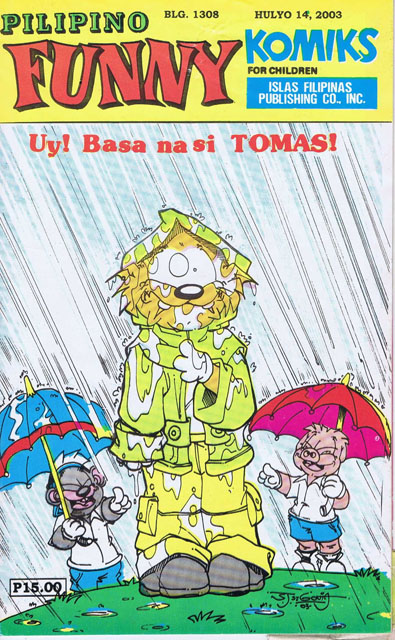 Segovia is behind Funny Komiks' iconic "Tomas en Kulas," a delightful read for 90's kids.
If you happen to have the same portfolio as Segovia, you might really feel old. The comic book artist started drawing for Funny Komiks at 16, writing and illustrating the anthropomorphic "Tomas en Kulas" for the defunct newsstand staple.
"When I was in third grade, I really loved reading Funny Komiks. I couldn't afford a five-peso comic at that time though but a friend let me read his copy," tells Segovia. His fascination with comics grew and pretty soon he was sending portfolios to publishing companies in the late 90s.
While being home-schooled for high school, Segovia applied as illustrator for Funny Komiks. "I brought so many samples to the editorial office! After a few trials, I finally became a member of the FK family," Segovia narrates.
A page of a talking dog and a cat was worth P120 at that time. But Segovia was not there for the money. "If you love what you do, no matter how low the salary is, as long as you enjoy and [are] happy with what you're doing, you keep on striving," Segovia shares.
Segovia stayed with Funny Komiks for six years. "I've learned a lot while working with Funny Komiks. Whenever I meet and get mentored by veteran artists, my art skills level up," he says.
Celebrating successes
Aside from having an eye for pictures, Segovia is also fond of playing video games so much that he does not realize he talks Nintendo jargon.
"We just have to strive harder just like Mario from the Super Mario Brother games," Segovia chuckles. "He started at World 1-1 and later ended up on World 8 with a princess."
But this competitive spirit did help him face the supposed "game overs" in his career.
"I've been rejected many times. We can't please all people. Some might like my work, some might not," Segovia says.
Nevertheless, he celebrated his successes no matter how small they may be to some. "My first international published work was not actually a comic book. It's a 'How to draw art' book on how to fuse manga and western art styles," he says.
"Seeing my work published in other countries felt really great! It felt like I was a rock star looking at my album," Segovia says with a megawatt smile.
Pushing to the X-treme
After the hits and misses, Segovia finally caught the eye of big-time publishers Dynamite Entertainment and DC Comics. Marvel Comics then hired him after he finished his contract under Glasshouse Graphics.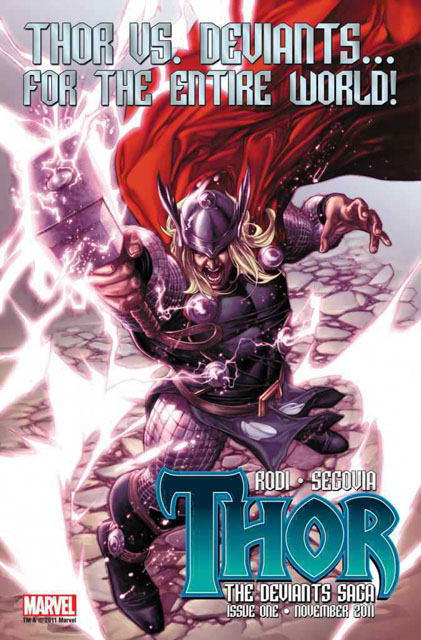 Segovia has gone a long way from his pastel-colored cover days. Here, he pencilled the cover for Marvel's Thor. Marvel Comics
For Marvel Comics, Segovia has illustrated for "Wolverine: Origins," "Wolverine: Manifest Destiny," "Mighty Avengers," "Dark Wolverine," "Silver Surfer," "Ultimates vs. Ultimates Avengers" with Leinil Yu and "Thor: Deviant Saga."
"My favorite character is Wolverine because he's bad-ass," Segovia proclaims. Wolverine is a Canadian mutant with a "healing factor" and an adamantium skeleton, a character popularly portrayed by Hugh Jackman on the big screen.
Segovia will still be drawing his favorite character, albeit a different one. Last July, Marvel released "X-treme X-men," the comic series that Segovia considers his biggest break so far.
"It's a dream-come-true gig! Many artists want to work on an X-book like 'X-treme X-men' and I am lucky enough to work on it," says Segovia.
Written by Greg Pak, "X-treme X-men" tells the story of mutants from different dimensions gathered together to kill the evil Professor X's across the multiverse.
"Greg Pak is one of the best writers out there and I am very fortunate to be working with him! I love the plot twists and how he executes it," the artist says.
The comic book is also inked by Filipino comic book creator Dennis Crisostomo. "Dennis is so talented. I like his inks on Carlo Pagulayan's "Emma Frost" and I'm so glad he is now working on my pencils," Segovia says.
"It feels like winning the lottery!" he adds.
Jackpot job
Segovia has made a lot of sacrifices before making it in the comics industry. In 2001, he left his computer studies to focus on illustrating. Having no schooling did not mean he was slacking off, though. He hardly left his drawing table.
"Meeting deadlines is the hardest part. Most of the time, I am in front of my drawing table and doing stuff for comics. It's like working 16 hours a day with only five hours of sleep and no social life. But that's what makes us better artists," he says.

Fortunately, he has a family that is supportive of his job. "It's a rough road on the way to the finish line but it feels really great that my job is also my passion," he says. "My family is always there to support me 100 percent. They rock!"
If he ever gets downtime and the gaming consoles are not working, you can find him in the gym. "I go to the gym then eat a lot after workout," Segovia confesses.
He also reads reviews online and take every criticism positively. "I just apply what the critics said about my work and make it better on the next issues," the artist says.
Ten years from now, Segovia plans to produce a creator-owned comic book but he admits it is riskier than work-for-hire projects. "They call it back-end profit where you base your income on how good the book sells," he says. "It's very risky but in the end, you'll learn how to market your work and earn something from it."
Segovia still feels everything is surreal. "I still can't believe where I am right now. I guess I'm just lucky," he says.
Though Funny Komiks has folded years ago, Segovia says he would still continue supporting and spreading the word about the talented local comic book creators.
Borrowing a tagline from a reality show, Segovia gives this advice to aspiring artists: "Dream. Believe. Survive! You just have to believe that you can do it." –KG, GMA News