UAAP: Camson carries Falcons over Maroons to snap six-game losing streak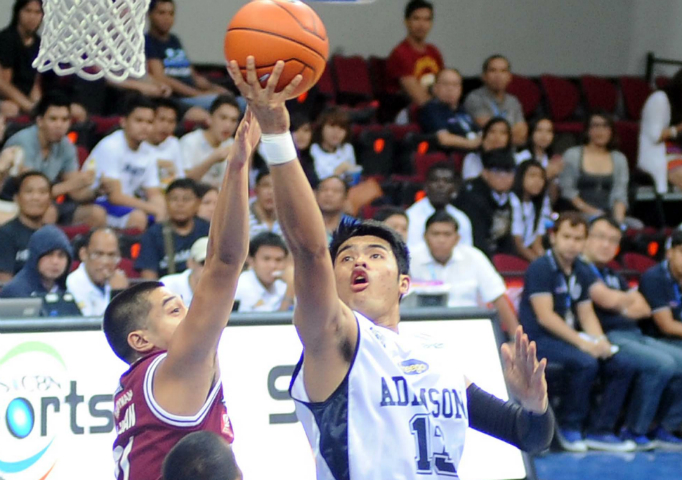 Eric Camson (right) nails a lay-up over UP's Mike Silungan. The big man logged a double-double of 19 points and 14 rebounds in the win.
KC Cruz
(Updated 8:28pm)
Eric Camson spread his game-high 19 points over all four quarters to lead the Adamson Falcons past the UP Maroons,
75-70
, in the UAAP Men's Basketball competition Thursday at the SM Mall of Asia Arena.
Camson led all scorers with 19 points and 14 rebounds while the returning Rodney Brondial chipped in 15 points and 17 rebounds, including 11 off the offensive glass. Jericho Cruz posted 17 points, five rebounds and four assists for Adamson, while Jansen Rios added 10.
"Nabigyan kami ng konting pahinga, marami na ring makakatulog sa Adamson community," said Falcons head coach Leo Austria, adding that snapping a six-game losing streak was a huge sigh of relief.
Austria doesn't seem to be dampened by the fact that his team is out of postseason contention:
"We're just looking for a respectable finish. What's important is our players still fight back, kasi pwede pa kaming maging spoilers against teams like UST and La Salle."
Mike Silungan kicked the game off with a layup as UP attacked the rim on almost every trip on offense. Silungan drained a triple to tally five points in the initial 10-9 exchange. On the other end, Camson scored six of Adamson's first nine with under six minutes to play.
Jelo Montecastro drove to the rim for another conversion, but UP would not score again over the next three minutes. Meanwhile, Adamson's frontcourt of Rodney Brondial and Camson poured nine unanswered in the paint. Jericho Cruz scored a fastbreak layup to cap a 12-0 run that gave the Falcons a 20-12 lead.
With two minutes remaining in the half, Silungan scored anew at the rim. Adamson traded baskets with UP and won the duel, as Camson buried his second triple at the buzzer to take a 25-17 lead after one.
The second was largely unremarkable, featuring turnovers and sorry misses for both teams. Roider Cabrera miffed an and-one play at 7:17, but UP had the slight edge as Padilla scored on two drives and Henry Asilum nailed jumper to hang around, 27-23, with five minutes to play.
Scoring picked up in the last three minutes, with Jansen Rios and Raul Soyud scoring four each for their team. But when the dust cleared, Adamson kept their hold of the lead, 35-31, at halftime.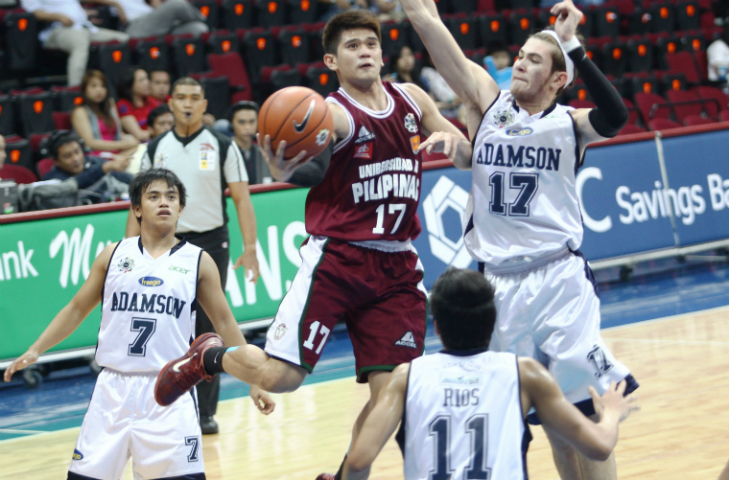 UP point guard Jelo Montecastro (center) glides in for a shot over Rodney Brondial and Jansen Rios of Adamson. The Maroons' offense lacked enough pop however to complete a comeback.
Jeff Venancio
The third period saw both teams score more in transition and off turnovers. Cruz got the better of Jett Manuel as the two exchanged baskets, 41-35, but UP slowly cut the deficit thanks to contributions from Mark Lopez, Jelo Montecastro and Paolo Romero for a 43-40 tally with five minutes to play.
The Falcons outscored UP, 8-4, for the remainder of the quarter, thanks to four from Brondial. They led, 51-44, heading into the final period.
In the fourth quarter, Adamson threatened to pull away, as a 5-1 exchange bolstered by an Etrone triple put them up by double digits, 56-45. JR Gallarza made the Maroons' second field goal in the quarter, a triple at 7:24, and Alvin Padilla stole the subsequent inbound pass to draw within six, 56-50.
But thanks to their tenacity on the offensive boards, Adamson scored off bonus possessions, to impose a 10-5 run, capped by a lay-in by Jansen Rios, for a 66-55 lead with just over three minutes on the clock.
The Maroons tried to rally back as Mark Lopez split at the line and buried a triple to make the bulk of five unanswered points. But with just over two minutes to play, UP fouled Ryan Monteclaro and Camson, who made four straight from the line, 70-60.
Manuel drained a three on the next UP possesssion to aid their cause, but Montecastro was fouled twice and hit none of his four attempts. Manuel drove to the rim with a minute to play for another bucket, and after conceding a foul and a pair of charities to Adamson's Cruz, the Maroons came right back as Chris Ball banked the ball home to make it a five-point game.
However, UP couldn't keep Adamson off the line, and the Falcons made three of their next four charities. Manuel drained another three in the dying seconds for the final tally.
UP was poor from the line, making only 4 of 12 from the stripe in the final period. In contrast, Adamson was 10 of 12, including eight perfect attempts after their last field goal at 3:13.
The Falcons made 15 of 23 from the line for the entire game. UP, on the other hand, posted a 7 for 16 clip. Adamson also held the edge on rebounds (55-45) and second-chance points (21-11).
Reflecting on the past losses, Austria said those games could have gone either way:
"Bad breaks lang, siguro kung nagka-turnovers yung mga kalaban sa last two minutes may chance pa, eh di ganun eh."
He also hinted that as a rebuilding team, this second round is informally part of his wards' tryouts for next year's squad.
Alvin Padilla and Jett Manuel led UP with 12 points apiece. Mark lopez tallied 10 points, four boards and five assists.
In the first round, the Falcons prevailed against UP, 69-67, on July 29. Brondial made the go-ahead bucket off a Falcons miss, and Alvin Padilla missed a last-ditch triple in the final 18 seconds that could have won the game for the Maroons.
Adamson climbed out of the league cellar to improve to 2-8. Meanwhile, UP sank to seventh place with a 1-8 record.
- RAF, GMA News
The scores:
ADU 75: Camson 19, Cruz 17, Brondial 15, Rios 10, Cabrera 4, Agustin 4, Monteclaro 3, Etrone 3, Trollano 0, Olalia 0, Julkipli 0, Abrigo 0
UP 70: Padilla 12, Manuel 12, Lopez 10, Ball 9, Silungan 8, Soyud 6, Montecastro 5, Asilum 4, Gallarza 3, Romero 1, Mbah 0, Hipolito 0, Gamboa 0
Quarter scores: 25-17, 35-31, 51-44, 75-70