New 'smart' Moleskine Evernote synchs paper, digital notes
The thin line between paper notes and digital notes just got thinner with a new smart notebook that syncs handrwritten notes with productivity service Evernote.
Evernote partnered with Moleskine to create the notebook, which uploads handwritten notes to Evernote so the data can be viewed across devices.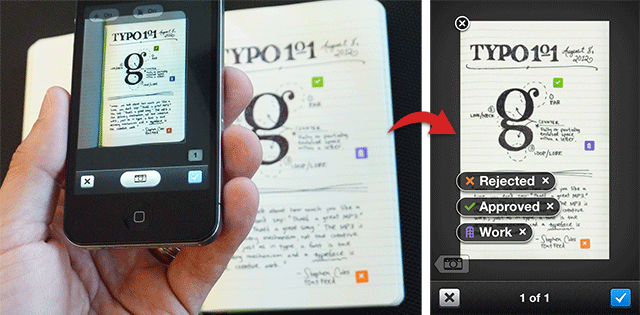 Image credit: Evernote

"We've partnered with Moleskine to develop a new, limited edition Evernote Smart Notebook that's designed specifically for the new Evernote iOS application. Together, we created a gorgeous notebook that includes a number of special features that allow you to take your ideas off the written page and place them right into Evernote, where they'll be searchable, organized and available forever," Evernote said in
a blog post
.
It said the Evernote Smart Notebook comes in two page styles - ruled and squared, each with a dotted paper pattern on the pages optimized for new features in Evernote.
Evernote said its apps for iPhone and iPad got an update (version 4.4) that includes the new Page Camera feature, designed for photos of physical pages and documents.
"To use the Page Camera, launch the camera inside of Evernote, then tap on the new Page Camera icon at the top of the screen. Hold your camera above the page and center the image inside the rectangle. Snap a photo, then move on to the next page. Using your flash ensures that you'll get the highest quality image," it said.
Evernote said Moleskine's Smart Notebook finds the dot pattern and even corrects the skew of the photo.
"This means that the images that end up in your account are perfect for Evernote's handwriting recognition, so that you'll be able to find your thoughts anytime," it said.
The notebook also comes with smart sticker, which lets Evernote recognize and instantly associates a tag with the note.
It said the Smart Stickers come with some pre-defined tags, but a user can customize them.
Evernote also included Skitch arrows to draw attention to important things on the page.
The notebooks will be available in two sizes, pocket ($24.95) and large ($29.95), beginning October 1. — TJD, GMA News