Chile open to Pinoy English teachers, aquaculture cooperation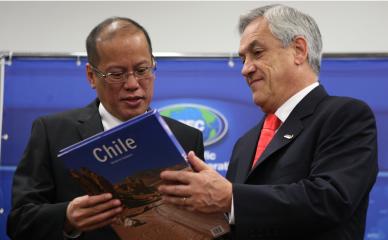 PHL, Chile bilateral meeting during APEC summit in Russia. Chilean President Sebastian Piñera shares stories about his country to Philippine President Benigno Aquino III during a bilateral meeting on Saturday in Russia, where the APEC summit is currently being held. Gil Nartea/OP
Potential jobs await Filipinos in Chile, as Chilean President Sebastian Piñera informed President Benigno Aquino III of his country's need for English teachers.
Department of Foreign Affairs Secretary Albert del Rosario disclosed this Saturday after Aquino and Piñera met at the sidelines of the Asia-Pacific Economic Cooperation summit.
"We're also being invited to look into cooperation in aquaculture," del Rosario said.
He said the Philippines has suggested a bilateral consultation between the two countries "so we can effectively create a road map to enhance our bilateral relations."
Also during the meeting, Piñera invited Aquino to visit Chile to further boost ties between the Philippines and Chile.
Earlier, del Rosario said the Philippines and Chile are eyeing "partnerships" in mining and geothermal energy.
Energy Secretary Jose Rene Almendras said Piñera was "quite surprised" the geothermal plants in the Philippines are fully privatized.
"They were having difficulty doing that in Chile," he said.
On the other hand, Del Rosario said the Philippines is seeking Chile's cooperation "in terms of improving our tax revenues and in curbing tax evasion." — DVM, GMA News