Fancy decorating a jeepney? Why not?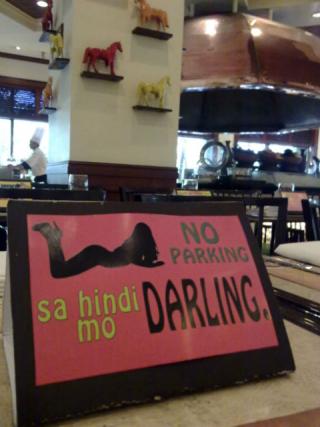 Jeepney wisdom at the Jeepney Cafe during the Jeepney Arts Festival launch
One's first jeepney ride can be a life-changing experience. Even for those who take the jeep every day, it rarely gets boring. How could it, with seats that always have space for one more, deafening music and matching disco lights, and of course, jeepney wisdom like "no parking sa hindi mo darling" or "kalimutan na ang lahat, wag lang po ang bayad."
The way these repurposed surplus vehicles are decorated is both gaudy and glorious—a statue of Buddha can sit comfortably on the dashboard, a rosary hanging above it. Inches away, a magazine centerfold of a bikini-clad model. On the ceiling, names of the jeepney owner's children, at least one of them containing the letter h somewhere. The seats are covered with tarpaulins, and half a plastic bottle serves as a trash can. The exterior is as colorful as possible, with paintings of cartoon characters, religious images, and children, probably the same whose names are on the ceiling.
For those who wish they could try their hand at decorating one of these ubiquitous cultural icons, the Jeepney Arts Festival kicks off with an on-the-spot painting from September 20-23 at the SM Mall of Asia open grounds.
"It's not really a contest because we are asking volunteers to do their own share in painting our cultural icons," said Clang Garcia, manager of the Jeepney Arts Festival. The festival is an advocacy project of Jeepney Tours, which takes tourists around Manila onboard an air-conditioned jeepney, complete with a Filipiniana-dressed guide.
"Our objective is to repaint and rehabilitate 50 existing passenger jeepneys and eventually make Manila a roving museum of arts and culture," Garcia said during the Jeepney Arts Festival press launch on September 13 at the Jeepney Café in Hotel Intercontinental Manila.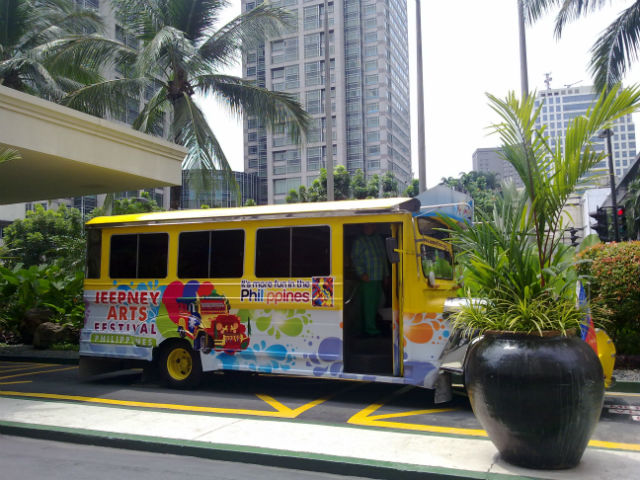 A Jeepney Tours vehicle bears the DOT slogan "It's more fun in the Philippines."
Held in partnership with the Department of Tourism (DOT) and Design Week Philippines, the festival aims to foster the bayanihan spirit by bringing people together to "unleash their creative excellence for arts and to do their own share in reviving the once well-regarded status of the iconic vehicle," a press release said.
Garcia said volunteers will be provided with real jeepneys and painting materials from Nippon paint. Participants are required to come up with an artistic tourism design for passenger jeepneys in Manila, adopting the DOT slogan "It's more fun in the Philippines."
"The design must depict the country's rich cultural heritage, fascinating destinations, exceptional attractions, etc. that make it more fun to travel around the Philippines," the press release said.
MMDA General Manager Corazon Jimenez said bayanihan and the jeepney, although used in different situations, both represent a culture that is very Filipino.
"Ang bayanihan ay pagtutulungan na dapat mayroon ang bawa't isa sa atin," she said.
Jimenez also said that while MMDA has many projects, this is one of the more creative ones that can easily be seen on the streets.
"This is a very good project that should be institutionalized through the years," she said, adding that it would also be good to have drivers in uniform, as well as more clean, natural gas and e-jeepneys on the roads.
"We have a strong belief in the jeepney as a cultural icon," said Domingo Ramon "Chicoy" C. Enerio III, assistant secretary for planning and promotions of the DOT.
"We have to start somewhere," Garcia said when asked how the 50 jeepneys can make an impact. According to Jimenez, there are about half a million jeepneys plying the roads.
"We hope that more and more jeepney drivers and jeepney owners will be inspired, and they will start repainting, refurbishing and making sure their vehicles are clean," Enerio said, adding that this will not only be for Filipinos, but for visitors to the country who also want to experience the jeepney. –KG, GMA News
For more information, visit the Jeepney Arts Festival website.