Puno, PNP official grilled in Senate probe, deny anomalous gun deals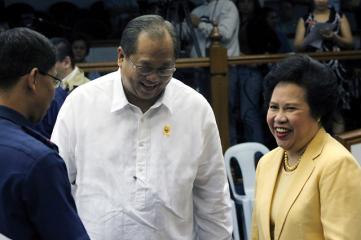 Puno faces Senate inquiry over jueteng, arms deal . Senator Miriam Santiago (right) shares a light moment with resigned DILG Usec. Rico Puno and PNP chief Dir. Gen. Nicanor Bartolome on Friday before the start of a Senate inquiry on the alleged jueteng ties and anomalous arms deal involving Puno. Benjie Castro
Resigned Interior Undersecretary Rico Puno faced a Senate investigation Friday where he and a Philippine National Police (PNP) official were grilled over recent contracts to purchase long and short firearms for the force.
The contracts—one for the purchase of almost 60,00 service pistols and two others for the purchase of 1,500 and 1,800 assault rifles—were being looked into after reported irregularities in the bidding process.
Grilled together with Puno, who resigned from his post three days before the hearing, was Deputy Director General Emelito Sarmiento, head of the PNP's Bids and Awards Committee (BAC).
Sen. Miriam Defensor-Santiago, chair of the panel conducting the investigation, wanted to know how the contracts were awarded to Glock Asia Pacific and Trust Trade after losing bidders, led by Peter Go Cheng of Kolonwell Trading, accused Puno of circumventing bidding rules to favor Trust Trade.
According to Santiago, she learned that Trust Trade was allowed entry to the PNP testing ground and interrupt the firing test, and was also allowed to clean their test pistols during intervals.
"Why was the representative allowed to interrupt the... firing?" she asked. "How was the PNP supposed to know if the guns were working properly if they were not pushed to the limit?"
Sarmiento said this was normal procedure and that the representatives were there under the direct supervision of the technical working group. "Alam po nila lahat ng procedure na yan," he told the panel.
Santiago also asked whether the PNP BAC followed the specifications given by the National Police Commission regarding the purchase of assault rifles.
Sarmiento said the assault rifles they chose, a higher model than initially recommended, were "within" NAPOLCOM specifications. "Kami naman we adopt the best," he said.
Santiago also asked him about the alleged overpricing of the 1,800 assault rifles, as reportedly discovered by President Benigno Aquino III over the Internet, prompting the cancellation of the deal.
Aquino supposedly discovered that a rifle can be bought at P40,000 each as opposed to the PNP's quotation of P89,000.
Sarmiento, however, said this was probably the lower type of rifle they wanted to purchase. He offered to show their computation where he said taxes and freight charges were taken into consideration.
Sarmiento also said the first batch of 1,300 assault rifles was not purchased because the lone bidder could not comply with the documentary requirements.
The Puno connection
Santiago, meanwhile, asked what was Puno's right to call all the bidders in a meeting. "Ano pakalam mo sa bidding process? Ano legal basis mo na nakikialam ka?" she asked him.
Puno said he was just an observer at the BAC and was just trying to ensure a transparent bidding. "I just see to it that everything is in order," he said.
Santiago also questioned why Puno's consultant, Ramiro Lopez, was allowed to talk in behalf of the BAC before bidders.
"You're calling a person a consultant pero nakikialam siya," she said.
Puno said he does not know about this because he was not present in the said meetings. Sarmiento, meanwhile, said Ramirez was "knowledgeable" about guns.
But aside from this, Santiago asked why Lopez was with Puno in a recent trip to Israel, where one of the gun suppliers is supposedly based.
"Tagal talaga ko na, tanda-tanda ko na pag nagbiyahe ako walang yayo ikaw kasama mo asawa mo," she said.
Puno said Lopez was merely their companion in the trip and that he bought his own ticket.
— KBK, GMA News