UAAP
:

Green Archers stay alive, shoot down Tamaraws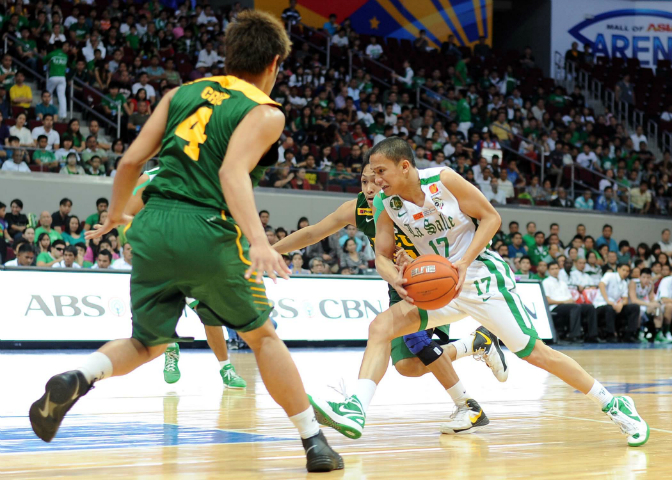 Almond Vostoros (white) finds a seam between FEU Tams Carl Bryan Cruz and Cris Tolomia.
KC Cruz
(Updated 7:00pm)
The De La Salle University Green Archers needed to win to keep in step with the National University Bulldogs. They went out and did just that.
La Salle held the Far Eastern University Tamaraws to just nine points in the third period and shook off a late rally from their foes to win,
63-56
, Sunday at the SM MOA Arena, as the elimination round of the 75th UAAP season draws to a close.
"I think we're lucky they [FEU] are not a complete team," said Archers coach Gee Abanilla. "We know for a fact that RR Garcia and Terrence Romeo will lead this team, and we focused our defensive game plan on them."
DLSU improved to 8-5 in the standings, keeping in step with the host team NU Bulldogs, as the two battle for the fourth and final seed in the post-season.
FEU on the other hand leveled with the UST Growling Tigers at 9-4, with two contesting the second and third spots in the standings.
The Tamaraws threatened to come back late behind back-to-back treys from Garcia and Russell Escoto. Garcia then split at the line to complete seven unanswered for FEU with under three minutes to play, 53-49.
However, Almond Vosotros bailed his team out on the next possession by banking in a triple over Garcia. Romeo tried to respond but miffed FEU's next two attempts from the field. Meanwhile, Jeron Teng and Vosotros connected on 3-of-4 from the line to erect a 59-49 lead with a minute and change to play that FEU would not recover from.
After re-establishing a double-digit lead with 1:16 on the clock, 59-49, Norbert Torres added two charities to the Archers' cause. Romeo, Hargrove and Gryann Mendoza scored baskets in the final 22 seconds that did nothing to affect the game's outcome and Yutien Andrada beat the buzzer to complete the final tally.
Amond Vosotros made 3-of-7 from beyond the arc to lead his team with 21 points, matching his career-high. Jeron Teng notched a double-double with 10 points, 10 rebounds and four assists.
"Sobrang lucky na yon, di ko ineexpect na shu-shoot," said Vosotros, of his game-changing basket.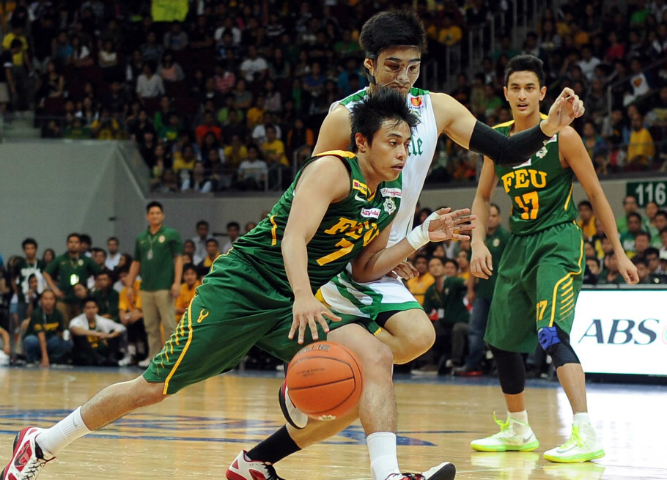 Terrence Romeo (foreground) tries to shake off Green Archer Jed Manguera. Romeo did the bulk of FEU's scoring.
KC Cruz
The game got off to a rough start, featuring sorry misses for both teams. The Archers tried to go to their big men going with mixed results. Yutien Andrada drew the second and third fouls of FEU's Christian Sentchu, who started in the place of Anthony Hargrove, for a 3-2 advantage at the 5:07 mark.
The scoring picked up as Almond Vosotros and Terrence Romeo knocked down treys for their respective teams. La Salle tried to push the pace offensively but lost the ball on most possessions. To make a point, Mike Tolomia and Romeo closed the period with fastbreak buckets for the Tams to lead, 12-11, after the first quarter.
In the second quarter, Romeo and Carl Cruz connected from downtown en route to a 10-5 run. The Archers continued to struggle in the half court as FEU controlled the shaded area.
But halfway through the period, La Salle found its composure. The Archers found baskets off good ball movement in a 10-2 run, including four from Almond Vosotros, to take a 26-24 lead by halftime.
The Tams were held scoreless in the last 4:54 of the first half.
La Salle got six easy points when play resumed, as Vosotros converted two charities from a late foul call, and Anthony Hargrove was twice called for goaltending layup attempts by Arnold Van Opstal. Thomas Torres rifled in a three-pointer shortly to make it a 35-24 game, the result of their 17-0 run bridging the second and third periods.
FEU went to Romeo, who drained his third triple in a 7-3 stretch, as his team played tough defense under the rim. Teng then hit a fadeaway jumper at the 3:07 mark, their first field goal in four minutes to bring the tally to 40-31.
Similar to the previous quarter, the Tams couldn't score from the field in the last 4:20. Instead, Russel Escoto and Mark Bringas combined for 2-of-4 from the free throw line. LA Revilla scored off a quick inbounds play in La Salle's last possession to lead by nine, 42-33, after three quarters.
Revilla drained two jumpers to ignite a 9-5 exchange for the Archers to open a 13-point advantage, their biggest lead of the game. Down but not out, the Tamaraws hustled their way for baskets as a put-back by Escoto and a coast-to-coast lay-up by Romeo cut the lead back to single digits with under five minutes to play, 51-42.
Terrence Romeo made 5-of-12 from three-point territory on route a game-high 26 points. RR Garcia added 10 points and six rebounds, while Gryann Mendoza chipped in eight points, four rebounds and three steals.
FEU was without rotation players Mac Belo and Arvie Bringas, both of whom were serving out suspensions for unsportsmanlike fouls. As a result, the Tamaraws' rotation was shortened and the team had to change the way they played. Far Eastern managed a 15-4 edge in fastbreak points, and a 16-13 margin in turnover points, but they relied too much on three-point shooting, chucking up 30 attempts and making just eight.
DLSU on the other hand was 4-of-16 from downtown, and controlled the boards to the tune of a 49-40 margin.
Both squads have a single game left on their schedule. FEU and NU clash in
the rematch of their controversial second round game
on Spetember 23, while La Salle tries to avoid an upset defeat to nothing-to-lose Adamson University on September 20.
"They [the players] have to understand that this game will not mean anything if we lose to Adamson," stressed Abanilla. "Whatever happens beyond that is out of our control."
Abanilla added that point guard Mac Tallo missed the game due to sickness, which allowed him to ease back LA Revilla to their rotation.
- AMD, GMA News
The scores:
DLSU 63: Vosotros 21, Teng 10, Revilla 8, Andrada 7, Van Opstal 6, N Torres 6, T Torres 2, Mendoza 2, Webb 0, Manguerra 0, Tampus 0
FEU 56: Romeo 26, Garcia 10, Mendoza 8, Escoto 5, Cruz 3, Tolomia 2, Hargrove 2, Sentchu 0, Pogoy 0, M. Bringas 0
Quarter scores:
11-12, 26-24, 42-33, 63-56