Underdog Boxing
:

Melligen out to recapture old glory against Thai
"Gusto ko lang ipakita sa mga tao na 'di pa ako tapos sa boxing. Nakalimutan na kasi ako ng mga tao."
There he was sitting at Cuneta Astrodome's VIP lounge, waiting for the press conference to commence. Mark Jason Melligen, one of the up-and-comers from a few years back, opened up a packet of sugar to add to his coffee.
He was wearing a bright yellow Shape-Up Boxing Gym shirt, like all the fighters that day. It was noticeably different from the black and red ALA shirts he wore before.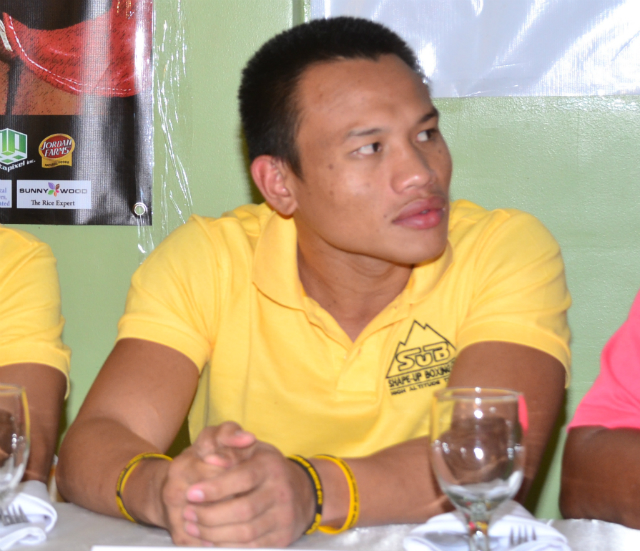 Mark Melligen still wants to prove that he can fight.
It's been a while since the name Mark Jason Melligen was mentioned in boxing circles. He was out of action for an entire year until he stepped back into the ring in July. It was a fight that no one heard about. Melligen had been at the cusp of being a household name a few years ago. Now he was back to beating up a journeyman in Mindanao. But Melligen did not feel bad about it. "Masaya lang ako na nakatapak ako sa ring ulit," he said.
I asked him why he wasn't with ALA anymore. He hesitated and took a sip of his coffee to compose his thoughts. "May mga hindi lang kami napagkasunduan," he said succinctly. "Matagal rin kasi akong hindi nabigyan ng laban. Tumaba nga ako nung mga araw na 'yun kasi iba talaga yung training ko 'pag alam kong may pinaghahandaan akong laban."
The lull in his career made Melligen think twice about where his life was headed. "Nagpaalam na nga rin ako sa kanila na magtatrabaho na lang ako sa labas. Ihihinto ko na lang ang boksing kasi parang wala na rin namang nangyayari," he shared.
But in time, he realized that he could not part with the sport of boxing; not while he knew he could still compete. So he packed his bags and headed to the Games and Amusements Board to get a copy of his contract. When he saw that his contract with ALA had already lapsed, he went knocking on Sammy Gello-ani's door.
"Ang taba ni Mark nung una siyang pumunta sa akin," Gello-ani said. "Sinabi ko agad sa kanya na kung gusto niya sa akin, sa Mindanao siya mag-eensayo para malayo sa distractions."
Melligen had no problem with training in Mindanao and he was back into fight shape in less than two months. The result was a one round annihilation of Dondon Sultan last July.
It was a different experience for Melligen. He had fought many times in big events staged by ALA Promotions. He had showcased his talents in Korea, Mexico, and Australia. He had fought many times under the bright lights of Las Vegas. But it did not matter. What was important was that it was a step in the right direction.
He lost a year in his prime to inactivity. Now he is out to make up for lost time. He will make his return to the big stage as he fights at the Cuneta Astrodome for the first time in his career.
Melligen will battle the tough and rugged Sapapetch Sor Sakaorat of Thailand this Friday. Maybe it will bring him bigger fights in the future. Maybe it will get him nothing at all. But for Melligen, whatever's next does not matter. What matters is here and now.
"Gusto kong makilala ulit ako ng mga tao. Gusto ko lang makalaban ulit sa ring," said Melligen.
A boxer separated from the ring is like a newborn infant taken away from its mother. It's unnatural. It's catastrophic. But even the most painful of separations serve a purpose. Even the toughest of times have a silver lining. With Melligen, the purpose of the pain and suffering is to reignite an old fire within him. During that painful year, he realized just how important boxing is to him. How he missed the sound the crowd makes when he connects with a power punch. How good it is to have his hand raised in victory.
Melligen knows just how painful it is to be separated from boxing. This Friday, he will show everyone just how much he missed it.
– AMD, GMA News